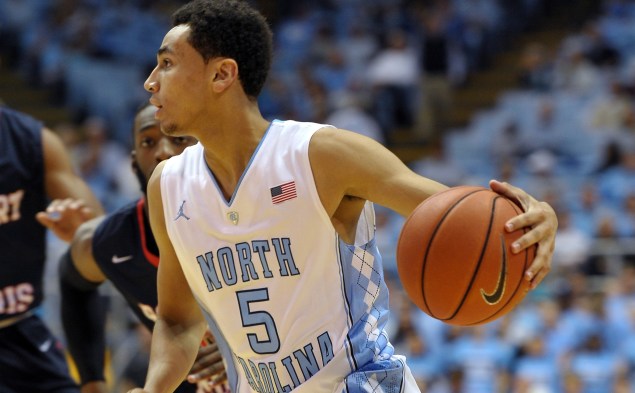 While the battle between No. 2 Wisconsin and No. 4 Duke will be the best matchup of the night in college hoops, the Blue Devils aren't the only team from Tobacco Road that will have be playing an intriguing game on Wednesday.
North Carolina's matchup with Iowa has a weird story line of its own.
Marcus Paige, the best player on the Tar Heel roster, hails from Iowa. Marion, to be specific, with is less than an hour ride up I-380 from Iowa City, where the University of Iowa is located. This will be the first time that he is taking on the Hawkeyes — UNC lost to Iowa State in the Round of 32 in the 2014 NCAA tournament — which could create some familial tensions.
"My Grandpa is one of the biggest Hawkeye fans you're going to find, so I don't know what he's going to do," Paige told reporters at a media availability on Tuesday. "Hopefully he's going to cheer for me, but he's been a Hawk fan a lot longer than I've been alive so I can't knock him if he slips up once or twice if they score."
Paige, however, was never that close to going to Iowa. He nearly committed to Kansas before Roy Williams gave him a call, and from then on it was clear that the top 40 recruit would be heading to a blueblood. But the guys on his AAU team weren't as highly regarded, and some of them ended up playing for the Hawkeyes — juniors Mike Gesell and Adam Woodbury. Jarrod Uthoff and Josh Oglesby, two other native Iowans, also would up at Iowa.
There is quite a bit of familiarity there, enough so that Gesell actually let slip what Paige's nickname was back then.
"We used to call him Picklehead," Gesell told ESPN.com. "We said he had a small head. He'll kill me if I told you that but when you're tight with someone you always try to give them as much crap as you can."
And when you're tight with someone, beating them becomes just that much more important.
Don't believe me?
How many times have you nearly thrown — or actually thrown — a controller after losing 4-3 in extra time to your roommate in FIFA?
Now imagine that happening in front of 22,000 people at the Dean Dome.