Game of the Night: No. 4 Duke at No. 2 Wisconsin, 9:30 p.m. (all times ET)
Earlier today, I wrote some 1600 words on this game and the matchup between Frank Kaminsky and Jahlil Okafor.
One note that I didn't get to was ball-screen defense. Wisconsin likes to run side pick-and-roll action on the right wing, using Kaminsky as a screener. What Duke will do defensively is 'ice' or 'down' the screen, which means that the player defending the ball-handler — Buddy Hield in the green circle — jumps above the screen and forces the dribbler to turn down the screen while the screener's defender — Tashawn Thomas in the red circle — zones up and prevents the dribbler from penetrating:
The risk in defending ball-screens this way with a guy like Kaminsky on the floor? If the ball-handler can engage both defenders, it's easy for Kaminsky to float away and spot-up for an open three. Look at how much ground Thomas — the red arrow — has to cover to challenge this three for Kaminsky — green circle: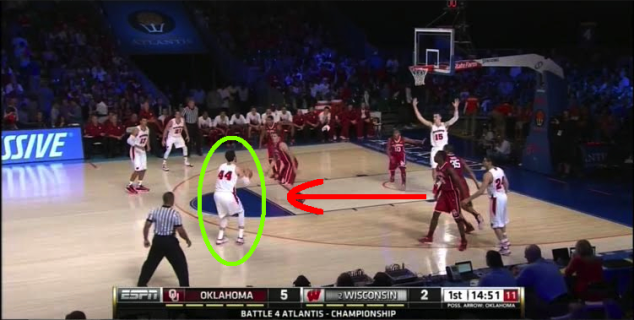 The Other Game of the Night: No. 8 Wichita State at No. 25 Utah, 11:00 p.m.
The Shockers have not yet been tested this season, and it's hard to see them living up to last year's success without Cleanthony Early on their roster. Utah is a good team — they may even be the second best team in the Pac-12 — and winning in Salt Lake City is never an easy thing to do. Delon Wright vs. Ron Baker will be a fun way to end the night.
Who's Getting Upset?: No. 19 Michigan State at Notre Dame, 7:15 p.m.
I think Notre Dame is better than anyone is giving them credit for this season, but it's hard to know as the Fighting Irish have only really played one opponent that appears to be headed to the NCAA tournament — Providence. Michigan State will be a good test for them. Jerian Grant is one of the best point guards in the country.
Mid-Major Matchup of the Night: Northeastern at Harvard, 7:00 p.m.
The two best teams in Boston square off. Harvard is the mid-major that everyone has been talking about. Northeastern? Well, they have already won at Florida State and could very well be the best team in the CAA.
Five Things to Watch For
1. Iowa at No. 12 North Carolina, 7:30 p.m.: We wrote about it earlier, but this is a chance for Marcus Paige to take on the team that his family grew up cheering for.
2. No. 7 Virginia at No. 21 Maryland, 9:15 p.m.: Maryland has outperformed expectations early this season, but beating a team as tough defensively as Virginia is will not be an easy thing to do without Dez Wells.
3. Big 5 Action: Temple vs. Saint Joe's begins at 6:30 p.m. while No. 10 Villanova tips off against La Salle at 8:30 p.m.
4. UTEP at Colorado State, 9:00 p.m.: A sneaky-good matchup out west tonight. The Rams are one of the best teams in the MWC, while UTEP looks like they'll contend with Louisiana Tech and Old Dominion in Conference USA.
5. Creighton at Tulsa, 8:00 p.m.: Tulsa has underperformed early on this season, while Creighton may have overperformed. This will be a good test for both teams.
The Rest of the Top 25
No. 23 Butler at Indiana State, 7:00 p.m.
Notables
Valparaiso at Eastern Kentucky, 7:00 p.m.
UNLV at Arizona State, 8:00 p.m.
Sam Houston State at Texas A&M, 9:00 p.m.