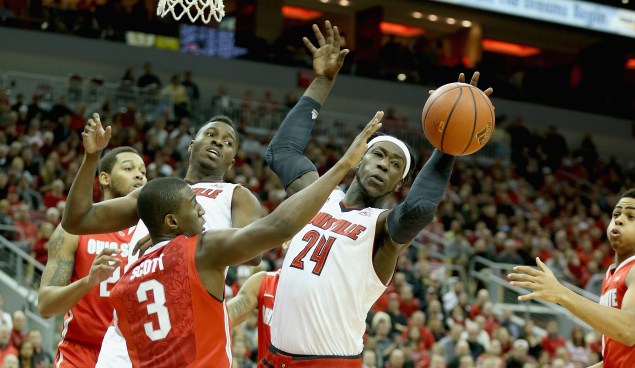 GAME OF THE NIGHT No. 17 Michigan 68, Syracuse 65
In one of the better head-to-head matchups of the ACC/Big Ten Challenge, the Wolverines got the best of Syracuse thanks to Spike Albrecht's big second half and late-game heroics. Albrecht's three-pointer with 31 seconds left in the game put Michigan ahead by three and while his 11-point, nine-assist game looks average on paper, much of that production came when Michigan needed him to step up. Zak Irvin also scored 18 points and All-American candidate Caris LeVert had 12 points and six assists.
IMPORTANT OUTCOMES
1. Stephen F. Austin 64, Memphis 52
Things were already off to a dicey start for the Tigers this season, but the heat is going to be on after a double-digit home loss to drop Memphis to 2-3. Guard play continued to be really bad for the Tigers as the Lumberjacks won despite shooting only 41 percent from the field and 35 percent from the three-point line. Memphis will need to bounce back quickly and start to string together some wins if they want to build momentum heading into conference play.
2. No. 5 Louisville 64, No. 14 Ohio State 55
The Cardinals jumped out to a 35-18 halftime lead, but the Buckeyes made them sweat out a home win by making the game close in the final minutes. Freshman D'Angelo Russell struggled to shoot consistently for Ohio State but he still made enough plays to finish with 17 points, seven assists and six rebounds. For Louisville, senior Wayne Blackshear had one of the finest performances of his career as he led all scorers with 22 points and added six rebounds while junior forward Montrezl Harrell had a double-double of 13 points and 10 rebounds.
3. No. 15 Miami 70, No. 24 Illinois 61
This didn't look like it would be one of the best ACC/Big Ten Challenge games on the schedule entering the season, but in a battle of unbeatens, Miami was able to slow down Illinois' high-scoring offense for another solid win. Junior guard Angel Rodriguez was limited to nine points on 2-for-9 shooting for the Hurricanes, but Miami's offense did a nice job piecing together a balanced scoring effort as Deandre Burnett had 19 points off the bench and and Manu Lecomte added 15 points.
STARRED
1. The Big Ten
The conference jumped out to a 5-0 lead in the annual ACC/Big Ten Challenge early in the night before dropping a few and winning the final game of the evening to finish ahead 6-2 with one more night to go. While Wednesday night's game between top-five teams Duke and Wisconsin and a fun matchup between Iowa and North Carolina will still draw the nation's attention, it looks like most of the Big Ten's non-elite teams are stronger at this point in the season.
2. James Madison guard Andre Nation
James Madison guard Andre Nation has only played in two games so far this season after serving a suspension and he made his presence felt for the Dukes in their 63-61 win over Campbell. How, you might ask? With the game-winning alley-oop with 1.9 seconds left.
3. Purdue big men
One of the most fascinating "platoons" in college basketball this season is the center duo at Purdue in junior All-Big Ten candidate A.J. Hammons and freshman center Isaac Haas. The duo combined for exactly 40 minutes in Tuesday's ACC/Big Ten Challenge win over N.C. State and finished with 28 points and 12 rebounds on 10-for-17 shooting. Hammons is a load to handle on the interior on his own, but now teams have to worry about the emergence of Haas, who has improved tremendously over the last year coming into his first year of college basketball.
STRUGGLED
1. Pittsburgh starting guards
It looked like Pitt had some momentum entering the ACC/Big Ten Challenge after a big Maui Invitational win over Kansas State last week but the Panthers starting backcourt of James Robinson and Chris Young struggled in the 81-69 loss to Indiana. Robinson was 1-for-9 from the field and Young was 6-for-17 as neither could get consistent production as scorers.
2. VCU's offense
For much of the season, the Rams have struggled to generate consistent offense — especially when Havoc isn't working. But thankfully for head coach Shaka Smart, VCU began forcing a lot of Illinois State turnovers in the second half and won despite shooting only 33 percent from the field and 37 percent from the three-point line in a 66-62 win. The Rams will have to figure out some more ways to free up offense in the half court, but they did fight back for a nice comeback road win over a tough Missouri Valley opponent.
NOTABLES
Khadeem Carrington had the best game of his young college career as the Seton Hall freshman guard went 8-for-8 for 16 points off the bench in the Pirates' 78-55 win over Mount St. Mary's.
D'Angelo Harrison had 16 points and nine rebounds to help St. John's get past Niagara, 70-57.
Hofstra junior guard Ameen Tanksley had a night to remember, going for 30 points on 9-for-9 shooting and 5-for-5 three-point shooting in the Pride's 88-74 win over Norfolk State.
Georgia used the scoring of Kenny Gaines (25 points) and Marcus Thornton (24 points) to run past Chattanooga, 86-55.
LSU had a big night from Josh Gray as the junior guard had 25 points, five assists, four rebounds and three steals in a 82-60 win over UMass.
Minnesota got 27 points and seven rebounds from guard Andre Hollins in an 84-69 win over Wake Forest.
In a high-scoring affair, Louisiana Tech got past Northwestern State, 99-88, as guard Alex Hamilton finished with 30 points.
Coming off the bench, Texas freshman Myles Turner had 18 points, 10 rebounds and five blocks in a 63-53 win over UT-Arlington.
One of the best mid-major guards in the country, Evansville's D.J. Balentine, went for 28 points in the Purple Aces' 86-78 win over Wright State.
Iowa State had five players in double-figures as the No. 20 Cyclones cruised to a 96-59 win over Lamar. Bryce Dejean-Jones had 12 points, 10 rebounds and eight assists to lead the way.
Buzzer beaters are always fun, and Eric Laster from Loyola (MD) made a tough one to give the Greyhounds a win over Columbia.
Nino Williams only played 20 minutes but had 19 points on 8-for-11 shooting as Kansas State rolled past Omaha for an 84-66 win.
Bradley junior guard Warren Jones dropped 33 points as the Braves won 84-73 over Central Michigan.
Stanley Johnson and Gabe York each had 18 points as No. 3 Arizona got past Gardner-Webb 91-65.
Gonzaga actually trailed Southeastern Louisiana, 33-32, at the half before taking over and running away with a 76-57 win. Kyle Wiltjer led the Zags with 20 points.
Alabama was able to knock off South Florida as Rodney Cooper had 20 points and Ricky Tarrant added 17.
An efficient Tuesday evening for Larry Nance Jr. as he led Wyoming with 17 points on 6-for-7 shooting in a 68-42 win over Denver.
There aren't many duos on the west coast better than Tyler Haws and Kyle Collinsworth and they had another big night in a BYU road win at Utah State. Haws went for 35 points and Collinsworth had 20 points and 10 rebounds.
DePaul had five players finish with at least 13 points in a 78-67 win over Northern Illinois. Junior forward Myke Henry and sophomore guard Billy Garrett Jr. each had 15.