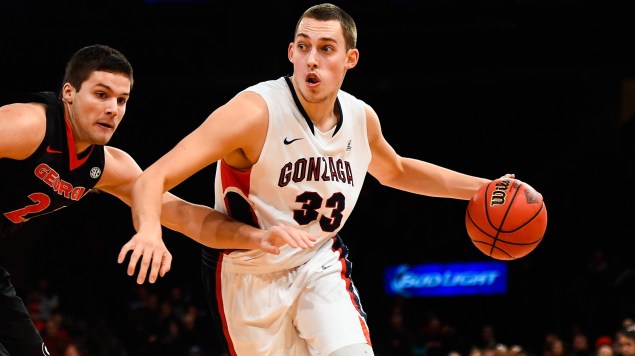 NEW YORK — Kevin Pangos is the star of this Gonzaga team. He's the engine that makes their powerhouse offense operate, a sharp-shooting, turnover-free point guard that has been arguably the best player in the country through the first two weeks of the season.
His raw numbers are not overly impressive — 12.0 points, 6.3 assists, 47.6 percent from three — but if you dig deeper, those stats jump off the page. Pangos' offensive rating, according to Kenpom.com, is 166.0, and while it's still very early, that number is unheard of. His effective field goal percentage is 76.5, his assist rate is 33.0 and his turnover percentage is 8.7, all of which would lead the nation if he somehow miraculously kept that pace.
Those numbers too intense for you? This is all you really need to know: through six games, Pangos has missed only 15 shots and turned the ball over just four times.
"I sleep a solid eight hours a night." head coach Mark Few said of having Pangos as his point guard. "I'm trying to get him a fifth year. Why not give one to him and keep my stress level down?"
"It's just good to be healthy again," Pangos said.
I bet it is.
Pangos deserves every droplet of hype and praise that he'll get over the course of the next four months, but it's important to note that the reason this Gonzaga team is so dangerous has just as much to do with their front line as it does with their all-american point guard.
Mark Few's front court rotation is more or less a three-headed monster, with all three pieces having a unique skill set that gives the Gonzaga head coach the freedom of having a versatile lineup, creating and minimizing mismatches as he sees fit.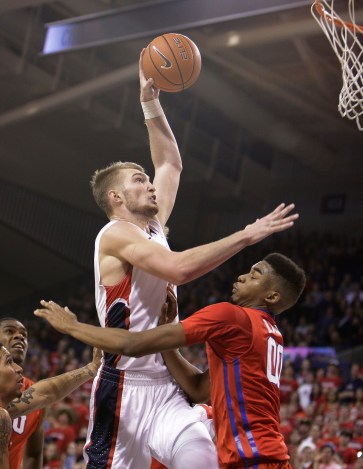 It starts with the big fella, 7-foot-1 Przemek Karnowski. He's tall, he's long, he doesn't get moved out of position easily and what he does best is, essentially, taking up as much space as possible around the rim. You're not finishing over him and you're not backing him down, which means that he can guard opposing bigs in the post or work as a rim protector if the Zags go to their zone. Offensively, he's big enough to establish position and has enough touch around the basket to be a threat to score the ball.
Kyle Wiltjer is a completely different player. He can legitimately stretch the floor out to 25 feet, which only creates more space for Karnowski, and is a threat to score with his back to the basket or when he's forced to square a defender up. The knock on Wiltjer is that he's not a defender or a rebounder, bordering on being a liability at that end.
The third option, the sixth-man for the Zags, is freshman Domas Sabonis, the son of Arvydas and a 6-foot-10, left-handed freshman that spent time playing in the highest level of the Spanish pro leagues. Sabonis is a bit raw offensively, but he's the most athletic of Gonzaga's bigs, he runs the floor exceptionally well and he is active on the glass and in the paint. He's also quick enough defensively that he can switch on ball-screens. Angel Nunez, a Louisville transfer that doesn't play many minutes, is the fourth big man off the bench for Gonzaga and is more athletic than Sabonis.
"We'll run different schemes offensively and defensively [with different lineups]," Few said. "We can switch screens with Domas and Angel. We run more of a perimeter-oriented, quick-hitting, player movement offense [with Wiltjer]. With Przemek and Domas, we can go hi-lo and play power basketball."
Gonzaga's run to the Preseason NIT title last week was the perfect example of this.
On Wednesday night, playing against a Georgia team that had big, physical forwards, Wiltjer had his best game as a collegian, finishing with a career-high 32 points on 14-for-26 shooting. Pangos and Wiltjer have already gotten quite comfortable running side pick-and-roll actions, and the two of them slowly-but-surely eviscerated the Georgia defense.
Sabonis and Karnowski struggled, however, combining to play just 30 minutes before they both fouled out. They absence was evident in the second half, as Wiltjer and Nunez overpowered in the paint, which is what allowed the Bulldogs to stay in the game late.
Friday night's title game was very different, as St. John's only has two big men on the roster. Sir'Dominic Pointer, one of the most athletic players in the country, plays the four, which meant that Wiltjer had some trouble getting going offensively. No matter, as Sabonis played one of his best games of the young season, finishing with 14 points, nine boards and a pair of assists while shooting 6-for-6 from the floor as Gonzaga used their size advantage to overwhelm the Johnnies.
That kind of depth and that kind of versatility along the front line is a luxury few programs have. It allows Gonzaga to minimize their disadvantages. When Wiltjer is hot, he is a matchup problem that can score points in flurries and will create space by pulling a big man out to the three-point line. It counteracts whatever he gives up defensively.
But on the nights when he's not shooting well, Gonzaga has someone to bring in off the bench that can defend and rebound and pretty much do all of those things that Wiltjer can't.
So while the only point guards that are playing better than Pangos these days are getting paychecks from the NBA, what is going to allow Gonzaga to compete with the best teams in the country is their size and versatility along the front line.