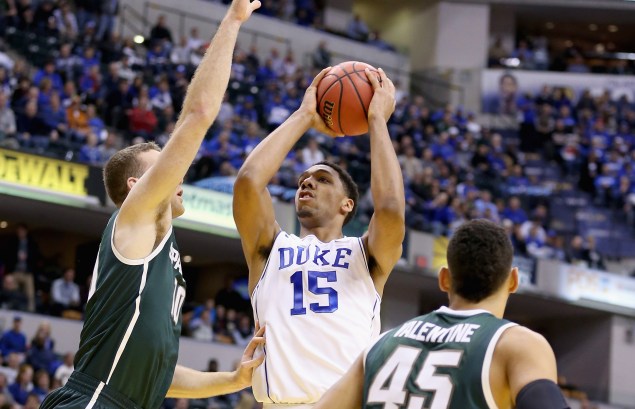 The ACC/Big Ten Challenge kicked off Monday evening, but the best games of the event will begin on Tuesday night.
Here is the complete schedule, a ranking of the matchups and a quick preview and our picks in each game (all times EST):
1. No. 4 Duke at No. 2 Wisconsin, Wed. 9:30 p.m.: The marquee matchup of the challenge will arguably be the best matchup we get all season long. Two of the nation's top three teams. The favorite in the ACC vs. the favorite in the Big Ten. Perhaps most importantly, the nation's two best big men in Frank Kaminsky and Jahlil Okafor will square off. I could not be more excited about this matchup.
CBT Prediction: Wisconsin
2. No. 14 Ohio State at No. 5 Louisville, Tue. 9:30 p.m.: Ohio State has proven to be better than we expected this season, as Shannon Scott looks like the second coming of John Stockton and D'angelo Russell has been quite good early on this season. Watching Russell matchup with Terry Rozier will be fun, but the key may end up being who on Ohio State draws the unenviable task of trying to cover Montrezl Harrell.
CBT Prediction: Louisville
3. No. 7 Virginia at No. 21 Maryland, Wed. 9:15 p.m.: Well, this is boring. The leagues had a chance to get a rematch from last year's Sweet 16 thriller between Michigan State and Virginia, but instead decided to send the 10 Cavs on the road to face their old ACC rival Maryland in the Terps' first season in the Big Ten. Snore. That said, Maryland has played like a top 25 team, but without Dez Wells and with Evan Smotrycz banged up, this matchup has lost some of its luster.
CBT Prediction: Virginia
4. No. 19 Michigan State at Notre Dame, Wed. 7:15 p.m.: The Spartans have not looked great through seven games, but Branden Dawson, Denzel Valentine and Travis Trice have all played well. That said, Notre Dame looks like a sleeper to finish in the top four in the ACC, and Jerian Grant has played like an all-american.
CBT Prediction: Notre Dame
5. Syracuse at No. 17 Michigan, Tue. 7:30 p.m.: A rematch of the 2013 Final Four minus much of the intrigue. Michigan has great guards, but they are still trying to figure their big men out. Syracuse has the opposite issue. Rakeem Christmas and Chris McCullough have been great, but their back court still has some question marks.
CBT Pick: Michigan
6. No. 24 Illinois at No. 15 Miami, Tue. 9:00 p.m.: So Angel Rodriguez has been pretty good, hasn't he? Sheldon McClellan too, right? Miami already owns a win over Florida and won the Charleston Classic. But Illinois? They are undefeated as well. The most underrated matchup of the event.
CBT Pick: Miami
7. Iowa at North Carolina, Wed. 7:30 p.m.: This game was a lot more intriguing before we realized that Iowa's back court was not that good. Intriguing storyline here: Marcus Paige, who has had a slow start to the season, is an Iowa native.
CBT Pick: North Carolina
8. N.C. State at Purdue, Tue. 9:00 p.m.: N.C. State has been one of the most surprising teams in the ACC this season. Purdue? They've surprised a lot of people in the Big Ten as well. Cat Barber, Trevor Lacey and A.J. Hammons are all underrated nationally. This will be a good gauge game for both teams.
CBT Pick: N.C. State
9. Pitt at Indiana, Tue. 7:00 p.m.: It will be interesting to see what happens with Indiana this season, as the program is dealing with quite a bit of turmoil. Pitt should make a return to the NCAA tournament as well.
CBT Pick: Indiana
10. Nebraska at Florida State, Mon. 7:00 p.m.: Nebraska has already lost to Rhode Island on the road, but Florida State is missing two key back court pieces, Devon Bookert and Aaron Thomas.
CBT Pick: Nebraska (UPDATE: Nebraska won)
11. Minnesota at Wake Forest, Tue. 7:00 p.m.
CBT Pick: Minnesota
12. Georgia Tech at Northwestern, Wed. 9:15 p.m.
CBT Pick: Georgia Tech
13. Virginia Tech at Penn State, Wed. 7:15 p.m.
CBT Pick: Penn State
14. Rutgers at Clemson, Mon. 7:00 p.m.
CBT Pick: Clemson (UPDATE: Rutgers won)