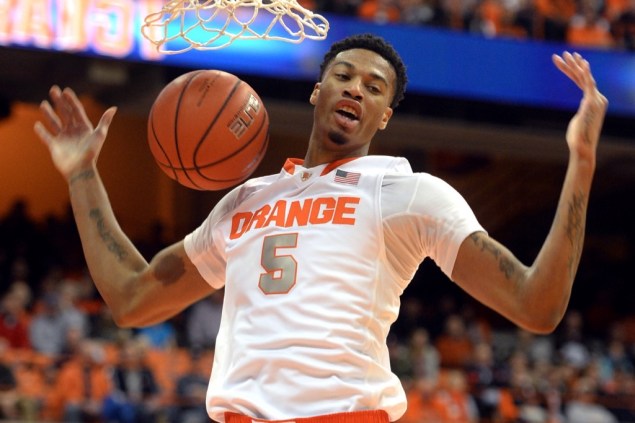 Jim Boeheim has seen his fair share of NBA-level talent. You don't reach 950 wins and Hall-of-Fame status without pros.
But the Syracuse head coach is once again taking issue with recent suggestions that one of his players is a potential lottery pick in the 2015 NBA Draft.
And this time, Boeheim's agenda seems very self-serving.
Talented and athletic 6-foot-10 freshman forward Chris McCullough is opening eyes with his strong start this season, as he's averaging 15.3 points, 8.5 rebounds and 2.5 blocks per game on 58 percent shooting.
NBA scouts seem to have taken notice of McCullough's early-season performances as well.
In a recent ESPN report from Chad Ford, the NBA Draft analyst mentioned how Syracuse's latest talented freshman impressed NBA scouts and could wind up in the lottery of the 2015 NBA Draft:
"What intrigues scouts is what's behind the numbers. McCullough has a 7-foot-3 wingspan, is an explosive leaper and is the rare big who can protect the rim on defense and stretch the floor on offense. He needs to add a lot of strength, but virtually every scout I spoke to who saw him play last week in New York came away feeling he'd be a lottery pick," Ford said in the story.
After the Orange soundly defeated Holy Cross on Friday night, a game in-which McCullough put up a double-double of 14 points and 13 rebounds, Boeheim sounded off on Ford's take and said his star freshman wasn't a first-round pick.
According to a story from Syracuse.com's Chris Carlson, Boeheim had plenty to say.
"I've talked to 10 pro scouts," Boeheim said on Friday night. "Not one of them thought that Chris McCullough was a first-round pick. So who he's talking to? I have no idea. When you print that stuff, people read it. Parents read that."
That wasn't all Boeheim had to say on the matter:
"You keep looking at what Chris (SIC) Ford says," Boeheim said. "He's a smart guy. He knows exactly who is going to get drafted. This is what parents do. Parents quote to me all the time, 'He's in the top 10 of the draft board.' Oh yeah? 'He's the 14th pick in the draft.' Yeah?"

"Quote (from) last year," Boeheim said. "Well, he's in the top 10 in the draft board, that's why he's going to go. I said, 'On whose draft board? ESPN?' They do not have a team. They do not have a team at ESPN. That's the kind of misinformation that gets kids thinking about things and parents thinking about things that make no sense, whatsoever."
Ford isn't the only NBA Draft analyst to have McCullough listed as a lottery pick. While Ford currently has him as the No. 11 player on his big board, NBADraft.net's Aran Smith rates McCullough even higher, as the freshman checks in at No. 7 on his big board as of Nov. 27. NBA scouts that NBCSports.com has talked to also believe McCullough will be taken in the first round.
NBADraftBlog.com's Ed Issacson spoke with NBCSports.com on the rapid rise — and current stock — of McCullough and he also believes that the forward has first-round potential.
"I think he has the potential to be a late-lottery, mid-first rounder, though I haven't seen him do enough this season yet to say it with more certainty," Issacson said to NBCSports.com on McCullough. "Good skill and physical ability, but he needs to put it all together."
That seems like a pretty fair assessment of McCullough, don't you think? Not a sure-fire lottery pick, but a talented player with a very realistic chance of being a first-round pick.
So if Jim Boeheim spoke to 10 NBA scouts and they all said that his new, stud freshman wasn't a first-round pick, then why do so many respected NBA Draft analysts and scouts seem to all publicly disagree?
Issacson brought up a valid point on how this process of gathering information all plays out.
"Here's the catch with both Ford's and Boeheim's statements: They can both be true," Isaacson said. "There are so many NBA scouts that you can find any opinion you want to fit."
Looks to me like Boeheim is finding opinions that solely fit his agenda of winning basketball games for Syracuse.
Last year we saw something similar with Boeheim critiquing freshman point guard Tyler Ennis, who went on to be selected No. 18 by the Phoenix Suns in the first round in the 2014 NBA Draft. Draft analysts also considered Ennis a potential lottery pick for much of last season after his strong leadership abilities and play helped the Orange to a 25-0 start. But Boeheim went on SportsCenter after Ennis declared for the draft and made some unflattering remarks about his point guard.
It was one thing to listen to Boeheim's thoughts about Ennis, because what he said about him needing another year was truthful in many ways, but this latest spin on McCullough is just wrong and self-serving.
Let me make something clear: Boeheim should temper expectations about McCullough being in the lottery since these public opinions are accelerating at a rapid rate after only six college games. McCullough went from off-the-grid to smack dab in the middle of the radar of NBA people in the first few games of the season and that has to be alarming to Boeheim when he needs his star freshman focused on the current season. It doesn't help that Boeheim is probably frustrated by an early entry process that has taken away Michael Carter-Williams, Ennis and Jerami Grant in the last few seasons. I get that.
But it's a bad look if Boeheim spins this McCullough draft stock banter to only benefit him and his program. McCullough isn't a first rounder? Of all of the public opinions being expressed by respected reporters, analysts and NBA scouts only Boeheim seems to publicly hold this line of thinking. And maybe he sees some behind-the-scenes things about McCullough that screams that he isn't ready to leave after one year? Even so, where there's smoke, there's fire, and right now the talk of "Chris McCullough: First-round talent" is blazing hot. His coach just doesn't want to admit it and potentially lose another talented player to the pros.
Boeheim is paid to win basketball games and compete for national championships for Syracuse, but when a basketball player commits to playing for the Orange, they have aspirations of making money playing basketball as a career. He might be keeping it real by downplaying NBA expectations of his players, but in this case, it appears Boeheim is looking out for his own best interests instead of softening the expectations while promoting McCullough's future.
There's a way to delicately balance the ballooning NBA expectations of a 19-year-old kid while also promoting him as a future potential pro. Other coaches do it all the time, but Boeheim only appears to be seeking out opinions of those who agree with the agenda he wants to publicly express.
Three respected NBA Draft analysts, and multiple NBA scouts, are all on-record with the belief that McCullough is a future first-round pick but that's not what Boeheim wants you to hear. Boeheim might be telling some truths in an attempt to help his own player, but he looks awfully selfish doing it.