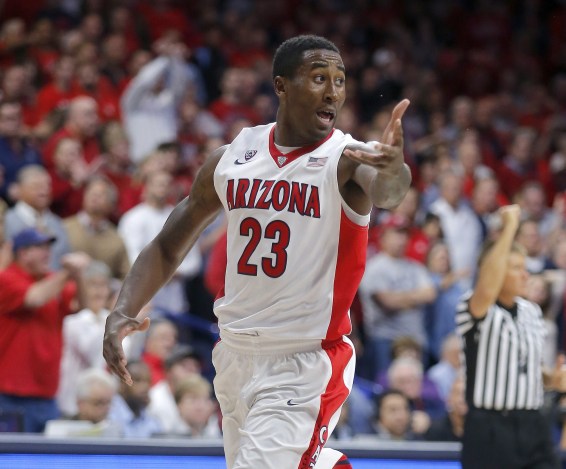 Rondae Hollis-Jefferson currently stands to be a top-20 pick in the 2015 NBA Draft.
The 6-foot-8 sophomore from Arizona first broke onto the national scene last year once teammate Brandon Ashley went down with a season-ending injury and the freshman forward was thrust into major minutes during the crucial part of Arizona's season.
The versatility and mentality of Hollis-Jefferson quickly made him a favorite among college basketball fans, and NBA folks, and by returning to Tucson for his sophomore season, it was expected that Hollis-Jefferson would play a bigger role with more minutes during his second time around.
He's not — and it's not because Rondae's play is suffering. The sophomore's per-game averages in points and rebounds have increased even though his minutes have slightly declined since last season.
Rather, it's the selfless move of Hollis-Jefferson going to the bench — particularly these last two games in Maui — that has given Arizona head coach Sean Miller more of a chance to experiment with different lineups for a team that is struggling to find consistent offense.
Can T.J. McConnell and Gabe York start games and make early shots? Where does freshman Stanley Johnson fit on the floor within Arizona's offense? What kinds of contributions can Arizona expect from its first perimeter options off the bench? These are the kinds of questions that Miller can answer more quickly because of Hollis-Jefferson's move to the bench.
By taking whatever role Miller asks of him, Hollis-Jefferson is not only providing a valuable lift against Arizona's toughest opponents of the young season, but he's doing this in front of the litany of NBA general managers and scouts that frequent the Maui Invitational every season. Hollis-Jefferson could have sulked over coming off the bench and reducing his workload in front of his future employer, but instead, he's playing hard in whatever capacity Miller asks him to play.
And it's helping Arizona significantly.
During Tuesday night's 72-68 semifinal win over Kansas State, Hollis-Jefferson came off the bench as he has all season in favor of Gabe York. And the move helped Arizona immensely in the close win.
York had his best performance of the season with a new high mark of 15 points and the guard scored the team's first four points as he got off to a quick start.  Once he was inserted into the lineup from the bench, Hollis-Jefferson once again became Miller's Swiss Army Knife, capable of playing any role or position on the floor.
He also contributed across the stat sheet for six points, eight rebounds, three assists and three blocks. This effort came on the heels of a 15-point, six-rebound effort off the bench against Missouri. In both games, Hollis-Jefferson's energy gave the Wildcats a big boost and other players like York looked more comfortable in different roles because of the rotation shift.
Hollis-Jefferson was used as a secondary handler on press breaks or in a defensive-minded big lineup with Stanley Johnson sliding down to the two. The sophomore forward was used to give energy and defend everyone from Marcus Foster to Nino Williams. Those were some of the many hats that Hollis-Jefferson wore in the second half of the Kansas State win.
Starting games might not be in the cards for Hollis-Jefferson right now, but Arizona might have found a solution to its slow-starting offense this season as York continues to improve within the starting lineup. Some lineups and rotations that Miller is using now could be used to help Arizona win games in Pac-12 play and deep into March. All because a future NBA first-round pick is okay with giving up minutes and the spotlight for the good of the team — particularly during one of the season's marquee events.
It remains to be seen how this Arizona lineup change will unfold throughout the season, but rest assured, if Hollis-Jefferson isn't starting the game on the floor, he'll be seeing minutes at the end when the game really counts.