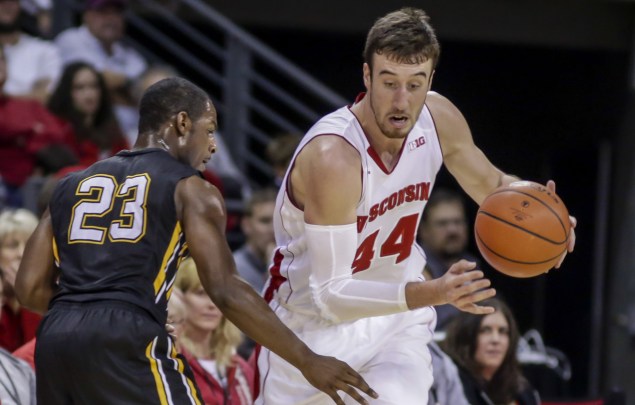 Every Tuesday, we will be providing you with a breakdown of the top ten candidates for National Player of the Year. You can read through the older posts here.
1. Frank Kaminsky, Wisconsin: Frank the Tank has played like it early on this season, averaging 19.3 points, 10.3 boards, 2.8 assists, 2.8 blocks and 1.3 steals while shooting 44.4 percent from three. All of those numbers are career-highs, and while much of it can be attributed to the fact that Wisconsin has yet to really play quality competition, the fact of the matter is that you can see the improvement in Kaminsky if you watch him play. Could he make this play last season?:
https://instagram.com/p/vcAv7Qnw90
2. LaDontae Henton, Providence: Buckets got buckets over the weekend, scoring 62 points as he led the Friars to a title in the Hall of Fame Tip-Off. He went for a career-high 38 points in the title game against Notre Dame. I'm not sure how long Henton will remain at the top of this list, but through a week-and-a-half of the season, there haven't been many players better than him.
3. Angel Rodriguez, Miami: Rodriguez scored 20 points in the final 6:47 — including making five threes — in a come-from-behind win at Florida. He also led the Hurricanes to a win in the Charleston Classic, but whatever. Do you realize how difficult this shot is?!?:
You think he's happy to be home?
4. Jahlil Okafor, Duke: What's made Okafor so good this season won't show up in the box score. He's averaging 15.8 points and 8.0 boards and is just 11-for-30 from the floor in his last two games. He's not an elite shotblocker and he's not an elite rebounder, either, but his presence in the post offensively opens up everything for Duke on the offensive end of the floor. I'll dive into this more later in the year, but the easy way to explain it is that the myriad of talented guards and wings on the Blue Devils roster are going to get easy looks from three and opportunities to attack close-outs all season long as defenses worry about the behemoth on the block.
5. Jerian Grant, Notre Dame: I know that Notre Dame lost to Providence on Sunday afternoon, but that was hardly Grant's fault. In the last 12 minutes of that game, he was responsible for creating all 25 of Notre Dame's points. He had 12 of his own while handing out four assists, three of which led to threes, as well as setting up Zach Auguste for the two free throws he hit. He's averaging 18.4 points and 7.2 assists this season, but more importantly, Notre Dame has their closer back.
6. Montrezl Harrell, Louisville: He's slowed down since that monster opening night performance against Minnesota, but Louisville hasn't played anyone since then. Does Harrell really need to be a factor when they're winning games 87-26?
7. Georges Niang, Iowa State: Through three games, Niang is averaging 22.7 points, 8.7 boards and 3.7 assists. And he struggled in the 23-point win over Georgia State.
8. Norman Powell, UCLA: Powell spent his first three seasons at UCLA getting overshadowed by more talented teammates. That isn't happening this season, as he's averaging 21.3 points.
9. Jonathan Holmes, Texas: We've written quite a bit about Holmes over the last couple of days, from how he has used the 'Chaminade Crew' to change the culture surrounding the Texas program and how important his size at the small forward spot is to Texas this season. He averaged 20.0 points and 9.0 boards in wins over Iowa and Cal.
10. Caris LeVert, Michigan: LeVert hasn't shot the ball all that well yet this season, but he's averaging 16.3 points, 7.0 boards and 5.0 assists for the Wolverines through four games. He's been their best player.
OTHERS THAT WERE CONSIDERED: Justin Anderson (Virginia), Ron Baker (Wichita State), Quinn Cook (Duke), A.J. English (Iona), Sterling Gibbs (Seton Hall), Buddy Hield (Oklahoma), Stefan Nastic (Stanford), Kevin Pangos (Gonzaga), Shannon Scott (Ohio State), Joseph Young (Oregon)