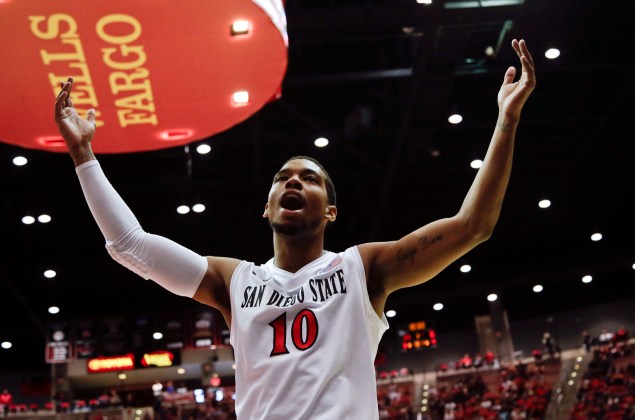 GAME OF THE NIGHT: No. 15 San Diego State 92, BYU 87, 2 OT
There's just something about the Maui Invitational. Every year, the tournament produces an instant classic and the finale from the first day of action gave us a double-overtime thriller as the Aztecs outlasted a gritty effort from BYU. This was your classic offense (BYU) vs. defense (San Diego State) focus and San Diego State held on and won despite never trailing in regulation and then falling behind in the first overtime. BYU used tremendous performances from guards Tyler Haws (26 points) and a rejuvenated Kyle Collinsworth (21 points, seven rebounds, six assists, three steals), who looked fully healthy for the first time this season after recovering from a torn ACL suffered only eight months ago. But the Aztecs took the best punch the Cougars had to offer in the first overtime and countered with a game-tying three-pointer from Aqeel Quinn (career-high 22 points) to force a second overtime and the clutch shot energized San Diego State in the second overtime. Winston Shepard had a solid 18-point, 8-rebound performance for the Aztecs and his energy on the defensive end also made a major impact. San Diego State moves on to face Pitt in the semifinals at Maui on Tuesday.
THE OTHER GAME OF THE NIGHT: Eastern Washington 88, Indiana 86
The Hoosiers looked to be off to a solid 4-0 start on the season but fell at home to Eastern Washington for a surprising home loss. Indiana allowed 53 second-half points and Eastern Washington shot 51 percent from the field and had three 20-point scorers as Drew Brandon (27 points), Tyler Harvey (25 points) and Venky Jois (20 points, 14 rebounds, five blocks) all had big games. In order to improve in the Big Ten this season, Indiana has to defend better and allowing 53 points in the second half won't help that cause. Eastern Washington snapped Indiana's 43-game home non-conference winning streak with the win and overcame a 12-point second half deficit to earn an impressive road win.
IMPORTANT OUTCOMES
1. No. 12 Villanova 77, No. 14 VCU 53
I can't say I expected this kind of outcome from the Legends Classic in Brooklyn, but the Wildcats looked great in an easy win. JayVaughn Pinkston led four Villanova double-figure scorers with 15 points while Darrun Hilliard added 14. The Wildcats also had some key performances from their bench as Kris Jenkins chipped in 13 points and Josh Hart had 10 points.
2. No. 3 Arizona 72, Missouri 53
This wasn't the stiffest of tests for the No. 3 Wildcats, but it was nice to see them on national television playing a power conference opponent on a neutral floor. Arizona responded well with a big win as its defense rose to the occasion and Rondae Hollis-Jefferson came off the bench to score 15 points and grab six rebounds. It'll be a fun matchup of Wildcats when Arizona and Kansas State matchup in the second round of the Maui Invitational on Tuesday.
3. No. 13 Iowa State 84, Alabama 74
The Cyclones beat a talented Georgia State team at home last week, but Monday night's CBE Hall of Fame Classic semifinal win over Alabama on a neutral site is a solid win. Georges Niang went for a game-high 28 points and sophomore sharpshooter Matt Thomas returned from suspension to give Iowa State 13 points. Monte Morris also added 12 assists while never turning the ball over and he remains one of the country's most efficient point guards.
STARRED
1. Melo Trimble, Maryland
Maryland needed a star performance from its freshman All-American and the 6-foot-3 Trimble delivered with 31 points in a close win over Arizona State. Trimble was also incredibly efficient, as he shot 7-for-11 from the field, 4-for-6 from three-point range and 13-for-14 from the free-throw line. The Terrapins are off to a 4-0 start.
2. Sterling Gibbs, Seton Hall
The junior guard did everything he could to make sure Seton Hall won the Paradise Jam over Illinois State and did so by scoring 40 points in the Pirates' 84-80 win. Gibbs scored the 40 points on only 14 field goal attempts as he went 10-for-14 from the floor, 7-for-9 from three-point range and 13-for-13 from the free-throw line.
3. Marcus Foster, Kansas State
In a Kansas State win over Purdue at the Maui Invitational, the sophomore guard went for 24 points on 9-of-14 shooting and 5-for-8 shooting from the three-point line as he made tough shots and clutch shots to put the Boilermakers in the loser's bracket. Foster facing Arizona tomorrow should be a really interesting matchup because the west coast version of the Wildcats are really defending hard at the moment.
STRUGGLED
1. Savannah State's offense
Playing on the road at No. 6 Louisville, the Tigers fell behind 29-0 and didn't score for nearly 16 minutes in the first half. Savannah State eventually lost 87-26 to Louisville. Rick Pitino's quotes after the game are about the only interesting thing about this one.
2. Purdue center A.J. Hammons
I was hoping we had moved past this point, but Purdue junior center A.J. Hammons provided the inconsistent play we saw at times last season by only scoring six points in 10 minutes of a Maui Invitational loss to Kansas State. Hammons also grabbed only two rebounds and watched much of the game from the bench as true freshman center Isaac Haas thoroughly outplayed him. Hammons needs to be better if Purdue has a chance at playing in the postseason this year.
3. Marquette's offense
After losing at home to Nebraska-Omaha over the weekend, it very nearly got worse for Marquette on Monday night as they trailed N.J.I.T., 30-28 at the half before rallying for a 62-57 win. The Golden Eagles shot just 35 percent from the field and looked out of sync on offense for much of the evening. After dropping two straight before this near-upset, it doesn't get any easier for Marquette as its next three games are against Georgia Tech, Wisconsin and Arizona State.
NOTABLES
Clemson edged LSU, 64-61 in the Paradise Jam as Demarcus Harrison had 16 points.
Travis Trice: real game no gimmicks. The senior point guard led No. 20 Michigan State with a game-high 19 points and eight assists in a 79-52 win over Santa Clara.
Xavier freshman wing Trevon Bluiett continues a strong start as he finished with 19 points in a win over Mirray State.
The nation's highest-scoring offense this season so far has been Illinois and the Illini put up 89 more points in an 89-58 win over Brown as guard Aaron Cosby had 18 points.
No. 11 Kansas cruised past Rider as Brannen Greene and Perry Ellis each tallied 17 points.
Iowa held off Pepperdine as Aaron White went for 17 points, nine rebounds and four steals.
LeBryan Nash finished with 19 points and six rebounds to lead Oklahoma State past Oregon State in a battle of unbeatens at the MGM Grand Main Event.
Ryan Harrow went for 23 points and R.J. Hunter added 13 points as Georgia State rolled over Chicago State.
Memphis earned an easy home win over Prairie View A&M as forward Shaq Goodwin had 16 points on six rebounds on a perfect 6-for-6 from the field.
TCU moved to 4-0 on the season as they rolled past Mississippi Valley State. Senior guard Kyan Anderson had 19 points in only 12 minutes of action.
MAC Player of the Year candidate Julius Brown led Toledo to a 92-65 win over Bucknell as the senior point guard finished with 20 points, seven assists and four rebounds.
Royce O'Neal stuffed the stat sheet for 19 points, 14 rebounds, five assists, two steals and two blocks as he played 38 minutes and shot 7-for-9 from the field in Baylor's 67-51 win over Stephen F. Austin.
Pitt senior big man Derrick Randall outrebounded Chaminade 21-17 by himself in a Maui Invitational first-round win. Randall also added 10 points and Michael Young had 27 points and 15 rebounds as well for Pitt.