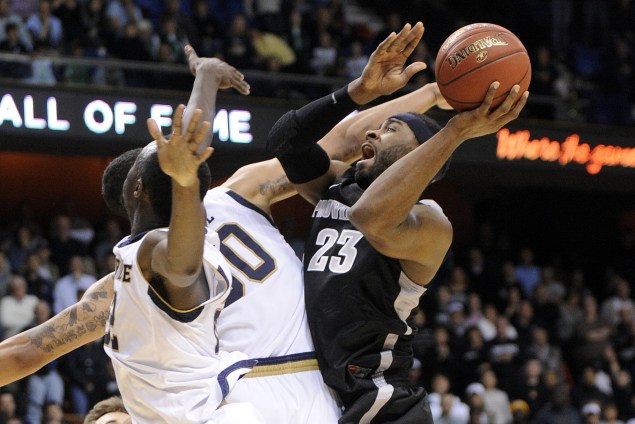 Player of the Week: LaDontae Henton, Providence
I wrote a feature on Henton, the new star of the Providence Friars, on Sunday evening after I watched him go for 38 points — including seven points and two go-ahead baskets in the final two minutes — in a win over Notre Dame in the finals of the Hall of Fame Tip-Off. That came a day after Henton went for 24 points as the Friars blew out Florida State in the semifinals of that matchup.
It's early, I know, but Henton is the best player in the Big East right now, the guy that will be taking over Bryce Cotton's role as Ed Cooley's go-to guy. He's a bit undersized to be a power forward, and he's not quite quick enough to be a full-time off-guard. But that doesn't change the fact that Buckets can get buckets.
The All-They-Were-Good-Too Team
Angel Rodriguez, Miami: Angel Rodriguez scored 20 points in the final 6:47 — including this game-winner — to beat Florida in Gainesville. Rodriguez averaged 16.8 points, 5.3 assists and 3.0 steals while shooting 10-for-22 from three. He's happy to be home.
Jonathan Holmes, Texas: Holmes was terrific for Texas at Madison Square Garden this week as the Longhorns picked up two wins in the 2K Sports Classic.
A.J. English, Iona: Iona went just 2-1 this week, but they won at Wake Forest and at North Texas while English averaged 28.7 points. He hit 13 threes this week.
Shannon Scott, Ohio State: The Buckeyes beat Marquette and Sacred Heart this week. Scott finished with 30 assists and five turnovers.
Brad Waldow, Saint Mary's: The Gaels won three games against quality mid-major competition, and Waldow led the way, averaging 23.3 points and 8.7 boards.
Notables: E.C. Matthews (Rhode Island), Quinn Cook (Duke), James Blackmon (Indiana)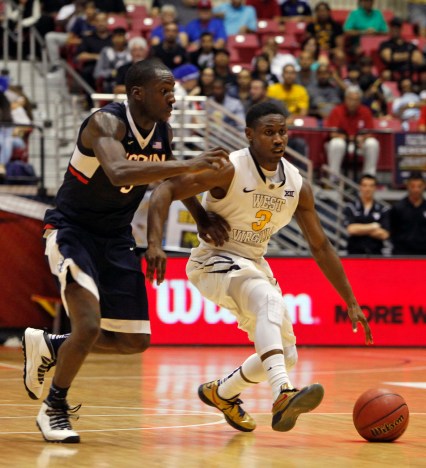 Team of the Week: West Virginia Mountaineers
The Mountaineers finally looked like a team that is coached by Bob Huggins this week. They're now 5-0 on the season after winning the Puerto Rico Tip-Off, and it's not just Juwan Staten stealing the show. The biggest difference with this team has been the play of Devin Williams and Jonathan Holton up front. WVU is defending, they are rebounding, they are getting physical in the paint. The highlight thus far? a 78-68 win over UConn where WVU looked like old school Huggy Bear, wearing down the Husky guards with some full court pressure.
They Were Good, too:
Miami Hurricanes: Angel Rodriguez and Sheldan McClellan led Miami to a 4-0 week, which included a title in the Charleston Classic and a win at Florida.
Creighton Bluejays: Who thought Creighton would be able to bounce back after losing Doug McDermott and the rest of that senior class? Well, they beat Oklahoma at home on Wednesday after erasing an 18 point deficit.
Northeastern Huskies: Northeastern won the mid-major version of the Hall of Fame Tip-Off on Sunday. That came after the Huskies knocked off Florida State.
Wyoming Cowboys: Larry Nance Jr. appears to be healthy these days, sparking Wyoming's 56-33 win over Colorado on Saturday.
San Diego State Aztecs: SDSU scored a grand total of 104 points in two wins this week, but that's perfectly fin if you allow an average of 38 points per game.