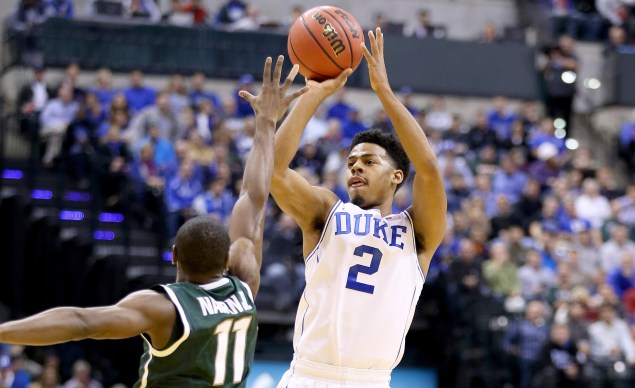 Quinn Cook is playing the best basketball of his Duke career right now.
In Saturday night's 70-59 win over Stanford in the finals of the Coaches vs. Cancer Classic at the Barclays Center, Cook finished with 16 points and five assists, hitting 4-of-9 from three and committing just a single turnover. That came after averaging 16.8 points, which would be a career-high, and 4.0 assists — not to mention the 50 percent he's shooting from three or the three turnovers he had in 122 minutes — through the first four games of the season, and while that didn't exactly come against tough competition, Cook's best game came in the 81-71 win that the Blue Devils had against No. 19 Michigan State.
On the surface, that's not all that surprising. Cook is a senior. Duke lost Jabari Parker and Rodney Hood to the NBA, and when two elite scorers head to the professional ranks, someone is going to have to step up to provide the scoring that will be missed.
The difference in Cook's case is that he's doing all of this despite playing a position that he's never played before in his life. "I've ever done this before," he said. "This is my first time."
Through five games, it's inarguable: Quinn Cook is thriving as a shooting guard, and he's doing it in a year where he's been asked to relinquish his role as Duke's starting point guard, where he's changing positions as a senior to make room for a stand out freshman, Tyus Jones. recruited to take his job. That's not an easy thing to do. There's a mentality that goes into being a point guard, and those that play the position well wear it like a badge of honor. It's almost a status symbol. A point guard is the extension of a coach on the floor, a guy that manages the game the same way that a quarterback does.
Cook knew as soon as Jones committed to the program that this would happen, that they would be on the floor at the same time, and that fact was driven home the day that the season started.
"I embraced it the first practice," Cook said. "We were on the same team. He was the one. There was no fighting it."
And the fact that he is embracing his new role is one of the major reasons that No. 4 Duke looks like they'll spend the entire season looking like one of the nation's national title favorites. He's still working out some of the kinks, but there's not questioning that to date, Cook has fully bought-in to the new way that he will be playing.
"Coach wants me the shoot the ball," Cook said. "He knows I'm one of the best shooters on the team. He gets on me when I pass up shots. When I have space, he wants me to shoot."
"Quinn's playing great," head coach Mike Krzyzewski said. "We probably should have gotten him more shots."
"It's fun," Cook added with a laugh.
This was the biggest question mark for the Blue Devils entering the season, and the early returns make any doubts that prognosticators had in the preseason seem foolish. Ask any coach in the country, and they'll tell you that it's never a bad thing to have two point guards on the floor at the same time. There were times during this game where Stanford tried to keep Jones from getting the ball in an effort to make it difficult for Duke to initiate their offense, but it didn't work. It's easy to forget that Cook is an all-ACC caliber point guard.
But he's also an excellent scorer and, as he mentioned, one of the best shooters on the team. He's talented enough that he's still a threat even when he plays off the ball, when he's asked to be a guy that scores 16 or 17 points a night, but that unselfishness is there as well. He still makes the right pass if a teammate has a better look. When he puts the ball on the floor and gets into the paint, he can still find open men and collect assists.
And that's what makes this Duke team so dangerous.
Jahlil Okafor is one of the most powerful offensive forces in the country this season. Stefan Nastic was able to do a pretty effective job against Okafor defensively on Saturday night, but every single time Okafor received an entry pass in the post, you could see the Stanford defense take notice. There needs to be help. There needs to be a defender doubling Okafor or, at the very least, making it known that he won't be allowed to simply go one-on-one on the block.
That means that there will be opportunities for the Duke guards to attack close outs and to get open shots. They'll be put in situations that they can take advantage of, and having an off-guard capable of scoring at this level while still having the ability to create for his teammates at an all-conference level is an absolute luxury.
Don't get me wrong, it's still a bit of a work in progress. It will be interesting to see what will happen with Cook as defenses start to build their gameplans around slowing down a guy that has been one of the best scorers in the ACC. Perhaps the biggest issue will be on defense, where neither Cook and Jones have the reputation of being the next Gary Payton. What happens when they run into a team like North Carolina or Arizona, one with big, talented wings that can take advantage of Cook's lack of size?
Only time will tell.
But with a little more than a week of the season in the review mirror, it looks like Coach K's club will be able to handle those problems without much stress.