SOUTH KINGSTOWN, R.I. — Rhode Island upset No. 21 Nebraska, 66-62, in overtime on Saturday night in front of a sold-out, on campus crowd at the Ryan Center in South Kingstown.
Jared Terrell began overtime with an open three from E.C. Matthews. A poor shooting night as a team from behind the arc (3-for-19) didn't shake Terrell's confidence to take a step-back baseline three on the next possession — following two Shavon Shields free throws — to give Rhode Island a two-possession lead at 59-55, marking the first time either team held a lead larger than two since 7:20 left in the second half.
Terrell's quick rally helped the Rams go on a 9-2 run to start overtime en route to a marquee non-conference win three games into the 2014-15 season, the third under head coach Danny Hurley.
The last time Rhode Island had knocked off a ranked opponent was Dec. 2, 1998 when the Rams defeated No. 25 Utah. That team included Lamar Odom. Almost a full sixteen years later, students on campus are more prone to associate Odom in his supporting role with the Kardashian clan than with their basketball program.
"It was a great night for a fans," Hurley said in the post-game press conference. "It was a night our fans were waiting for for a long time. We've got a great group of young guys here [with] senior leaders. This isn't going to be our last moment like this. This is a big step forward for us in terms of our confidence and knowing what we're capable of doing, finishing a game like that against that quality of an opposition. It was an enormous moment for our program."
There had been smoke in South Kingstown for quite some time now ever since the arrival of Hurley in 2012. He came in having rebuilt Wagner with a 20-win turnaround in just two seasons. He also saw early success on the recruiting trail with his first recruiting class consisting of Matthews and Hassan Martin, both rated in the Rivals150. The next class was headlined by the late addition of Terrell. Matthews shared A10 Rookie of the Year honors last season, a year in which the Rams endure a laundry list of close calls with 11 of 18 losses decided by single digits.
But now, after an upset win over a ranked opponent, there is fire in this upstart Rhode Island program.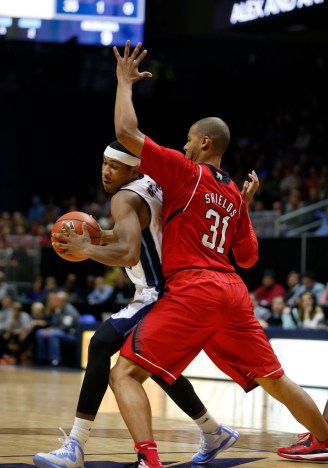 Saturday night served as the first tangible evidence that Rhode Island is ready to make the jump to the top of the Atlantic 10 Conference standings aside the likes of VCU, Dayton, George Washington and UMass. This was Rhode Island's first competitive contest after double-digit wins over Pace and UMass Lowell. The former is a Division II school out of New York, and the latter is a Division I newbie, a ex-conference rival of Pace just two years ago.
The Rams have one of the conference's top guards in Matthews, who scored 22 of 26 after halftime, getting to the line 14 times, sinking 11 of his attempts. He had struggled to get open looks, but remained steadfast in the second half, something that may not have happened a season ago as a freshman.
"I say my demeanor," Matthews said when asked what changed in the second half. "Last year, I'd probably hang my head. But I have a great coach and great teammates. They believed in me and told me to stay aggressive."
That confidence isn't limited to the star shooting guard. You could see Terrell's confidence grow as the game wore on, even when he missed 2-of-4 free throws down the stretch, that didn't deter him from stroking two 3-pointers that sparked the overtime victory.
Terrell was relentless against Nebraska's Terran Pettway. The all-Big Ten wing did finish with 15 points, but it was off 5-of-18 shooting with three of those buckets coming in transition and another being an uncontested dunk. Terrell provided him little space for Pettway to operate and closely contested every jump shot.
That toughness was also found on the glass where the Rams held a 49-36 advantage, holding Nebraska to seven offensive rebounds on the night compared to Rhody's 16.
"I think Rhode Island is a pretty good team," Nebraska head coach Tim Miles added. "I haven't seen the whole A10 so I can speak to that, but Coach Hurley has a physical group."
For the Rams, they'll have little time to bask in Saturday night's win, which included the first court storming of the college basketball season. Rhode Island travels to Florida for the Orlando Classic, where it is pitted against No. 5 Kansas in the quarterfinals.
"I thought they canceled that tournament. I thought we we're getting Thanksgiving off," Hurley joked.
"Those guys are a blue blood program, but we're going to enjoy this tonight. Everyone should. It was magical night here, this did a lot for our brand. We have a lot of work to do. We have a huge, huge tournament against one of the best teams in the country. They probably aren't in a great mood after their game against Kentucky, but our preparation is going to be good. We're going to practice the right way and we're going to have a game plan to be in the mix with them."
The Rams will have their work cut out for them in Orlando, but Saturday's win was another step in the right direction. Rhody is rising, maybe sooner than expected.
"First year was a huge task," Hurley said. "Last year, you start to see it coming together with E.C. and Hassan coming into the mix; these dynamic young players. You start to be more confident and bring in the next class of kids with Jared and Jarvis [Garrett] and Earl [Watson].
"We going to go through ups and downs and growing pains this season. We're a young, young team relative to college basketball. So they're will be bumps in the road, but I know these young guys were building this thing with, this core group here, how can you not know what's coming?"