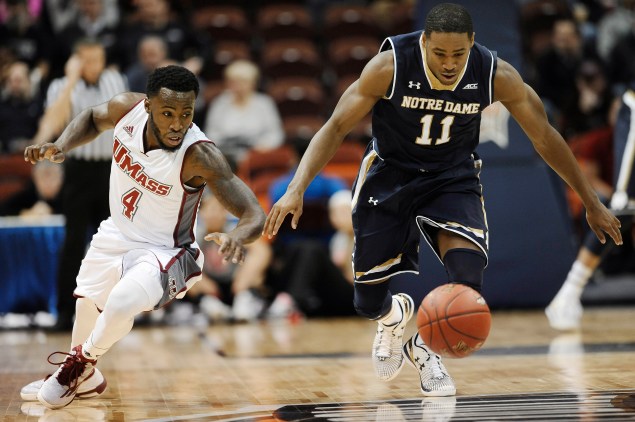 Notre Dame got off to a slow start against UMass on Saturday, and after playing three games against lower-level competition to start the season, you couldn't blame the Fighting Irish for looking a bit sluggish.
Mike Brey's team trailed 23-13 with a little over eight minutes to go in the first half and Notre Dame's offense was stagnant and looked intimidated by the Minutemen's press coming out of the gate. But the Irish switched to a matchup zone, closed the first half on an 18-5 run, and never trailed in the second half of a solid 81-68 win over UMass to open the Basketball Hall of Fame Tip-Off Classic at the Mohegan Sun Arena in Uncasville, CT.
While UMass has the talent to compete for a postseason berth in 2014-15, they didn't have anyone to match the effort put on by Notre Dame senior guard Jerian Grant on Saturday.
In his first game facing stiff competition this season, Grant was more than up to the challenge as he finished with 24 points, eight assists and four rebounds on 10-for-13 shooting from the field. Grant also did most of his damage while being defended by UMass junior guard Derrick Gordon, known as a sound and tough perimeter defender.  For the All-ACC candidate, it was a great sign, as Notre Dame needs Grant to play at a star level for them to really reach its goals this season.
But Grant had plenty of help, and the play between the senior and sophomore point guard Demetrius Jackson was another positive sign for the Irish. Jackson finished with 16 points and also added five steals as the former McDonald's All-American operated well attacking from the perimeter and it allowed Notre Dame to spread the floor with four perimeter options for much of the game.
The Irish aren't particularly big, but junior big man Zach Auguste (11 points, 10 rebounds) held his own against a talented post player in UMass senior center Cady Lalanne (16 points, six rebounds) after Lalanne started the game by hitting some shots. On the offensive end, Notre Dame used its spacing to its advantage as Grant, Jackson, senior Pat Connaughton (18 points, seven rebounds) and sophomore Steve Vasturia (seven points, seven rebounds) can all space the floor and make plays as passers. It remains to be seen how the Irish will defend elite ACC big guys like Jahlil Okafor with its lack of size, but Saturday afternoon against Lalanne was a positive first test and Connaughton and Vasturia are both tough rebounders for their size.
Notre Dame (4-0) has to be particularly encouraged by a defensive effort that held UMass to 42 percent shooting (21-for-49), 35 percent three-point shooting (6-for-17) and forced 18 turnovers. The Notre Dame offense also played far more aggressively in the second half as the Irish went to the free-throw line 16 times compared to one time in the first half.
Gordon paced the Minutemen (3-1) with 18 points in the loss as UMass took a lot of rushed shots towards the end of the first half to relinquish the lead. Notre Dame held a manageable lead for most of the second half and led by as many as 17 points.
It remains to be seen if Notre Dame can compete with top-25 level competition and big and talented front courts, but Grant looks like a star right now, he has a skilled and hard-playing supporting cast around him and the Irish's play on both ends of the floor in the second half gives them a lot of encouragement going forward.