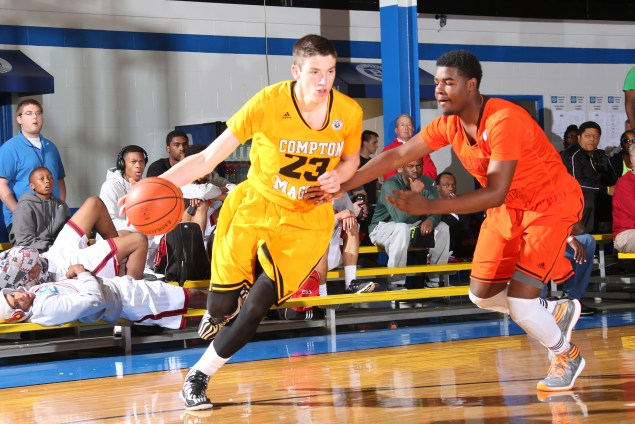 Each Friday, College Basketball Talk's Scott Phillips goes over some important news and notes in the world of college basketball recruiting. This week, Arizona continues to add interior depth, Oklahoma gets rolling in 2016 and Memphis has more commitments reclassifying.
Arizona continues to added talented forwards
When Arizona added five-star Class of 2016 forward T.J. Leaf on Wednesday, it gave the Wildcats another blue-chip talent, but it also stabilizes head coach Sean Miller's depth at power forward for the foreseeable future. Leaf still has another two season of high school basketball before he begins his college career, but his pledge means that Arizona has a good feel for its interior depth the next few years.
Junior Brandon Ashley and freshman Craig Victor currently give Arizona a talented duo at the four, and if Ashley opts to leave early for the 2015 NBA Draft as some have speculated, then the Wildcats will still have depth without him. Boston College transfer Ryan Anderson is currently waiting in the wings as a redshirt and could fill in for Ashley in the starting lineup and Victor would be a valuable backup again as a sophomore.
Once Anderson leaves Tucson after his one season playing for the Wildcats, Victor would likely assume the starting power forward role and Leaf, a freshman, would be the stretch-shooting backup. Miller has to love the depth he has in place at this position the next few seasons. If that projection played out as I just laid it out — and injuries and players exceeding or failing expectations could certainly change that — then Miller would have an upperclassman starting at that position in three straight seasons with a talented underclassman backing him up.
Let's focus more on Leaf for a second. With his skill level and ability to stretch the floor, he provides valuable additional shooting off the bench in his first season or two as he adjusts to the physicality of the college game. While many teams in the college game will space the floor at forward, Leaf's 6-foot-10 size gives him an immediate advantage over his peers at the position.
Leaf will need to get a little tougher on the inside and become a more consistent rebounder, but he has two years to add strength and get more comfortable with his size before arriving in college. Arizona continues to roll on the recruiting trail and Leaf is a great start in the 2016 class.
Oklahoma lands a key piece in 2016
Lon Kruger has a lot of positive things going at Oklahoma right now. The Sooners are a trendy darkhorse Final Four pick and Oklahoma looks like it should be able to score points in bunches again this season. That on-court momentum has also translated to recent recruiting success as Kruger landed a commitment from Oregon native and four-star 2016 guard Payton Pritchard on Tuesday.
Adding Pritchard means that Kruger has another high-octane guard who can push tempo, create shots for himself or find others with the pass. Oklahoma now has the luxury of having a skilled guard in place to mold the next few seasons before Pritchard is asked to take over for Jordan Woodard.
Woodard should be a senior when Pritchard is a freshman and the two guards could spend time playing alongside each other and forming a potent scoring backcourt while Pritchard can also get points off of the bench.
This is a nice start to the 2016 class for Oklahoma, and as the No. 38 overall prospect in Rivals' 2016 national rankings, this is the most highly-touted commitment Kruger has reeled in.
More Memphis reclassifying
Memphis has been all about reclassifying commitments this fall as the Tigers already had two different verbals move classes to balance things out a little better for the future. In a previous recruiting roundup, I went over Memphis putting Dedric Lawson with his brother K.J. in the 2015 class and former 2015 center Nick Marshall moving to the 2016 class.
Now, the Tigers are at it again, as guard Randall Broddie is moving back up to the 2015 class from the 2016 class, according to Evan Daniels of Scout.com. Given the early-season struggles for Memphis with its guard play, this really comes as no surprise.
Broddie is a combo guard capable of scoring or doing a little bit of distributing and he'll at least push the competition level at guard next season if he isn't ready to come in and play major minutes right away. Josh Pastner has done a lot of tweaking with this 2015 class, but based on his team's slow start, it's become apparent that he needs a shot in the arm on the perimeter and this next group should bring some help.