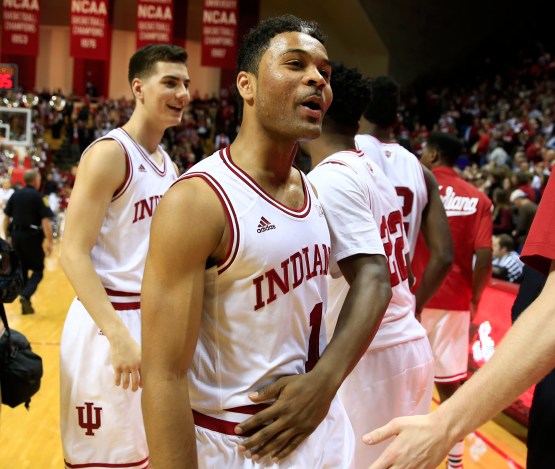 Outside of Wisconsin, the Big Ten is impossible to differentiate. Six teams could finish second and two more could make the tournament. Who in that league shocks us, and who is the biggest disappointment?
MORE: Read through all the Burning Questions here
Rob Dauster: Well, I would have had Iowa as the team that would shock us before they got drubbed by Texas. Now, not so much, so I'm riding with Indiana. I entered the season thinking there's no way this team makes the tournament. I've softened on that opinion, however, as I think that IU's trio of guards (Ferrell, Blackmon, Johnson) will not only be exciting to watch but will get the Hoosiers enough wins that they end up dancing.
As far as a disappointment is concerned, I'll take Michigan State. This is a team that was supposed to be a top five seed in the NCAA tournament based on where they were ranked entering the season, but based on what I've seen from them, I think that will be tough to do. I'm not sure the Spartans are a Top 25 team.
Raphielle Johnson: For a surprise, I'll take Minnesota. Andre Hollins and Dre Mathieu are solid leaders on the perimeter, and adding Nate Mason and Carlos Morris to the fold gives Richard Pitino additional depth at the guard spots to work with. And I think think Joey King takes a step forward this season. He averaged just over seven points per game last season, starting 15 of the 37 games in which he played, and with more minutes I think he'll become a double-digit scorer for this group. Add in their pressure defense and the experience of the Postseason NIT title run, and I think the Golden Gophers are better than where they've been picked.
As for a disappointment, I'll take Iowa. They're still skilled offensively, with forwards Aaron White and Jarrod Uthoff being the guys who stand out in my view. But I'm still not convinced that the Hawkeyes are capable of stringing together stops. They may be able to get away with that in the majority of their non-conference games, but as we saw last year you can't do that in the Big Ten.
Scott Phillips: I think Illinois has a chance to surprise some people in the Big Ten despite the loss of starting point guard Tracy Abrams before the season. Replacing Abrams at guard are transfers Aaron Cosby and Ahmad Starks, who each have multiple seasons of college experience, a redshirt year and are better perimeter shooters. Illinois is thin in the front court, but they have to like the improved three-point shooting so far during its first two games of the season, which they struggled with last season.
As for a team that could disappoint, I'll say Michigan. I still believe John Beilein's team could make the NCAA Tournament, I just don't believe they're a Top 25 team like the preseason polls indicated. The freshmen have come along slowly and aren't playing many minutes right now and Zak Irvin and Derrick Walton Jr.'s production will slow down as the Wolverines play better teams. Their inside play is still a big question mark against experienced big men as well.
Terrence Payne: After last night, I think you have to put some stock into Indiana. It's not just Tom Crean that has taken the heat, it's the players themselves, getting called out by former IU greats, and having to publicly apologize to an entire fanbase. It seems like a wakeup call for a lot of those guys in the program, and last night's win over No. 22 SMU was an impressive way to respond. I'm not sure it's enough to put them as a top six team in the league, where five teams will battle to finish second behind Wisconsin, but IU is back on the tournament radar.
It seems unwise to go against Tom Izzo, but I don't see Michigan State will finish second, where the Spartans were slotted in the preseason poll. It's a long way to go, but I still would have Nebraska, Ohio State and Michigan rounding out the top-4 in the Big Ten standings with Wisconsin.