I judge the intelligence of people based on how they answer a simple question, and "Can Kentucky beat the 76ers?" is a simple question.
No.
They cannot.
And if you answer otherwise, you're dumb.
Look, the level of play in the NBA is so much higher than it is in college it's almost pointless to try to explain. Everyone is bigger, faster, stronger and better, and it's by a wide margin. But if that's not enough, think about this: The NBA game is all about spacing — driving lanes, room to post up, moving the defense by moving the ball, etc. — and that's created by the deeper three-point line. In simpler terms, you have to be able to stretch the floor with shooting in the NBA. Kentucky's offense gets bogged down because they struggle to make college threes. John Calipari practically begs starting small forward Alex Poythress not to shoot from beyond the arc.
And that's saying nothing about the fact that UK's back court would be eaten alive by a Philly perimeter of Tony Wroten, Michael Carter-Williams, K.J. McDaniels and Luc Richard Mbah a Moute.
But they're going to beat a team full of NBA players, right?
I'm sick of having to explain this to people, but I'm doing it one more time because, according to this poll from SportsNation, 54 percent of Americans are idiots: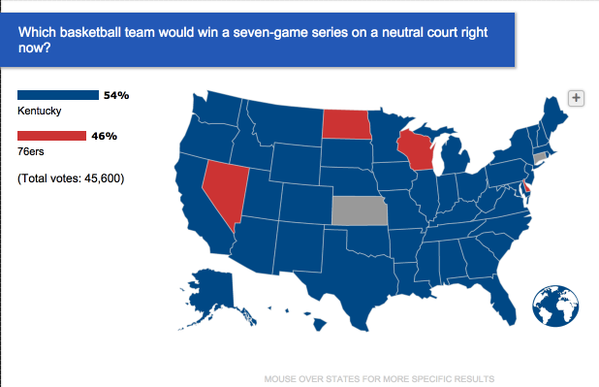 The example that I've been using to explain this to people is Jordan McRae. He was a two-time all-SEC player at Tennessee that would have been the best guard that Kentucky has on their roster this season. He's playing in New Zealand right now because he couldn't make the 76ers roster.
Let's take it a step further, though, and check in on what last season's college basketball All-Americans are doing right now:
After lighting up college basketball for the last three years, McDermott became a lottery pick in 2014 and is now averaging 4.2 points while coming off the bench for Chicago.
Jabari Parker is having a better season in Milwaukee, but he's a long, long way from being a star, averaging just 10.7 points.
Shabazz Napier, who carried UConn to a national title last season, is averaging 5.2 points and 2.4 assists with the Heat.
Russ Smith has played four minutes with the Pelicans this season. Four.
Sean Kilpatrick is in the D-League.
Those five would beat this Kentucky team.
Need more evidence? One of the three states that doesn't believe Kentucky can beat Philly is Nevada, which has the highest concentration of sports bettors.
Or how about this: Remember the point guard on that 2012 team that won the national title for Kentucky? It was Marquis Teague. He was picked 29th in the NBA Draft that year. He's played 88 games in the NBA, has started just three, is averaging 2.3 points and is currently back in the D-League. He would be the best point guard on this Kentucky team.
Enough is enough.
There is only one way that Kentucky would beat Philly, and that's if the 76ers got confused, thought they were playing a real NBA game and tanked.
So please, people, just stop being so dumb.