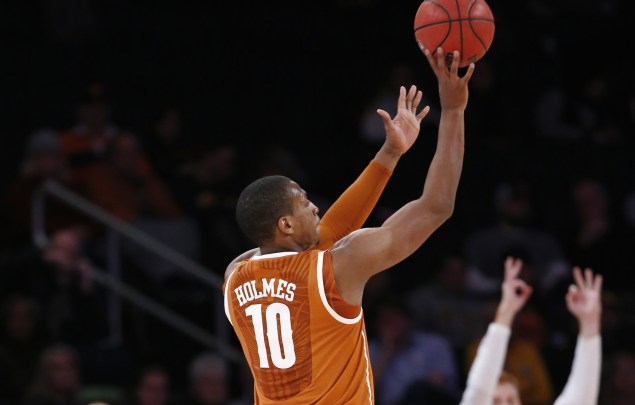 With 41 seconds left in the first half of the 2K Sports Classic opener on Thursday night, No. 10 Texas looked like they had forgotten what time the game actually started.
Iowa was up 30-20, Aaron White was abusing the Texas big men and the Longhorns could not figure out what to do against the zone that the Hawkeyes were in.
That all changed in the second half.
Johnathan Holmes hit a couple jumpers to spread the defense — he had 11 of his 19 points in the first three minutes of the second half — and Isaiah Taylor started breaking down the Iowa "defense" off the dribble as the Longhorns eventually cruised to a 71-57 win. They'll play the winner of tonight's Syracuse-California matchup on Thursday.
And as well as Taylor played in the second half, it really was Holmes that showed us why Texas has a chance to be so good this season.
There really may not be a more underrated player in the country than Holmes, a 6-foot-8 forward with three-point range and the size to pound the glass inside. What makes him so valuable is that he can overwhelm smaller defenders, especially on the offensive glass, but he has the length and the quickness to hold his own defensively on the wing, particularly when Texas plays zone.
Here is a perfect example of what I'm talking about:
What small forwards are the college level will be able to deal with that? Kentucky's should be able to. Sam Dekker of Wisconsin, too. Probably Stanley Johnson and Rondae Hollis-Jefferson of Arizona. Beyond that? I don't know.
If there is a concern for Texas it's that they finished the night with 15 turnovers and just eight assists. Taylor and Javan Felix, the two Longhorn ball-handlers, finished with two assists and five turnovers, combined.
When it comes to Iowa, they played well in the first half on the defensive end, but in the second half they reverted back to the same old Hawkeyes, competitive for a half, collapsing down the stretch. Outside of Aaron White, who finished with 23 points and six boards, and Adam Woodbury, no one on the Hawkeyes looked ready to play at the same level as Texas.
I was bullish on the Hawkeyes entering the season.
It's still early, but I'm not feeling confident in that prediction right now.