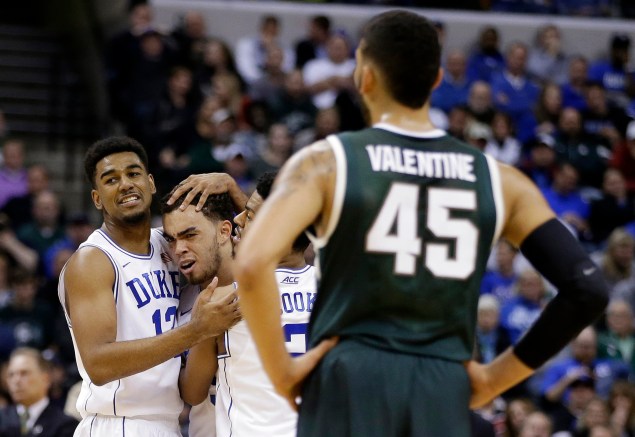 INDIANAPOLIS — Entering the 2014-15 season, it was known throughout college basketball that Duke would rely heavily on its talented incoming freshmen.
But the unanswered question remained how Blue Devil head coach Mike Krzyzewski would handle his dueling point guards in senior Quinn Cook and freshman Tyus Jones? The 6-foot-2 Cook had a bevy of experience and started 22 games last season, but his inconsistent play at the end of the campaign made it seem as though a position battle was brewing. And although the 6-foot-1 Jones entered Durham as a highly-touted, slick-passing floor leader with a solid jump shot, questions about his ability to defend at the college level didn't make him a definitive starter like a few of his fellow freshmen.
So far this season, though, Cook and Jones have both started, and thrived, in the same backcourt during Duke's 3-0 start. Monday night's combined effort against Michigan State in the Champions Classic was particularly noteworthy. The duo put up 36 points, 10 assists and zero turnovers in the Blue Devils' 81-71 win over the Spartans. They were also efficient as shooters, combining to go 11-for-17 from the field and 5-for-7 from three-point range
After the game, Coach K had plenty of praise for the two McDonald's All-American point guards that helped Duke maintain a comfortable lead despite foul trouble to freshman center Jahlil Okafor and an illness to reserve guard Rasheed Sulaimon.
"Quinn's presence was really, really big for us," Krzyzewski said. "He and Tyus have really developed a great relationship and I thought Tyus took off in the second half. You get 36 points from the two of them; ten assists, no turnovers, good defense."
It wasn't always supposed to be this easy of a decision. In the preseason, it looked like Jones was winning the "battle" over Cook after the freshman started both preseason games and Cook came off the bench. But the two point guard look has given Duke a major lift in its starting line-up.
Having two steady ball handlers is a nice perk for Duke's offense, but Cook also looks very comfortable as a spot-up shooter off of feeds from Jones and the freshman is also enough of a threat as a perimeter shooter to space the floor if Cook takes the ball up himself.
The duo is also showing a tremendous amount of poise and leadership under pressure. When Okafor went down with his fourth foul of the game with 8:54 left in the second half against Michigan State, it was Jones who stepped up and hit the big four-point play a minute later to push the Duke lead back to double digits.
Jones spent much of the first 30 minutes of the game deferring on offense and setting up his teammates, but he and Cook became leaders for a unit that would not wilt without its star big man.
"I was proud of Tyus, personally, not scoring the ball and trying to get everyone involved in the first half. He took his shots with confidence and he played big for us," Cook said. "When Jah went out with the fourth foul, we didn't panic, we came together. We wanted to get some rebounds because we were smaller out there and everybody stepped up."
That kind of leadership was lacking at times for Duke last season. If Jabari Parker or Rodney Hood struggled to make plays, it was difficult to identify a consistent third option that would step up in key moments. But with Okafor off the floor against Michigan State, Cook and Jones helped Duke keep its head above water.
The praise from Jones about his "big brother both on and off the court" was high on Monday night as the two point guards sat together smiling in the press conference after the Champions Classic win.
"He'll pull me aside on the court and tell me to look for something different or to try to approach things a different way. But at the same time, he's given me confidence by telling me to believe in myself because he knows what I can do on the court," Jones said of Cook. "He welcomed me with open arms and it's been really easy to adjust."
Cook's selfless attitude and "off-the-charts leadership," as Krzyzewski put it, is making a huge difference for Duke this season because it's allowing Jones to stay comfortable playing his own game while also letting Cook be effective with his strengths. The two are meshing well together and Duke's offense is limiting turnovers and shooting high percentages.
The immediate need for Okafor was fairly obvious. The Blue Devils had a tough time rebounding, getting stops at the rim and achieving positive post touches on offense in 2013-14, so the No. 1 incoming freshman in the country entering the starting line-up was a foregone conclusion. Losing Jabari Parker and Rodney Hood to the 2014 NBA Draft meant Krzyzewski had a need for a scoring wing who could play both sides of the floor so the starting line-up also had a hole that freshman Justise Winslow fit nicely.
But who could have predicted the tremendous lift that this new backcourt would be giving Duke? Krzyzewski could have opted to go with Option 1A or 1B as the starting point guard but the unexpected Option C is working out fine. Okafor and Winslow are looking like the new go-to guys to replace Parker and Hood this season but the combination of Jones and Cook is giving the Blue Devils a much more reliable third option than last season while also limiting turnovers and spacing the floor around Okafor.
Questions will continue to arise if Cook and Jones can defend a high-scoring backcourt featuring a bigger guard, but for now, the Blue Devils are happy to have steady leadership, an efficient offense and a more hopeful outlook on the future after last season's embarrassing early exit.