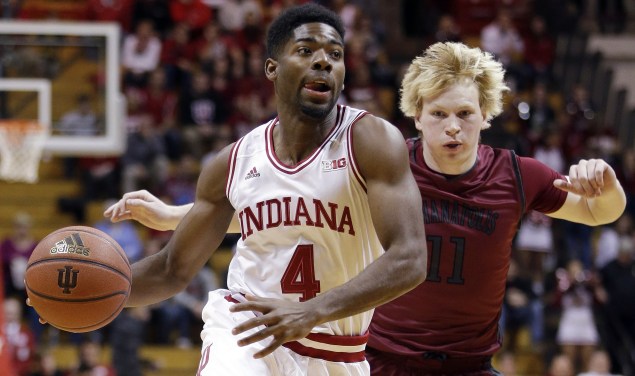 There was a lot of hype surrounding freshmen last season. Outside of the high-profile newcomers (i.e. Jahlil Okafor, Karl Towns, etc.), which freshman will have the greatest impact on his team this season?
MORE: Read through all the Burning Questions here
Rob Dauster: I think the three leading scorers for freshmen this season will be UNLV's Rashad Vaughn, Seton Hall's Isaiah Whitehead and Ohio State's D'angelo Russell, but none of those three would qualify as "off the radar". There are two guys that I like for this: L.J. Peak at Georgetown and Robert Johnson at Indiana. Peak is an athletic of-guard that can really score in transition, which is something that the Hoyas have lacked in recent seasons. Johnson is overshadowed by Yogi Ferrell and James Blackmon Jr., but he can really shoot the ball and will be a weapon in their uptempo offense this season.
Raphielle Johnson: I'll go off the radar some as well, and take Reid Travis at Stanford. The Cardinal lost a lot with the graduation of both Josh Huestis and Dwight Powell. Huestis, who improved a great deal as an offensive player during his time at Stanford, was one of the best defensive players in the country, and Powell was the team's best front court scorer and distributor (he led the team in assists). With those two gone Stefan Nastic is going to need help inside, and Travis is the newcomer best equipped to provide it. He has no problem staying around the basket to hit the boards, which I think works well with the skills Nastic brings to the table. He's not going to put up the numbers of some of the more noteworthy freshmen, but Travis is going to be a very good addition for Stanford.
Terrence Payne: Kaleb Joseph has had the spotlight shined on him before he even stepped foot on the Syracuse campus. With Tyler Ennis declaring for the NBA Draft, the No. 46 overall recruit in the Class of 2014 has not only been thrusted into the starting point guard role, he's the only true point guard on the roster. The Orange are counting on an increased offensive production from Rakeem Christmas, consistency from Trevor Cooney and contributions from players who saw limited minutes in 2013-14, but stability at the point guard position could inevitably be the key to Cuse's season. And Joseph will have plenty of reps to leave his mark.
Scott Phillips: I think Daniel Hamilton has the chance to be an impact wing for head coach Kevin Ollie at UConn this season. The Huskies have only played one game this season and the 6-foot-7 wing went for a solid nine points and seven rebounds in his college debut. When Hamilton stepped up his play in the second half, UConn took its play to another level and he really looked good in open-floor situations. It also doesn't hurt that Hamilton has a reputation for making big shots from his time in high school.