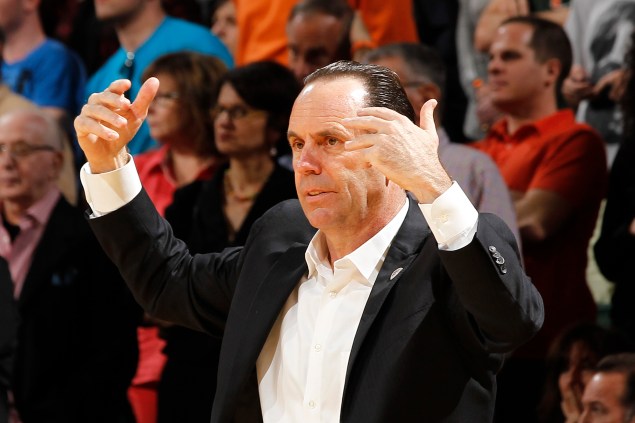 Last year, teams such as Texas and Nebraska were dismissed right away only to defy preseason expectations and reach the NCAA tournament. What team out there will surprise this season?
MORE: Read through all the Burning Questions here
Rob Dauster: I really like Notre Dame this season. Let's start with the obvious: Jerian Grant is a star. He was putting up All-America caliber numbers when he was suspended last season and he's picked up where he left off this year. But he's not alone, either, as Patrick Connaughton, Zach Auguste and Demetrius Jackson all return as well. I know it's easy to write off the Irish after the season they had last year, but thre's one note that I would make: losing Grant meant they not only lost their best playmaker, but they lost the guy that they go to in crunch time. That's a big blow for a team to overcome in December.
Raphielle Johnson: I also like a team from the ACC: NC State. Since they've lost T.J. Warren and Tyler Lewis transferred to Butler, people haven't discussed NC State as much as they should in my view. Cat Barber's back and provided he takes a step forward as a distributor, he will be one of the best point guards in the ACC. Yeah, I'm going that far. Add in Alabama transfer Trevor Lacey, Ralston Turner and Desmond Lee and I like the backcourt rotation at Gottfried's disposal.
And the front court is deep as well, with BeeJay Anya in better shape and both Lennard Freeman and Kyle Washington returning from last year's team. Abdul Malik-Abu will factor into their plans inside, and twins Caleb and Cody Martin can compete for time at the three. Looking around it seems as if many have given this team a ceiling of squeaking into the NCAA tournament (ACC media picked them to finish 9th in their preseason poll). I think they're safely in, and if we believe Duke/UNC/UVA/Louisville are the top four in some order, why can't the Wolfpack finish fifth?
Scott Phillips: I'm going to go to the mid-major ranks and pick a Missouri Valley program that I think will have a really good year in making it back to the NCAA Tournament. Northern Iowa is deep, with plenty of experienced pieces and capable scorers and the Panthers earned a nice win at Stephen F. Austin on Tuesday. Wichita State is still the clear favorite in the Valley, but senior forward Seth Tuttle is a star in the making to build around, capable of efficient near double-double performances with good scoring numbers every game. Northern Iowa will get a nice two-game stretch of non-conference games to gauge how good they are as they travel to VCU and then play Iowa on a neutral site in December.
Terrence Payne: Sticking with the ACC theme we've got going here, I'll go with Miami. Doesn't sound like I'm going out on too much of a limb here given Angel Rodriguez's heroics on Monday night against No. 8 Florida, but the Hurricanes were slotted 10th in the ACC preseason poll. Jim Larranaga has a steady perimeter with Rodriguez, Sheldon McClellan, Manu Lecomte, JaQuan Newton and Deandre Burnett. The frontline is the issue, but Tony Jekiri will get some help in mid-January with the addition of Ivan Cruz Uceda. I see Miami back in the conversation come Selection Sunday.