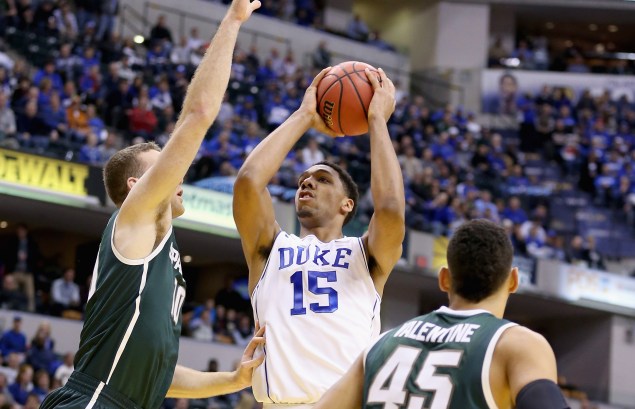 INDIANAPOLIS — The Champions Classic has become one of college basketball's marquee events, the culmination of a made-for-television 24-hour Tip-Off Marathon that ushers in the season for the common fan.
With blueblood programs Duke, Kansas, Kentucky and Michigan State battling one another each November, between the title-winning head coaches and the numerous potential All-Americans on the floor, as a sports fans, what's not to like?
But as major college basketball has evolved into a one-and-done driven recruiting race between the haves and the have-nots, one of the four programs participating in the Champions Classic is clearly behind in the elite talent pool for the 2014-15 season. It certainly showed on Monday night as No. 4 Duke led wire-to-wire in an 81-71 win over No. 19 Michigan State.
The Blue Devils jumped out to an 8-2 lead less than two minutes into the game and seemed to hold a managable difference between 5-10 points for much of the rest of the contest.
MORE: No. 1 Kentucky makes 40-0 seem possible with punishing win over No. 5 Kansas
Tom Izzo's Spartans showed the talent, toughness, determination and execution needed to be a Top-25 mainstay and a Big Ten title contender. But without elite, pro-level talent, Michigan State couldn't get over the hump when facing future pros like Duke's freshmen, center Jahlil Okafor and small forward Justise Winslow.
Much has been made of the 2014 Champions Classic having 23 total McDonald's All-Americans between the four rosters, but the Spartans only contributed senior wing Branden Dawson to that equation. Meanwhile, freshmen starters for Duke like Okafor, Winslow and point guard Tyus Jones made a huge difference for the Blue Devils. All three were McDonald's All-Americans in 2014 and all three have been regular starters for the Blue Devils this season as true freshmen.
The 7-foot Okafor looked unguardable at times without a double team, as he finished with 17 points and five rebounds on the evening while Winslow's power game on the wing contributed to 15 points, six rebounds and three assists. When Okafor went to the bench with four fouls with 8:54 left in the second half, and Duke holding a single-digit lead, it was Jones who knocked down a four-point play a minute later to push Duke to a 64-51 lead.
Jones finished with 17 points and four assists while Duke senior guard Quinn Cook, another former Burger Boy, had a team-high 19 points and six assists as well. The Blue Devils simply had too much firepower for Michigan State.
The Spartans did as best they could with veterans like senior point guard Travis Trice (15 points, eight assists), Dawson (18 points, nine rebounds) and junior guard Denzel Valentine (13 points), but they couldn't match Duke's quick scoring bursts and overall talent. In the end, a depleted Michigan State roster couldn't hang with Duke's nine McDonald's All-Americans, but it did serve as motivation for the Spartans and gives them a measuring stick for elite teams later in the season.
"That did motivate us coming into this game," Dawson said of the All-American difference between the teams. "A lot of people doubted us and said we weren't talented enough for them and wouldn't match up with them. But I think us being a younger team and us losing our three leading scorers, we did a good job."
It's not like Izzo hasn't tried to put the Spartans in position to succeed using the same kind of elite talent that his counterparts currently possess.
The veteran head coach chased a number of players participating in the 2014 Champions Classic on the recruiting trail and was heavily involved with Duke's Jones and Okafor, as well as Kansas freshman power forward Cliff Alexander and Kentucky freshmen guards Tyler Ulis and Devin Booker. Former Duke forward Jabari Parker and former Kentucky wing James Young both played in last year's Champions Classic and were heavily recruited by Michigan State before opting to play elsewhere for their one season of college basketball.
But Izzo struck out swinging on those seven McDonald's All-Americans that were scooped up by other members of the Champions Classic, and with former Spartan Gary Harris departing for the NBA Draft himself last summer, Michigan State finds itself behind in the current evolution of talent acquisition in college basketball.
"We were in there with [Okafor], and I thought we were in there more with Jones — to be honest with you — but hey, they're both doing well and I'm happy for them. I think they're both going to be great players," Izzo said after the game.
Kentucky head coach John Calipari has set the model for success using one-and-done players in the current world of college basketball with three Final Four appearances in the last four seasons and Kansas head coach Bill Self and Duke head coach Mike Krzyzewski have recently followed suit by recruiting blue-chip players such as Andrew Wiggins, Joel Embiid and Parker. If Michigan State wants to remain among the championship pack that plays in the spotlight each November, they need to start hauling in elite talent of its own, or the Spartns won't find themselves battling for national championships in March.
Just don't tell that to the players in the Michigan State locker room, because they've already heard it all before and it won't deter them in their chase for glory in 2014-15.
"As far as our team, we don't really have any McDonald's All-Americans on this team, but we play hard, we just play solid," Dawson said. "And I think that for those guys, they were fortunate to have nine McDonald's All-Americans on their team, which play solid and play together."
Michigan State is going to claw, fight and scrap its way to another 20-win season and Izzo hasn't let the program miss the NCAA Tournament since 1997 but history certainly isn't on its side. Only two teams have won a national championship without a McDonald's All-American in the last 36 years, and the Spartans will need more blue-chip talent if they're to win their first national title since 2000.