INDIANAPOLIS — On Monday night, Miami point guard Angel Rodriguez put together one of the most impressive individual performances we'll see this season. He scored 20 points in the final 6:47, hitting five threes, including a contested, step-back 25-footer that gave the Hurricanes a lead over No. 8 Florida with 30 seconds left.
It was one of the biggest upsets that we'll see before conference season kicks off, but that's precisely what it was: an upset. Rodriguez is not going to be scoring 20 points in less than seven minutes all that often. He's not going to be hitting step-back 25-footers on a regular basis. I'll stop short of calling that performance a fluke, but the point remains that if Miami is going to count on Rodriguez to play that way to win games, they're not going to win many.
In short, what Miami did on Monday was not repeatable.
For No. 1 Kentucky, Monday night's performance — a 72-40 beatdown of No. 5 Kansas, a game wasn't in doubt for the final 30 minutes or so — was anything but an accident. It wasn't fluky, it didn't feel out of the ordinary and it certainly did not come on the shoulders of an individual performance deserving unending praise.
MORE: If Michigan State can't land elite talent, can they still be 'elite'?
Simply put, this was a systematic beatdown of a team ranked in the top-5 nationally, one features five potential NBA first round draft picks. It was an evisceration of a program that has won a decade's worth of consecutive Big 12 titles. We may not see a more dominating all-around performance than this all season long, at least not one featuring two teams that play at the high major level.
"Tonight we could have played our best game and it may not have been enough," Kansas head coach Bill Self said after the game.
And that's what makes this performance so scary.
As long as they buy-in, Kentucky can do this every single night.
It starts with their ability on the glass. Outside of maybe Texas, there is no team in the country with a frontline that is as big, as deep and as athletic as the Wildcats. Their small forwards are Alex Poythress and Trey Lyles, both of whom are more physical and athletic than the majority of Division I power forwards. What's more, those two will always be the third-biggest player on the floor. How do you keep a team with that kind of size off of the offensive glass?
Offensively, it's impossible to do any damage against them in the paint. If you're not trying to finish over Willie Cauley-Stein (7-foot), Karl Towns (7-foot) and Poythress (6-foot-7), it's Marcus Lee (6-foot-10), Dakari Johnson (7-foot) and Lyles (6-foot-10). If, on the off chance that you do get an offensive rebound, there is simply no room around the rim to try and score on a putback. Think about it like this: Kansas finished Monday night's game with 11 field goals. Kentucky finished with 11 blocks. How can you compete with that?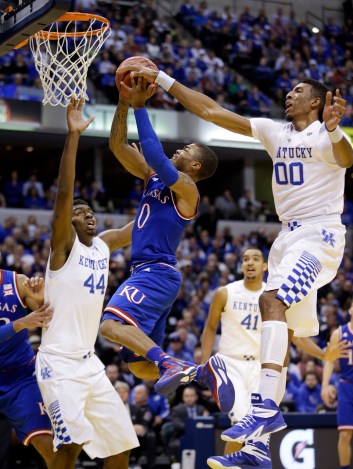 And here's the kicker: that platoon we've all been talking about so much? It's working. When your team gets winded after playing four minutes against a starting lineup full of future first rounders pressing and defending and overwhelming, John Calipari has a second wave coming in, fresh off the bench without a hint of a dropoff in talent.
They're coming in waves, and they're bigger, and more athletic, and they're fresher.
"We kind of bum-rushed them a little bit," Kentucky head coach John Calipari said. "Every time they looked up there were reinforcements coming over the hill. It wasn't substitutes, it was tanks."
And while that statement is filled with the kind of exaggeration and branding that we have come to expect out of Coach Cal, it is a statement rooted in fact.
When Kentucky wants to be, they are going to be damn-near unbeatable this season.
The problem, of course, are those three pesky little words: "wants to be". Cal can make all the excuses that he wants for his team's first half performance against Buffalo on Sunday, when the Cats trailed 38-33 at home at halftime, but the bottom line was that Kentucky simply did not show up ready to play. Whether that was a result of a wild Saturday night, the players overlooking an overmatched opponents or binging on Chick Fil-A breakfast burritos an hour before the game, only the people in that locker room will know. But it's inarguable that the reason the Cats found themselves behind is that they came out flat. Their press wasn't energetic, their defensive rotations were slow, they didn't get back on defense in transition, you name it.
In the second half, when the team finally woke up, Kentucky outscored the Bulls 38-14.
"It's just energy," Cauley-Stein said. "You can tell the games we don't play like that. It's just a slower-paced game. You can really feel it."
It really is that simple, at least at this point in the season, because where Kentucky struggles at this point is in their half court execution. The sets they run are anything-but complex — ball-screens, dribble handoffs, post isolations — which often means they rely on the individual ability of the players to create open looks. It doesn't help that on the season, Kentucky is now shooting 28.8% from beyond the arc. Factor out the 5-for-8 that Tyler Ulis is shooting from beyond the arc, and Kentucky is a rousing 10-for-44 from three.
If they continue to shoot like that, teams can zone them. They can play pack-line. They can slough off of everybody on the perimeter, packing every body possible into the paint to help nullify that overwhelming size advantage by taking away space.
As good as this performance was on Sunday night, Kentucky still shot just 43.1% from the floor and 6-for-18 from three.
But they turned 16 offensive rebounds into 19 second-chance points and 11 turnovers into 12 points at the other end.
Those are "energy points", if you will.
Does this mean that Kentucky will go undefeated this year?
Well, I wouldn't bet on it. I'd say 50% of this loss is pinned directly on Kansas and the fact that they simply are not a good basketball team right now. If these two square off again in March, Kansas will not lose by 32 points. I think even the most diehard Kentucky fan will agree with me there.
Someone is going to matchup with them. Someone is going to have the size and the length to hold their own in the paint. Someone is going to catch them on the right night, when their threes are falling and Kentucky comes out sluggish. Someone is going to make them pay for giving up 20 offensive rebounds in a game. Someone is going to go all Angel Rodriguez on them.
The Cats still have to play No. 10 Texas, No. 6 North Carolina, No. 7 Louisville and UCLA, who is ranked No. 23 in our top 25. They still play Florida twice, not to mention the rest of the SEC season.
The Wildcats look like they'll be the better team every time they take the court this season.
If they can get through their non-conference slate unscathed, their chase for 40-0 will be a fun one to follow.