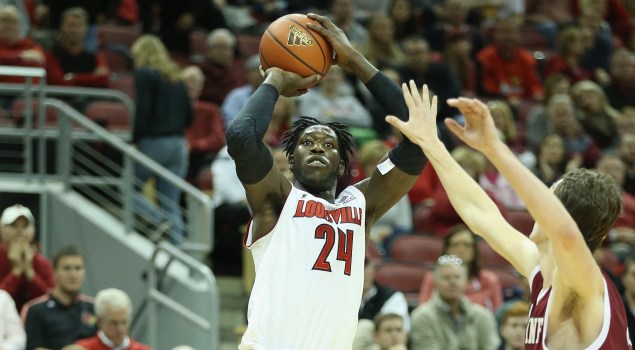 PLAYER OF THE WEEK: Montrezl Harrell, Louisville
There were a lot of games during the first weekend of the college basketball season. There weren't a lot of meaningful games, however, as the most important matchup of the first three days of college hoops was relevant more for the coaching matchup than the game itself. Minnesota took on Louisville — and lost — and Richard Pitino couldn't knock off his dad, Rick.
That said, there was a bright spot for the Cardinals, as Montrezl Harrell looked every bit the part of an all-american. He finished with 30 points and seven boards, but that's not the whole story. Harrell, who spent the offseason trying to develop his perimeter skills, went 3-for-4 from three and knocked down 9-of-10 from the foul line. If he turns into a player that has to be covered out to the three-point line, he'll be borderline unstoppable.
THE ALL-THEY-WERE-GOOD-TOO TEAM:
Stefan Nastic, Stanford: The senior big man was terrific in two wins for the Cardinal this weekend. He was an unstoppable force as Stanford knocked off a good Wofford team, finishing with 26 points on 11-for-14 shooting. On Sunday, he added a double-double — 14 points and 11 boards — in a win over South Dakota. On the season, Nastic is now averaging 20.0 points, 8.0 boards, 4.0 assists and 2.0 blocks.
Rakeem Christmas, Syracuse: The Orange won both their games this weekend, but they didn't come without concern. Syracuse has issues on the offensive end of the floor, which makes the week Christmas had all that much more important. He averaged 18.0 points and 12.5 boards.
Cullen Neal, New Mexico: One of the big questions for the Lobos this season was where they were going to get their offense from. Neal seems to be the answer, as he had a total of 49 points and eight assists in a pair of wins this weekend.
L.J Peak, Georgetown: How about this for the start of a career: Peak scored 23 points and went 9-for-9 from the floor in Georgetown's win over St. Francis (NY). If only he shot better than 4-for-8 from the foul line.