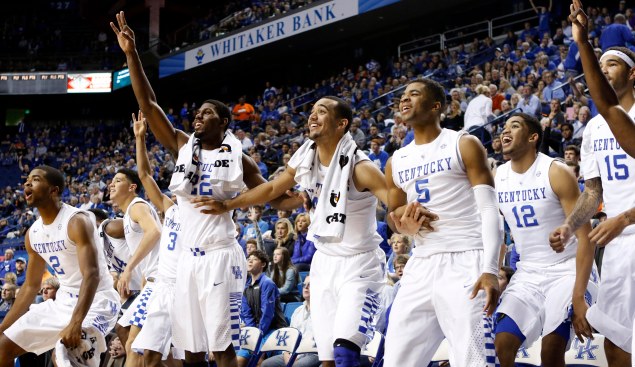 Given the brouhaha over Kentucky's rotation, particularly on Sunday, who are the five that you would pick to finish a game for the Wildcats and why?
MORE: Read through all the Burning Questions here
Scott Phillips: I've always said going into this season that freshman point guard Tyler Ulis was too valuable with the ball in his hands to not have him on the floor to close games and I still see him ending games alongside the Harrison twins during crunch time this season. Those three can all create from the perimeter and with Willie Cauley-Stein's defensive ability and experience and Karl-Anthony Towns' overall skill level, Kentucky would be wise to look into that line-up to close games this season.
Raphielle Johnson: Before we get into this, I think some people took Calipari's words to mean that by no means would he deviate from the "platoon" idea. Obviously factors such as foul trouble, matchups and who's playing well will be considered as the game wears on. It would be irresponsible to not consider those variables. That being said, in crunch time I'd go with Ulis, the Harrison twins, Cauley-Stein and Johnson. Ulis is their best distributor and Andrew isn't a slouch either. So why not have two playmakers on the floor? Aaron's hit big shots in the past and Dakari has to be out there for rebounding. And I think the three perimeter players can provide enough scoring, so Cauley-Stein needs to be out there as well.
Terrence Payne: I'd go with the three-guard lineup of Tyler Ulis alongside Andrew and Aaron Harrison on the perimeter. I would trade length for a player who will help set guys up while being a defensive menace on the ball. Up front, I could see going with Alex Poythress for his energy but I would go with Karl-Anthony Towns, Kentucky's best offensive player and Willie Cauley-Stein, its best defensive player.
Rob Dauster: Based on the answers to this question, it seems like everyone is convinced that the best lineup Kentucky can put on the floor will have Ulis sharing the back court with the twins, and it's hard to argue with. But I like arguing, so here is the five that I would go with: Ulis, Aaron Harrison, Trey Lyles, Karl Towns and Willie Cauley-Stein. Offensively, I think Lyles and Towns are skilled enough that they would be able to keep opposing defenses from collapsing into the paint. At the same time, you run into a situation where an NBA-caliber big man will be guarded by a college small forward. Someone is going to have a mismatch on the block, and Kentucky will have an overwhelming advantage on the offensive glass. For a team that hasn't proven adept at running half court offense, their best play down the stretch may end up being a missed shot.