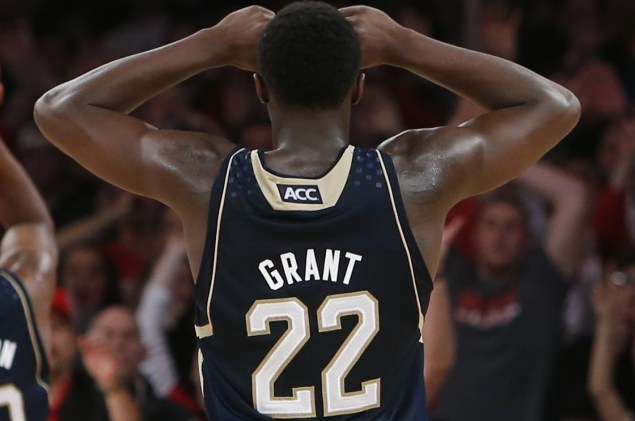 Which team in the NBCSports.com Top 25 misses the NCAA tournament and which unranked team has the juice to reach a Final Four?
MORE: Read through all the Burning Questions here
Rob Dauster: The easy pick for a top 25 team that misses the NCAA tournament, at least for me, is Syracuse. Rakeem Christmas is playing much better, but after watching Syracuse play the first two games, I'm not convinced that they have the offensive firepower to beat enough good teams. But, here's the catch, we don't have Syracuse in our top 25 for that very reason, which is why I'll go with UCLA, who is No. 23 in our current poll. They've been impressive through two games, I'll admit that, but the combination of youth and a lack of a true point guard is the kind of thing that comes back to bite talented teams.
I'm going to go with Notre Dame as the team from outside the top 25 that can make a run. We've seen time-and-again what one all-american guard can do during March, and Notre Dame fits that mold perfectly with senior guard Jerian Grant. There are some quality pieces on Mike Brey's roster along with Grant as well.
Raphielle Johnson: Utah and Colorado didn't make our Top 25, but they're obvious choices to dance. So I'll take Colorado State. You guys know I'm high on the transfer-laden Rams, because they have skill (Avila and Bejarano lead the way) and they're going to defend. As for the team that could miss out, Harvard and that's not based solely on Sunday's loss. If teams take away Chambers and Saunders, which is a tough task, who makes plays? Plus, the stakes are a bit higher for them being in a league that traditionally gets one bid and lacks a conference tournament. And in a one-game playoff, should they finish tied for the regular season crown, anything can happen.
Scott Phillips: I'm not wild about picking any current Top 25 team to miss the NCAA Tournament, but Michigan State's current injury woes coupled with their reliance on some younger and inexperienced players makes them susceptible to some early-season losses that could hurt them. Tom Izzo hasn't missed the NCAA Tournament since 1997, but Michigan State needs to gut out the early weeks before Big Ten play with a limited and inexperienced rotation.
As for a current unranked team with Final Four potential, how about Kansas State? Bruce Weber's team made the NCAA Tournament last season and that was with a depleted line-up at the end of the year. The Wildcats return Marcus Foster, Thomas Gipson and Wesley Iwundu and add more interior depth and Maine transfer Justin Edwards in the backcourt this season. The Big 12 will once again be tough, but Foster is a star and Weber has coached a team to the Final Four before.
Terrence Payne: While it's too early to tell what unranked team will make a run come March, I think Ohio State — an unranked team in our current poll — could make the jump to the Top 25 very soon. Sure I'm going off a small sample size of a lopsided win against UMass Lowell, but obviously the addition of freshman D'Angelo Russell and graduate transfer Anthony Lee will help in areas where Ohio State struggled last season. As for a team in our Top 25 that could miss out on March: right now the easy pick is Harvard. The Crimson may still be the Ivy League powerhouse, but Yale is really good this season, too.