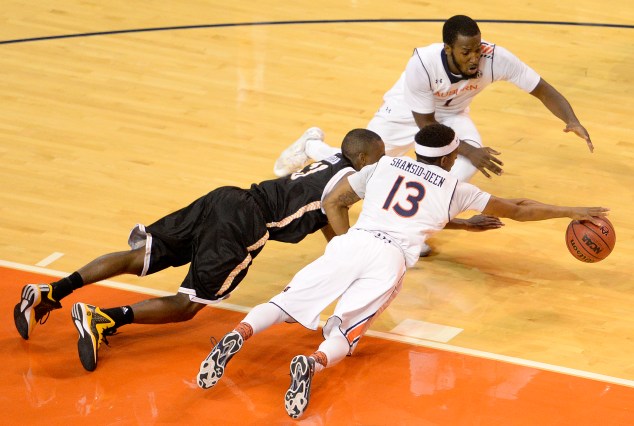 Auburn is already dealing with some injury issues early this season, and on Friday night, the Tigers took an early hit as starting sophomore guard Tahj Shamsid-Deen left the game after dislocating his shoulder diving for a loose ball.
Shamsid-Deen played a career-low 15 minutes on Friday night and finished with two points, one assist and one steal and left Auburn's win over Milwaukee with 14:51 to go in the game, according to a report from James Crepea of the Montgomery Observer. The AP photo above shows the loose ball when Shamsid-Deen hurt his shoulder.
"He did sublex the shoulder, which means it came out and then went back," Auburn head coach Bruce Pearl said after the game. "He has never done it before. How tight is it? How much damage did he do to the nerve? Because when you do that sometimes you can lose feeling, you can lose strength, and he's experiencing some of those things right now.
"We're just going to have to see."
A source told NBCSports.com that more should be known on the status of Shamsid-Deen by Saturday afternoon and the team is hoping the injury is minor. If Shamsid-Deen misses any time, New Mexico State graduate transfer K.C. Ross-Miller will likely fill in.
Shamsid-Deen started all 30 games for the Tigers last season and averaged 9.5 points and 2.9 assists per game as he shot 40 percent from the field and 33 percent from three-point range. On a team full of new pieces and a new head coach, losing Shamsid-Deen could hurt Auburn in the short term, but this injury doesn't seem to be too severe.