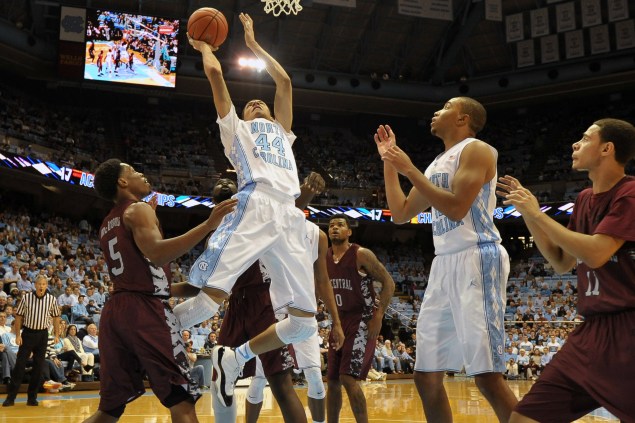 It wasn't always easy for North Carolina in its opener against North Carolina Central on Friday night, but the Tar Heels used a second-half surge to hold off the defending MEAC champions, 76-60, in the Dean Dome.
Facing multiple defensive looks from a tough-minded and scrappy North Carolina Central team, the Tar Heels couldn't seem to pull away and maintain a comfortable lead until midway through the second half. North Carolina had a slow start on the offensive end, as they only led 28-19 at the half, but the Tar Heel defense allowed only two points during the first 10 minutes of the game and used a full-court press to slowly wear down North Carolina Central.
The Eagles stayed in the contest by putting up a good press-break and they limited North Carolina junior point guard and All-American candidate Marcus Paige to eight points on 2-for-8 shooting. But the Tar Heels used balanced scoring to offset Paige's slow offensive night and kept up the defensive intensity for much of the game.
The North Carolina starting front court of junior Brice Johnson and sophomore Kennedy Meeks paced the Tar Heels with 12 points and 10 points, respectively, while junior wing J.P. Tokoto came off the bench to chip in 10 points. Head coach Roy Williams opted to start two true freshmen on Friday night as Justin Jackson (nine points) and Theo Pinson (four points) opened the game on the wing for North Carolina.
After struggling to find consistent shooting — outside of Paige — for much of last season, the Tar Heels continued to struggle shooting the ball in their 2014-15 opener, as they shot 2-for-11 from three-point range and 20-for-30 from the free-throw line. Those numbers will have to improve if North Carolina wants to contend for anything this season, even if Johnson and Meeks continue to play well on the interior.
This wasn't the prettiest win for North Carolina, but I'm sure the Tar Heels are happy to be back on the floor and away from the distracting academic investigation.