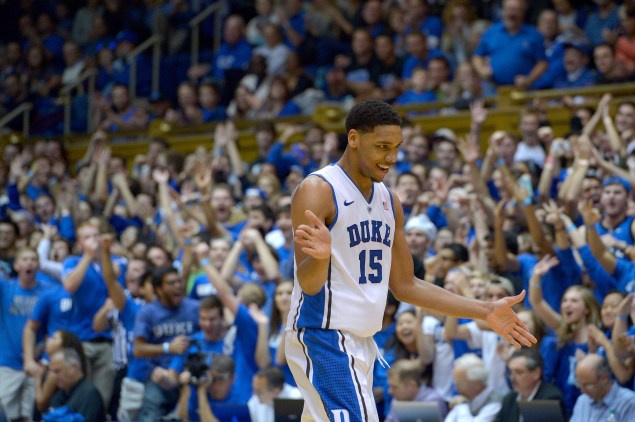 Nobody expected Duke to have much trouble with Presbyterian during its season-opening contest on Friday night, but the Blue Devils have to be pleased with their depth and defense after a 113-44 drubbing of the Blue Hose at Cameron Indoor Stadium.
Duke jumped out to a 57-19 halftime lead, as freshmen scored the first 12 points for the Blue Devils and 32 points overall in the first half. The collegiate debuts for freshman center Jahlil Okafor (19 points, six rebounds, four assists, 9-for-10 shooting), freshman wing Justise Winslow (15 points, four rebounds) and freshman guard Tyus Jones (15 points, seven assists, one turnover) all went well as all three started the game for Duke and finished in double-figures in the scoring column. Duke's other McDonald's All-American freshman guard, Grayson Allen, also added 18 points off the bench.
It was the first time since 1998 that Duke had four freshmen finish in double-figures as Blue Devil freshmen scored 67 of the team's 113 points. Friday's win marked the third largest margin of victory in Duke history.
Junior forward Amile Jefferson (four points, 10 rebounds) looked much more comfortable playing in his natural position with Okafor on the floor at center and Duke head coach Mike Krzyzewski opted to start two point guards in his back court on Friday night as Jones played alongside senior point guard Quinn Cook. Cook (14 points) and Jones didn't start together during the preseason, but the dual point guard look did a nice job sharing the ball, penetrating and creating for teammates.
Duke finished with 30 assists on 42 field goals for the contest and moved the ball well throughout the game.
The bench was also a big plus for the Blue Devils as junior guard Rasheed Sulaimon, sophomore guard Matt Jones and Allen were all bright spots. After struggling to find consistency off the bench last season, Sulaimon came out focused on both ends of the floor against Presbyterian and finished with 12 points. Jones, who couldn't find his perimeter stroke during his freshman season, went 2-for-2 from the three-point line on his way to eight points. After shooting only 3-for-21 from the three-point line last season, Jones confidently drilled two top-of-the-key threes and that's a good sign for Duke's wing depth. Allen also added some scoring punch off the bench and looked confident attacking the basket.
While Presbyterian didn't give Duke much competition, it was still impressive to see the Blue Devils' commitment on the defensive end of the floor and the team's offense has so many weapons on drive-and-kick situations. When you add Okafor into the equation in the post and Duke has an offense that can really put up points in a hurry. The real test for Duke will come on Tuesday against No. 18 Michigan State as part of the Champions Classic in Indianapolis.