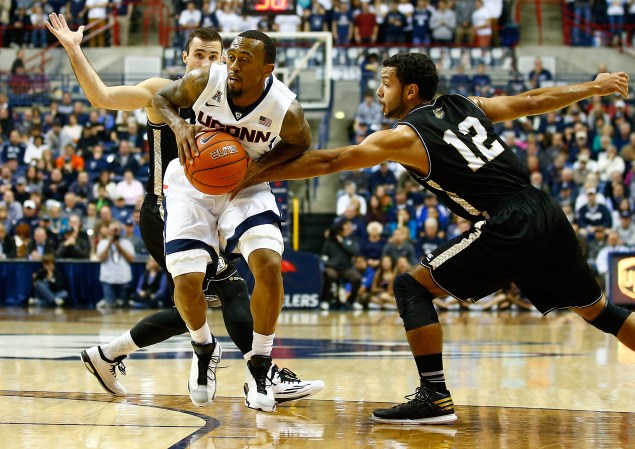 UConn struggled to find itself at home against Bryant on Friday night, but the No. 17 Huskies rallied after trailing at halftime to win 66-53 at Gampel Pavilion.
After trailing 34-28 at the half, UConn fought back in the second half behind a better defensive showing and a superb second-half effort from senior guard Ryan Boatright. Boatright led the Huskies with a team-high 24 points on Friday, as he scored 16 of those points in the second half.
With UConn struggling to find a second consistent scoring option behind Boatright, the senior decided to take matters into his own hands, as he relentlessly attacked on the offensive end and defended hard on the perimeter. The Boat Show's dunk with 8:51 left in the second half gave UConn a 47-45 lead that they wouldn't relinquish after the Huskies trailed for much of the first part of the second half. Besides the 24 points, Boatright added eight rebounds, five assists and four steals on the night.
Playing without N.C. State transfer guard Rodney Purvis, who was held out of the game for playing too many offseason games, the Huskies took some time to find their offensive identity. UConn only finished with 12 assists to 10 turnovers on Friday night as only six players scored for the Huskies.
Junior guard Sam Cassell Jr. chipped in 10 points in his UConn debut and freshman guard Daniel Hamilton played much better on both ends of the floor in the second half as he finished with nine points and seven rebounds in his college debut. On the interior, UConn relied on sophomore center Amida Brimah, as the 7-footer had 12 points, five rebounds and five blocks.
This wasn't a particularly promising start for the defending champions, but it's going to take some time for the Huskies to find a new identity after the departure of graduated guard Shabazz Napier and DeAndre Daniels. It's a good sign that Boatright put the team on his back, however, and once Purvis is back, UConn should have an easier time scoring points.