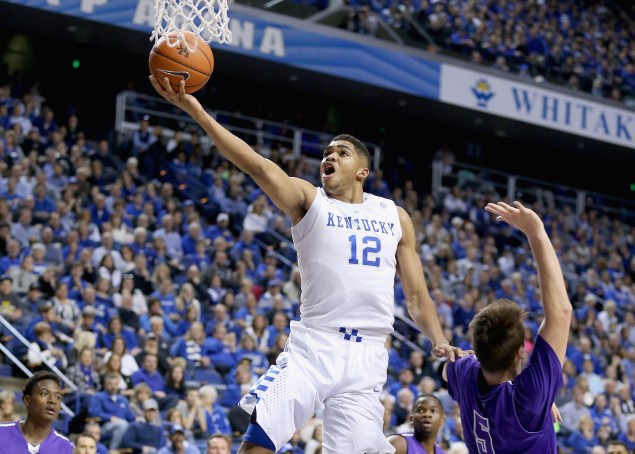 Kentucky's first platoon jumped out to a 7-0 lead to start the season opener against Grand Canyon. The second platoon followed with a 7-0 run of its own when it entered the game. Neither one of John Calipari's units had issues with Grand Canyon, as the top-ranked Wildcats breezed to an 85-45 win on Friday night at Rupp Arena.
First platoon: Andrew Harrison, Aaron Harrison, Alex Poythress, Karl-Anthony Towns, Willie Cauley-Stein

Second platoon: Tyler Ulis, Devin Booker, Trey Lyles, Marcus Lee, Dakari Johnson.
Nine of those 10 players scored, led by Andrew Harrison with 16 points (scored 12 in the first half), 12 from Cauley-Stein and Lyles with 11 off the bench. The frontline was as advertised with five of Kentucky's big men corralling at least a handful of rebounds with Johnson (12) and Towns (eight) leading the way. That frontline defense also protected the rim, rejecting a total of 10 shots while creating second-chance opportunities with 22 offensive rebounds.
With under four minutes to play, Calipari abandoned the platoon system and inserted Ulis into the lineup with both Harrison twins, Poythress and Cauley-Stein. This was a lineup we saw in August during the Big Blue Bahamas Tour: Ulis and the Harrison twins in a three-guard set to close out the game for Kentucky, although, at that point, the Wildcats had a 30-plus point cushion. It's worth noting that will be a lineup Kentucky will uses moving forward.
Kentucky will face a more competitive opponent on Sunday afternoon in Buffalo, which will be a lead up to Tuesday night's top-5 showdown against No. 5 Kansas at the Champions Classic in Indianapolis.