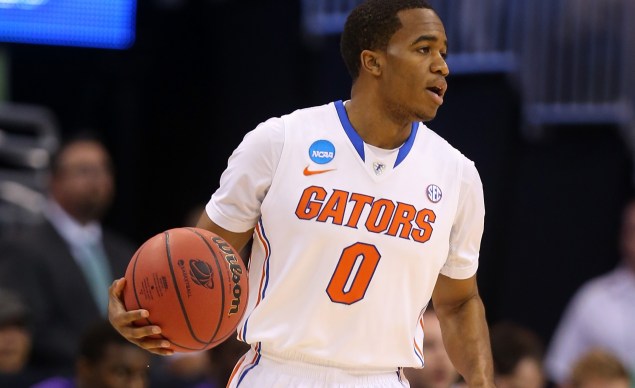 Beginning on October 3rd and running up until November 14th, the first day of the season, College Basketball Talk will be unveiling the 2014-2015 NBCSports.com college hoops preview package.
Today, we will be previewing the SEC.
MORE: 2014-2015 Season Preview Coverage | Conference Previews | Preview Schedule
Life is pretty good for Kasey Hill these days.
On Friday night at 6:00 p.m., he'll be the starting point guard for No. 7 Florida as the Gators kick off their season at the O'Connell Center against William & Mary. Still just a sophomore, Hill is a former McDonald's All-American playing for the best basketball program in his home state. He's one year removed from playing in a Final Four, and if he doesn't end up as an NBA player down the road, he'll have to settle for getting a free education while competing for SEC championships and national titles these next three years.
Things could be a lot worse, which, unfortunately, is a fact that Hill is well aware of. If it wasn't for the Simmons family (Jeff, Jennie and their two kids) … well, that's something that Hill would rather not dwell on.
"I don't know [where I'd be]. That's tough," Hill told NBCSports.com earlier this month. "I definitely wouldn't be where I am today if it wasn't for them helping me out."
———————————————————————————-
The move happened when Kasey was in fifth grade, but if we're being honest, it probably started when he was about half that age.
"My wife loved him since he was six, he just had that personality about him," Jeff Simmons said of Kasey. "He was just a great kid." Jeff is the father of Kyle, a boy about Kasey's age that grew up in the same part of Florida as Hill. The two were teammates in flag football and YMCA basketball leagues. Jeff? He coached the teams.
As a coach that doubled as the best friend's father, it didn't take long for Jeff to realize that Kasey's living situation was less than ideal. He would spend the weekends with the Simmons family, getting rides to and from their Saturday flag football games, rides that were as much about the transportation as they were a chance to simply enjoy each other's company.
Eventually, however, it became clear that this setup was no longer going to work for Kasey. This is what we know: Kasey's father was in prison at the time, and he's still in prison now. Kasey declined discussing the reason why. Around the time that he turned 11, Kasey's mother began having difficulties in her life that made it hard for her to raise her son on her own. Again, Kasey — and Jeff — declined to go into specifics regarding what changed, but what they both told NBCSports.com is that it became very clear that it would be in Hill's best interest to move in with the Simmons.
"It was a mutual agreement between my wife and I, his mom, and Kasey," Jeff said. "We thought it would be a better environment for him at that time. He kind of felt at home."
There was never a second thought.
"It was really never a decision that we swayed back and forth on," he added. "It was kind of an immediate thing: Let's take him in."
Bringing another child into a household is not a decision that gets made lightly. Kids aren't cheap to raise. They certainly aren't easy to get through high school and to college, and that's before you even consider how much the dynamic of a household can change by bringing in another kid that is getting ready to hit adolescence.
And the Simmons, they had no idea whether this was a situation where Kasey would be staying with them for a week or a month or, as it turns out, the rest of his childhood.
That's not even the strangest dynamic at play here. The Simmons are white. Kasey is black. They lived in Eustis, a town of about 15,000 in central Florida, 45 minutes north of Orlando and 90 minutes south of Gainesville. That's not exactly the most progressive region of our country.
"We've always raised our kids where we don't really see color, but there's always some looks that you'll get," Jeff said. "But I coached basketball, and most of our kids were African-American, so we got those looks everywhere we went. It's just part of life."
Here's the most beautiful part of the story: it worked! All of it. Kasey and Kyle shared a room growing up. They both played the role of over-protective big brother for the fourth member of the Simmons clan, Samantha. During our conversation, Kasey repeatedly referred to the Simmons as family. Jeff affectionately refers to Kasey as "my boy", saying that he has three kids, "two biological, and Kasey".
"I don't think there's ever been one argument between him and either of my kids," Jeff said. "Honestly. Never."
Perhaps more important is the fact that Kasey's relationship with his biological family remains as strong as ever. He talks to his mom on the phone daily. He talks to his father whenever the calls from prison get through. He wouldn't commit to Florida until head coach Billy Donovan met and spent time with his mom and his grandmother.
"I would say that Kasey has a tremendous amount of love and affection for the Simmons, and he's got a tremendous amount of love and affection for his own family," Donovan said. "For Kasey, both relationship are very important."
"They are my real family," Kasey said.
"I have two families."