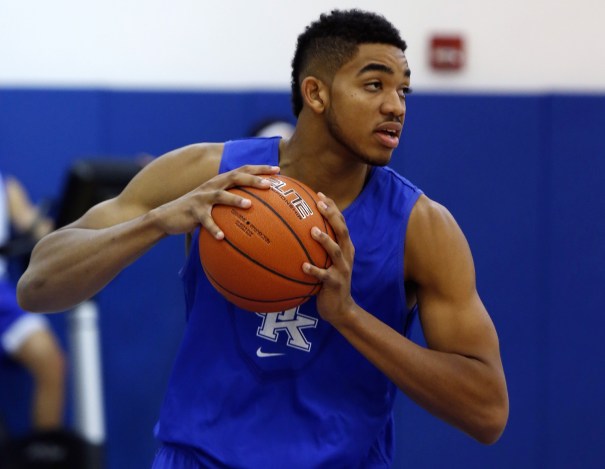 Beginning on October 3rd and running up until November 14th, the first day of the season, College Basketball Talk will be unveiling the 2014-2015 NBCSports.com college hoops preview package.
Today, we will be previewing the SEC.
MORE: 2014-2015 Season Preview Coverage | Conference Previews | Preview Schedule
Kentucky should be awesome.
We all know that.
But when it comes to the SEC, that's about all that we know for sure. Florida should be good, but a number of key pieces are young and unproven. Arkansas might be good, but when was the last time that a Mike Anderson team was anything close to consistent on the road? LSU should make the tournament, but they should have made it last season. Georgia finished tied for second in the league last year, but they didn't sniff the bubble. Might Ole Miss actually be the third-best team in the conference?
FIVE THINGS YOU NEED TO KNOW:
1. Kentucky is so deep they'll be playing with platoons: I was asked about this on the radio this week, andto really get a feel for just how deep Kentucky is, think about Derek Willis. At one point, Willis was the No. 26 recruit in the country. He's an athletic, versatile combo-forward with three-point range and probably good enough to start for just about any team outside the top 25. He's so far down the Wildcat depth chart that he won't even play in Kentucky's second platoon. Nine McDonald all-americans. Eight guys that potentially could be drafted this spring. Yeesh.
2. Florida is talented, but quite young: Florida graduated four seniors from last year's team, including center Patric Young and SEC Player of the Year Scottie Wilbekin. In their stead this season will be former five-star recruits Chris Walker and Kasey Hill. How will that pair fare playing much-expanded roles for the Gators this season?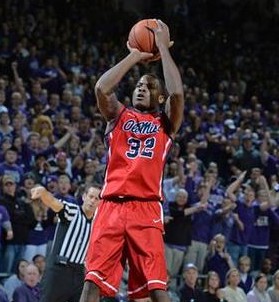 3. Ole Miss is the league's sleeper team: There is a lot to like about the Rebels this year. For starters, the distraction that was Marshall Henderson is gone, and in his place is star guard and our Preseason SEC Player of the Year, Jarvis Summers. The Rebels also have a big, athletic front line, and that should be enough to get them in the mix for that No. 3 spot in the league standings.
4. Arkansas should be good enough to get an at-large bid: If the Razorbacks are going to make the NCAA tournament, this is the season to do so. They have talented, veteran perimeter plays that will do well in Mike Anderson's "40 Minutes Of Hell" system, but they also have one of the most underrated players in the country is star big man Bobby Portis. Portis could end up being a first round pick by the time the season is done, meaning that this may be their best chance to dance.
5. The same with LSU, but they should have been last year, too: Once again, LSU will enter this season with a front line that will draw attention: Jordan Mickey, Jarell Martin and Elbert Robertson. But the key this year will be the back court of Josh Gray and Keith Hornsby, who will replace Anthony Hickey. The key? Ensuring that back court understands the importance of pounding the ball into the paint for those big bodies.
PRESEASON SEC PLAYER OF THE YEAR: Jarvis Summers, Ole Miss
With all the talk about Marshall Henderson over the course of the last two seasons it was easy to overlook the fact that the best player on the Rebels was Summers. He may not become a national name this season — it's hard to do that if you play in the SEC for someone other than Kentucky or Florida — but an all-american team isn't out of the question.
THE REST OF THE ALL-SEC FIRST TEAM:
Aaron Harrison, Kentucky, So.: Harrison could very well end up being the leading scorer for Kentucky this season. He was inconsistent as a freshman, but he hit three enormous threes during Kentucky's run to the NCAA tournament title game.
Karl Towns, Kentucky, Fr.: Towns is the most talented player in the league and may be the most talented player in the country, but Kentucky's depth will limit his playing time and production.
Bobby Portis, Arkansas, So.: One of the most underrated players in the conference, Portis had a very good freshman season that was a bit overshadowed by the fact that Arkansas wasn't a tournament team in a mediocre SEC.
Jordan Mickey, LSU, So.: Mickey put up huge numbers as a freshman, but it didn't get as much attention nationally due to LSU's disappointing finish to the season.
FIVE MORE NAMES TO KNOW:
Andrew Harrison, Kentucky, So.
Willie Cauley-Stein, Kentucky, So.
Kasey Hill, Florida, So.
Michael Frazier, Florida, Jr.
Charles Mann, Georgia, Jr.
BREAKOUT STAR: Kasey Hill — and, to a lesser extent, Chris Walker — should have big seasons for Florida this season, and Bobby Portis will likely shoot up draft boards as the season progresses, but my pick for a breakout star in the SEC is Vanderbilt big man Damian Jones. He averaged 11.3 points, 5.7 boards and 1.4 blocks as a freshman with the 'Dores and will be asked to carry the load once again next season.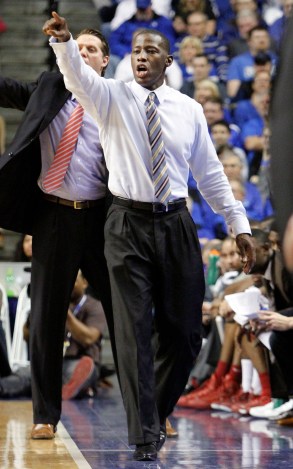 COACH UNDER PRESSURE: Anthony Grant was one of the hottest names in coaching when he was hired away from VCU by Alabama back in 2009, but he hasn't really been able to get things up and running in Tuscaloosa. Grant's made just one NCAA tournament in his five seasons with the Crimson Tide, and last year was his worst as a head coach, as the Tide finished just 13-19 overall. It would not be good for Grant if his program finishes behind Bruce Pearl's at Auburn.
ON SELECTION SUNDAY WE'LL BE SAYING … : The SEC only sent three teams to the NCAA tournament again?
I'M MOST EXCITED ABOUT … : Seeing how John Calipari will manage his roster and whether or not the platoons will work.
FIVE NON-CONFERENCE GAMES TO CIRCLE ON YOUR CALENDAR:
Nov. 18th, Kansas vs. Kentucky (Champions Classic)

Dec. 5th, Florida at Kansas (SEC/Big 12 Challenge)
Dec. 5th, Texas at Kentucky (SEC/Big 12 Challenge)
Dec. 13th, North Carolina at Kentucky
Dec. 27th, Kentucky at Louisville
ONE TWITTER FEED TO FOLLOW: @SECSports
PREDICTED FINISH
1. Kentucky: I could see the Wildcats doing what Florida did last season, rolling through the league schedule undefeated and winning the regular season title by six games.
2. Florida: Florida's success this season hinges on the play of sophomores Kasey Hill and Chris Walker. If they play like top ten recruits, the Gators could end up being a top ten team. If they don't, Florida might not finish second in the SEC.
3. Arkansas: The Razorbacks have a star-in-the-making in big man Bobby Portis and a pair of talented wings in Rashad Madden and Michael Qualls. Two keys for this group: Winning on the road, and finding a point guard to run the ship.
4. Ole Miss: The Marshall Henderson Show overshadowed just how good Jarvis Summers was last season. Andy Kennedy will have a pair of talented transfers joining him in the back court along with a slew of big, athletic forwards. The SEC's sleeper this year.
5. LSU: Jordan Mickey headlines a talented front court that includes Jarrell Martin and Elbert Robertson, but the Tigers are going to need more consistent back court play. Can transfers Josh Gray and Keith Hornsby provide it?
6. Georgia: The Bulldogs bring back their top five scorers from last season, including Charles Mann and Kenny Gaines, but to move up the SEC standings, they'll need big years from big men Nemanja Djurisic and Yante Maten.
7. Texas A&M: The Aggies lose Jamal Jones, but Alex Caruso and Kourtney Robertson are back and will be joined by Jalen Jones, Alex Robinson and, if he gets a waiver, Danuel House.
8. Auburn: The Tigers bring back K.T. Harrell and add a number of quality transfers, but most importantly, the hiring of Bruce Pearl has added a level of excitement around the program. Bet on Pearl to win.
9. Missouri: New head coach Kim Anderson will have work to do with this group, but the cupboard if far from bare. I loved point guard Wes Clark in high school, Johnathon Williams III was promising last season and the addition of Jakeenan Gant, Deuce Bello and Keith Shamburger will help.
10. Vanderbilt: Kevin Stallings returns Damian Jones, who is a future all-SEC talent, and adds four top 150 freshmen to the mix. They're young, but the future is brighter than the present.
11. South Carolina: Frank Martin has the Gamecocks moving in the right direction, as he's added Sindarius Thornwell, TeMarcus Blanton and Marcus Strohman in recent classes.
12. Alabama: Anthony Grant has yet to have real success at Alabama. He'll be relying on the influx of talent into the program — freshmen Justin Coleman and Devin Mitchell, transfer Ricky Tarrant — to try and get a tournament bid this season.
13. Mississippi State: Rick Ray is still in full-blown rebuilding mode with this program, but this season he'll get back a number of key pieces — including Craig Sword — and will finally have some height.
14. Tennessee: The Vols lost quite a bit from last year's Sweet 16 teams, and while Robert Hubbs and Josh Richardson return, there's not much else here outside of the distraction provided by the NCAA investigation into Donnie Tyndall.