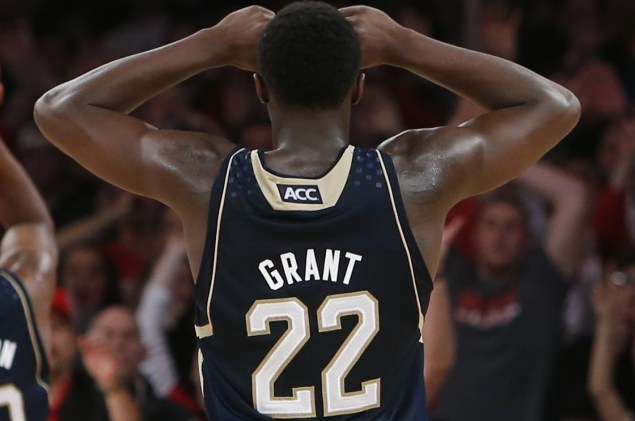 Beginning on October 3rd and running up until November 14th, the first day of the season, College Basketball Talk will be unveiling the 2014-2015 NBCSports.com college hoops preview package.
Today, we will be previewing the ACC.
MORE: 2014-2015 Season Preview Coverage | Conference Previews | Preview Schedule
Jerian Grant screwed up.
He knows it. He freely admits his screw up was a doozy — a stupid, selfish and ill-timed decision that he paid for dearly. Grant was suspended from school for the spring semester, costing him the final 20 games of Notre Dame's 2013-14 season, for what the school has termed "an academic mistake." After the tears dried up following a December 21st loss to Ohio State in Madison Square Garden, Grant traveled back to South Bend, Indiana, with the team, packed up his apartment and headed home.
His season was kaput, but Grant's Notre Dame career wasn't over. Academically, he was a senior, but Grant redshirted his first season on campus. He still had a year of eligibility remaining, and after discussions with his family and high school coaches, Grant quickly made the decision that he would be returning to school for his final year. Head coach Mike Brey made it a point to keep Grant close, to make sure he felt like he was part of the team even if he was a thousand miles away. He gave Grant some homework: He had to watch every Notre Dame game, and at some point after the final buzzer, he had to email Brey with his thoughts and observations.
The assignment was harder than Grant anticipated. He was fine breaking down the game — Brey said he rarely needed to wait more than 45 minutes after the game was over to get the email from Grant — the issue was watching his teammates struggle. The Irish finished 15-17 overall, 6-12 in the ACC and didn't play in any postseason events.
But that wasn't the worst part.
At some point in every telecast, Grant's face was flashed on the screen as the broadcasters proceeded to explain just how badly he had messed up, how dreadful Notre Dame's season had been since the suspension and how fortunes could have been changed if it wasn't for Grant and his "academic mistake".
MORE: The NBCSports.com 2014-2015 ACC Season Preview
——————————————————————————–
Mike Brey's biggest concern when bringing his star back into the Notre Dame team this season wasn't anything that had to do with Jerian Grant's basketball ability. He knew the 6-foot-3 guard had stayed in shape during his seventh months away from school. He wasn't worried that he'd be rusty or that his jump shot would have suddenly become ineffective. He knew that, as Brey put it, "our finisher" would still be lethal in the pick-and-roll and capable of picking out his open teammates.
No, what kept Brey up at night was the Blame Game.
Notre Dame's inaugural season in the ACC was a disaster. The Fighting Irish finished the year below .500, seeing their season come to a close with a loss to lowly Wake Forest in the opening round of the ACC tournament. The majority of that happened with Grant, the team's best player, separated from the program.
How would the team react when Grant rejoined them that summer? Perhaps more importantly, how would Grant react to a season where it was beaten into his head that he was to blame for Notre Dame's struggles? Grant and Eric Atkins were very, very close. They were both from Maryland, just outside of Washington D.C., and they had roomed together since their first day on campus. Atkins didn't redshirt. Last season was his final season; he watched the last NCAA tournament he was eligible for from a couch, just like you did.
"We came in together. We wanted to do something special here," Grant told NBCSports.com last week. "We had our good runs, but we never got to leave the mark that we wanted to. It was hard not to go out with him."
"Talk about swallowing pride," Brey added. "There was a lot for him to deal with."
The only game that Grant didn't watch on television was Notre Dame's ACC tournament loss. Instead, he made the trip to Greensboro for the game, in part to see his brother, Jerami, play for Syracuse, but mainly to support his teammates in their last chance at trying to earn a bid to the NCAA tournament. He joined the team in Brey's hotel room just hours after the loss, and it was in that room, as the coach addressed his players, that Brey's concerns melted away.
"One of my major points was, 'Jerian, you're coming back to us,'" Brey said. "I wanted him to get over this mindset, 'I let everybody down, it's my fault.' When I looked at the guys sitting in front of me, Pat Connaughton had his arm around him. That was awesome. Our rock, our guy, our voice was like, 'I got his ass, he's back.' For me, I'm looking at that going, 'Ok, we had a tough year, but I'm feeling a little better now.'"
"The guys welcomed me back with open arms," Grant said. "And that's been good for me,"
"Pat was really a lifeline for him," Brey continued. "They've been through a lot together. They've won a lot together. I think Pat always kind of reached out to him and stayed connected to him. 'I'm coming back, you're coming back.' I thought that that's kind of been a neat thing to watch, those two guys."
The suspension couldn't have come at a more convenient time for the Irish. Missing Grant hurt, but the good news was that Notre Dame had a foreign tour scheduled for this past summer. Grant, Connaughton — who spent the spring playing pro baseball — and the rest of the team returned to campus in the middle of June and were back on the practice court by the end of July.
They got 10 days worth of practice in before they spent 10 days in Italy, playing four games in total. And in that time, Brey noticed a subtle, but important, difference in his star. He started preparing like a pro. And not just for games, either. He was going hard for every minute he was on the floor in practice. He was showing up in the morning, before class, to get shots up. He was getting to practice an hour early, getting to the trainer and working through his own stretches before the team stretch.
"He has his routine now," Brey said. "He'd never been a great practice player. I was on his ass throughout his career," mentioning that Grant would sometimes show up "20 minutes before practice with a quarter pounder in his hand." But Grant was young. He was 17 years old when he got to college, as immature as you would expect any 17 year old freshman to be, and it took him a while to grow out of that.
But a public embarrassment like the one Grant dealt with? A suspension that was on the front page of every sports website in the country, that got his name mentioned on Sportscenter for all the wrong reasons?
That's an easy way to force a kid to grow up.
It's the quickest way to give him a new perspective on life.
"I don't take things for granted," Grant said. "I've been preaching to the guys, you've gotta play every game like it's your last. You never know when it's going to be taken from you."
As Brey put it, "I feel like I'm talking to a man now."