Beginning on October 3rd and running up until November 14th, the first day of the season, College Basketball Talk will be unveiling the 2014-2015 NBCSports.com college hoops preview package.
Today, we will be previewing the ACC.
MORE: 2014-2015 Season Preview Coverage | Conference Previews | Preview Schedule
We're entering a new era in the ACC, as Louisville enters the conference while Maryland exits to the Big Ten. Some old rivalries will die as a result — the Duke-Maryland rivalry in the early-2000s was as good as it gets — but the ACC is now the best conference in the country. The top four teams in the conference are all good enough to make a Final Four and win the ACC regular season title. There are at least six more teams that will have a chance to earn an at-large bid to the NCAA tournament. It's going to be a fun league to watch play out.
REALIGNMENT MOVES
In: Louisville
Out: Maryland
FIVE THINGS YOU NEED TO KNOW:
1. The top four in the ACC is clear-cut: Duke, North Carolina, Louisville and Virginia. Those are the four best teams in the ACC, and there really isn't a debate to be had there. All four are ranked in the top ten of the NBCSports.com preseason poll, and all four are legitimate national title contenders. What order those four should be ranked is something we are all going to disagree on, but the bottom-line is this: no one else in the conference can even be called a consensus top 25 team. That said …
2. … the race for fifth place will be just as contested: There may not be another consensus top 25 team in the conference, but there are six teams in the league that could end up being ranked at some point during the season and earning themselves an at-large bid to the NCAA tournament. All six could also end up missing the NCAA tournament. We have Notre Dame fifth and Miami tenth in our preseason poll. You could flip-flop them and I wouldn't argue all that much. The middle of the league is going to be a mess.
3. The offseason talking points had more to do with students than athletes: Despite the fact that the ACC is home to four top ten teams, four players that made at least one appearance as a preseason first-team all-american and four hall of fame head coaches, the stories that dominated the headlines this offseason were all bad. Syracuse is staring down the barrel of an NCAA investigation into academic improprieties, improper benefits, failed drug tests and who knows what else. But those issues paled in comparison to what North Carolina dealt with this fall, as a damaging independent investigation into the academic fraud in the athletic department — the Wainstein Report — legitimized the questions surrounding Roy Williams' program. It's bad enough that there's a real chance the 2005 national title could end up being vacated.
4. It's been two years since a blueblood won an ACC title: For all the talk of the ACC's bluebloods — Duke and North Carolina — and the storied programs the league swiped from the Big East — Syracuse, Pitt, Louisville — it's mildly surprising that it has been a full two years since anyone of those programs have won an ACC regular season or tournament title. In 2014, Virginia won dual ACC titles. In 2013, Miami did the same.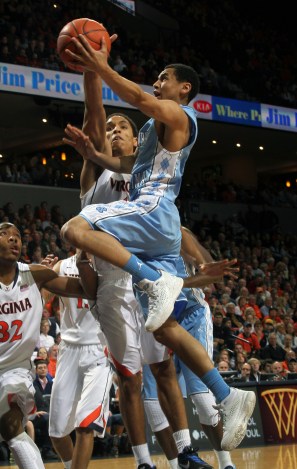 5. Best point guard play in the country: You like watching elite ball-handlers? You'll love the ACC this season. North Carolina's Marcus Paige and Louisville's Terry Rozier are going to get the majority of the attention, but that's just the beginning of it. Notre Dame's Jerian Grant is talented enough to put together an all-american caliber campaign. Miami's Angel Rodriguez was an all-Big 12 point guard before transferring out of Kansas State. Duke's Tyus Jones is the nation's best freshman point guard. Olivier Hanlan (Boston College), Codi Miller-McIntyre (Wake Forest), Xavier Rathan-Mayes (Florida State), Cat Barber (N.C. State). There are going to be some really good point guards that don't sniff the all-ACC team.
PRESEASON ACC PLAYER OF THE YEAR: Jahlil Okafor, Duke
Jahlil Okafor is my pick to be the National Player of the Year this season, so it would only make sense that he is the Preseason ACC Player of the Year as well. I expect Okafor to have an impact as a freshman similar to that of Jabari Parker last season, as the 6-foot-11 center will be the most-skilled low-post player in the country.
THE REST OF THE ALL-ACC FIRST TEAM:
Marcus Paige, North Carolina, Jr.: Paige was dominant at times as a sophomore, as he learned how to playthe role of facilitator until he needed to take over.
Montrezl Harrell, Louisville, Jr.: Louisville caught a bit of a break when Harrell made the decision to return to school for his junior season. We know about his work in the paint, but he's hitting threes now as well.
Malcolm Brogdon, Virginia, Jr.: Brogdon is one of the most underrated players in the country. He's not flashy and won't post huge numbers, but he's consistent and the key for Virginia offensively.
Jerian Grant, Notre Dame, Sr.: Grant was having an all-american caliber season when he was suspended from school for the second semester. Expect him to pick up where he left off.
FIVE MORE NAMES TO KNOW:
Terry Rozier, Louisville, So.
Angel Rodriguez, Miami, Jr.
Olivier Hanlan, Boston College, Jr.
Aaron Thomas, Florida State, Jr.
Tyus Jones, Duke, Fr.
BREAKOUT STAR: Terry Rozier had a handful of impressive performances as a freshman, but consistent minutes were tough for him to come by. Part of that was the result of playing the same position as all-american Russ Smith. But it wasn't a secret that Rozier was the best pro prospect on Louisville's roster last season, and using the 6-foot-2 combo-guard in a reserve role helped ensure that Rozier would be back for another season.
COACH UNDER PRESSURE: Georgia Tech head coach Brian Gregory is the obvious pick here, but it's also the boring one. We know that the Yellow Jackets have not been good during his tenure, and when you're the coach at an ACC school that isn't winning, you're job will be in jeopardy. What's more interesting is the status of hall of famers Jim Boeheim and Roy Williams. Syracuse is currently dealing with an NCAA investigation into issues with academics and improper benefits while North Carolina is undergoing intense scrutiny regarding their use of "paper classes" and just how much of the cheating Williams was aware of.
Are they in danger of losing their jobs? Not unless they want to retire. But you'd be hard-pressed to find a pair of coaches in any league facing more pressure entering the season than those two.
ON SELECTION SUNDAY WE'LL BE SAYING … : The ACC might get four teams into the Final Four, but will anyone else win a game?
I'M MOST EXCITED ABOUT : Watching the top four teams in this league battle it out for a regular season title. The race for ACC Player of the Year will be fun as well.
FIVE NON-CONFERENCE GAMES TO CIRCLE ON YOUR CALENDAR:
12/3, Duke at Wisconsin (ACC/Big Ten Challenge)
12/6, Virginia at VCU
12/13, North Carolina at Kentucky
12/18, Duke vs. UConn (at the Izod Center)
12/27, Kentucky at Louisville
ONE TWITTER FEED TO FOLLOW: @scacchoops
PREDICTED FINISH
1. Duke: I have my doubts about Duke, but the Blue Devils have the single-toughest matchup in the ACC in Jahlil Okafor roaming the paint and a ton of perimeter depth to surround him.
2. North Carolina: Picking the Tar Heels here means two things: Brice Johnson and Kennedy Meeks both lived up to their potential, and Justin Jackson played like the McDonald's All-American he is.
3. Virginia: The 'Hoos don't look menacing on paper, but they return the majority of their roster from a team that won a dual-ACC title last season.
4. Louisville: Love Rozier and Harrell, but there are some real question marks elsewhere on the roster. That said, a fourth-place finish in the ACC could still yield a top three seed.
5. Notre Dame: Jerian Grant — and, to a lesser extent, Patrick Connaughton — good enough to get Notre Dame to .500 on his own. The Irish will be a tournament team if Zach Auguste, Demetrius Jackson and Steve Vasturia improve.
6. Syracuse: The Orange are loaded with athletes, especially in their front court. But the inconsistent Trevor Cooney is the only proven scorer and Kaleb Joseph is the only point guard. I could see the Orange missing the tournament.
7. N.C. State: Cat Barber, Ralston Turner and Trevor Lacey is a talented back court, BeeJay Anya has shed a bunch of weight and Abdul-Malik Abu could end up being an all-freshmen team player.
8. Pitt: Getting Durand Johnson back healthy is key, as is the return of Cameron Wright and James Robinson. How good will Sheldon Jeter and Michael Young be up front?
9. Florida State: Aaron Thomas is one of the most underrated players in the league and the addition of Xavier Rathan-Mayes should be key. If they address their turnover and defensive rebounding issues, a top five finish is feasible.
10. Miami: The quartet of Angel Rodriguez, Sheldon McClellan, Deandre Burnett and JaQuan Newton gives the Canes a talented perimeter. But what about their front line?
11. Wake Forest: The Demon Deacons have had made a habit of picking off elite opponents at home, but they'll need to shore up their defense and get help for Codi Miller-McIntyre and Devin Thomas to finish in the top half of the league in Danny Manning's first year.
12. Georgia Tech: Point guard play is still an issue, but DeMarco Cox and Charles Mitchell are both eligible up front while Marcus Georges-Hunt is underrated on the wing.
13. Clemson: The Tigers were a top 20 defensive team last season, and while they return a number of veterans, they lose K.J. McDaniels, their best defender and leading scorer.
14. Virginia Tech: The future looks bright in Blacksburg with Buzz Williams coming to town, but it's going to take some time for him to get enough talent into the program to compete near the top of the ACC.
15. Boston College: The Eagles bring back Olivier Hanlan, but they lose Ryan Anderson, among others, and look destined for the ACC cellar.