Beginning on October 3rd and running up until November 14th, the first day of the season, College Basketball Talk will be unveiling the 2014-2015 NBCSports.com college hoops preview package.
MORE: 2014-2015 Season Preview Coverage | Conference Previews | Preview Schedule
Frank Kaminsky committed to Wisconsin in the middle of US Soccer's World Cup draw against England on June 12, 2010, and it barely registered a blip in the college basketball recruiting world.
The Badgers and Bo Ryan landing a 6-foot-10, three-star, "system-fit" center from the Midwest wasn't national news, but even in basketball-crazy Illinois, many local fans looked at Kaminsky playing in the Big Ten and shrugged.
As a high school junior, the center helped lead Benet Academy to a game away from the final four in Illinois' Class 4A, but 2010 marked the Summer of Anthony Davis and the state of Illinois was loaded with high-major prospects.
Rivals ranked eight kids in its top 150 from Illinois for the 2011 class and Kaminsky wasn't one of them. The center couldn't even earn a consistent starting spot with local grassroots powerhouse the Illinois Wolves, so why would fans believe Kaminsky would be capable of performing at a high level in the Big Ten?
This certainly wasn't, Frank the Tank: Big Man in Madison, All-American candidate and versatile senior center. This was more, Frank Kaminsky: Scrawny, developing high school center who hadn't figured out his game or his rapidly-growing body.
But as Wisconsin's strength program took hold and Kaminsky learned the ropes of the college game, the now 7-foot senior is one of the best players in the country. In 2013-14, during his junior season, Kaminsky started and earned heavy minutes for his first time at Wisconsin, averaging 13.9 points and 6.3 rebounds per game and becoming a key piece of the Badgers' well-moving offense.
Besides becoming the main post presence in head coach Bo Ryan's offense, Kaminsky also had a knack for some timely big-game performances. Kaminsky first turned heads early in the regular season by setting a school record with 43 points in a win over North Dakota, but the junior also had 28 points and 11 rebounds in a big Big Ten road win at Michigan in February and another 28 points and 11 rebounds in the Elite Eight win over Arizona last March.
For Kaminsky, it took a long time to reach this point in his basketball career, but it was all about staying patient, learning from those around him and becoming more confident with his game as time went on.
"It came with getting older and getting more confidence and growing into my body; I grew kind of fast," Kaminsky said of his game's evolution to NBCSports.com. "I think the most important thing I took from high school was situational things. Like when it's my turn to kind of take over the game but also when not to force it too much. And that really kind of slowed the game down for me. It translated into the college game. I've learned to take my time and not force things and not go too fast and it's worked well for me."
Slowing the game down helped Kaminsky figure things out on the floor, but Ryan also said that Kaminsky's attention to detail and winning attitude have helped with his increased productivity. During the early years of his college career, Kaminsky credited learning from Wisconsin's big men that played ahead of him, specifically Jared Berggren, and Frank took whatever opportunity he could to learn from those around him in practice or away from the floor. When he finally had his chance to play heavy minutes last season, Kaminsky's relentless pursuit of perfection had already put him in position to shine.
"He's worked hard to put himself into that position; it didn't happen by accident," Ryan said of Kaminsky to NBCSports.com.
"He does it with his actions. He works hard. He's not one of those guys to take possessions off in practice. He's always trying to do the right thing. Obviously, that spreads. And we have other guys with the same kind of work ethic so that puts us in position to be focused on the task at hand."
MORE: Big Ten Preview: Wisconsin is the class of the Big Ten
It's one thing to work hard and have talent, but not many players in college basketball can do the things that Kaminsky can do as a 7-footer. Pure back-to-the-basket scorers are becoming an endangered species in basketball and Kaminsky's ability to knock in jumpers made him perfect to stretch opposing defenses at any number of unexpected times last season.
Having a roster full of players on the same page last season gave Kaminsky and Wisconsin's offense a chance to tinker with the center's tremendous offensive versatility. That sort of floor-spreading ability helped Kaminsky and Wisconsin make a trip to the Final Four last season for the first time in Ryan's tenure. Kaminsky shot 37 percent from three-point range last season,  but his offensive approach isn't solely predicated on focusing on one area of the floor to score from.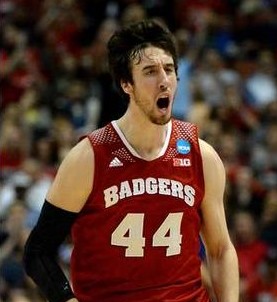 "It's reading what the defense is giving me and trying to take advantage of any situation I'm in. It varies from team-to-team," Kaminsky said. "It's not like I go out there and say, 'hey, I'm going to shoot a lot of threes today.' Obviously with scouting reports, and being able to watch film, I know what I'd like to do more with tendencies of other things. But it's one of those things where I have to be on the floor and take what teams give me."
No matter what the other team might "give" to Kaminsky, the senior has the rare ability at center to make defenses pay from all over the floor. That kind of shooting ability made Kaminsky attractive to some NBA scouts last season and the attention Kaminsky received from them increased this summer during trips to events like adidas Nations in Los Angeles.
But the pro game will have to wait as the college experience in Madison is appealing to Kaminsky and the center had an easy decision to stay and go for a title as the Badgers only lose Ben Brust from last season's 30-win team. As Kaminsky walks around Wisconsin's campus, he said he's constantly getting recognized and shown support from a fan base that is dying for a national title.
Although he's already beloved by Wisconsin fans, a national title would permanently cement "Frank the Tank" as an unforgettable college basketball player. From scrawny high school center, to preseason All-American, Kaminsky has maintained the same approach to preparing before each game. Not much has changed for Wisconsin from last season to this one in terms of personnel or preparation, and Kaminsky hopes he can earn a title in his final season of college basketball.
"Everyone expects to be a championship contender and to do that we have to prepare at a championship level," Kaminsky said. "That's something that everyone took to heart on this team this offseason. We've just approached everything like we're going to win the national title this year."