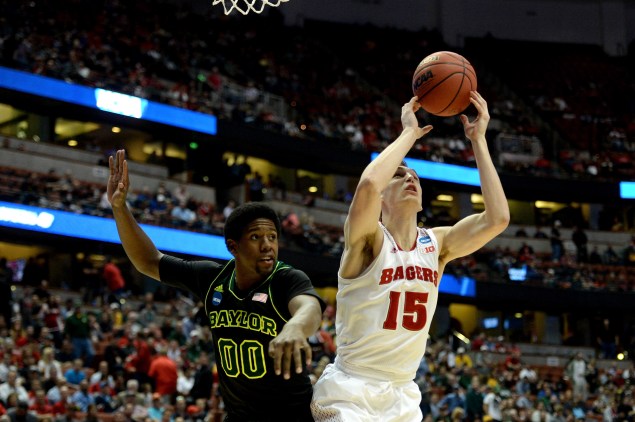 Beginning on October 3rd and running up until November 14th, the first day of the season, College Basketball Talk will be unveiling the 2014-2015 NBCSports.com college hoops preview package.
Today, we will be revealing our Big Ten preview.
MORE: 2014-2015 Season Preview Coverage | Conference Previews | Preview Schedule
The Big Ten only has one national champion in the 21st century and it came all the way back in 2000, when Tom Izzo and Michigan State reigned supreme. While the conference has had four national runners-up since — and Big Ten newcomer Maryland also won a national title in 2002 — it's been a long title drought for the Big Ten. Wisconsin is hoping to break that streak this season. Bo Ryan returns most of a 30-win, Final Four team from 2013-14, and the Badgers will be a national title favorite this season. The rest of the conference looks a bit more murky, as the Big Ten loses a lot of talent and experience from last season.
REALIGNMENT MOVES
In: Maryland (ACC), Rutgers (Big Ten)
FIVE THINGS YOU NEED TO KNOW:
1. Wisconsin is nearly as good as last season: Sure, the Badgers lost senior starting guard Ben Brust, but he was really the only major rotational loss for a 30-win team that nearly made the national championship game. Now, Bo Ryan has to decide whether to go bigger (Nigel Hayes as a third forward) or smaller (Bronson Koenig as a third guard) to replace Brust in the starting lineup and go from there. Either way, the Badgers are a major favorite in the Big Ten and, once again, a legitimate national title contender.
2. Michigan and Michigan State have to replace a lot of experience: This season won't feature the tremendous, high-level basketball you've seen from the state of Michigan the last few years, but both programs still have some young talent. Michigan must replace three early NBA draft defections (Mitch McGary, Glenn Robinson III, Nik Stauskas), Jon Horford (transfer to Florida) and Jordan Morgan (graduated) while Michigan State loses seniors Keith Appling and Adreian Payne and sophomore guard Gary Harris. The Wolverines at least still have All-American candidate Caris LeVert along with guards Derrick Walton Jr. and Zak Irvin while the Spartans still have seniors Branden Dawson and Travis Trice and junior do-it-all wing Denzel Valentine. Both teams are still very much in contention for a NCAA Tournament berth, but don't expect any Final Four appearances or deep runs this March.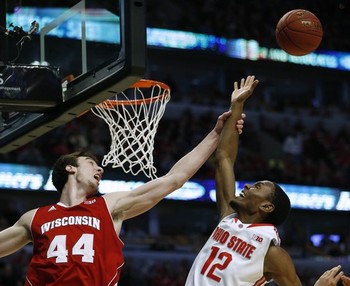 3. Ohio State will rely more on young players: This won't be the veteran Ohio State team we've seen the last few seasons, either. Gone is Aaron Craft, Lenzelle Smith Jr. and LaQuinton Ross, but the Buckeyes still have Shannon Scott, Sam Thompson, Amir Williams and Marc Loving. But in order for the Buckeyes to reach their full potential, they'll need a freshman guard, D'Angelo Russell, to come in and provide a scoring lift for a team that struggled to put the ball in the hoop a year ago. If Loving struggles to score early on, don't be surprised if Matta gives even more minutes away to freshmen in order to find points.
4. Illinois could be a team to watch: Despite the preseason loss of senior starting point guard Tracy Abrams to a torn ACL, many in and around the Big Ten seem high on Illinois during the 2014-15 preseason. While losing Abrams' warrior mentality and defensive ability will hurt, head coach John Groce's offense will improve without him in the lineup and the Illini were 11th in scoring offense in the Big Ten last season. Transfer guards Ahmad Starks (Oregon State) and Aaron Cosby (Seton Hall) are both experienced upperclassmen who are better shooters than Abrams and freshman forward Leron Black should log extended minutes as another rebounder and potential inside scoring option. If a sophomore like Kendrick Nunn or Malcolm Hill makes a leap and Rayvonte Rice continues his solid play, then Illinois should be in position to hear their name called on Selection Sunday.
5. Maryland and Rutgers face immediate pressure: Not only do Maryland and Rutgers face the pressure of joining a new league in the Big Ten, but both Maryland head coach Mark Turgeon and Rutgers coach Eddie Jordan need to have some wins in the new conference in year one. Turgeon might be on the hot seat as much as any coach in the country and likely needs a NCAA Tournament trip to feel secure after this season. Rutgers is rebuilding, and will grant Jordan more leeway, but after his first season with the Scarlet Knights, he brought in a seven-man recruiting class and two new assistant coaches. Winning would give Rutgers some promise going forward in the Big Ten and Jordan needs all the help he can get right now.
PRESEASON BIG TEN PLAYER OF THE YEAR: Frank Kaminsky, Wisconsin
What can you say about Wisconsin's senior center that hasn't been said before? The 7-footer is one of the more offensively balanced big men college basketball has seen the last five years and his 37 percent three-point shooting draws opposing big men out to the three-point line, spreading Wisconsin's offense at most positions and creating major problems for defenses. Kaminsky also averaged 13.9 points and 6.3 rebounds and shot 52 percent from the field and 76 percent from the free-throw line last season. If Kaminsky can improve as a positional post defender and rebounder, it'll be icing on the cake to his tremendous offensive skill set.
THE REST OF THE BIG TEN FIRST TEAM:
Caris LeVert, Michigan: The Michigan offense will now run through the talented 6-foot-6 junior who averaged 12.9 points, 4.3 rebounds and 2.9 assists per game while shooting 40 percent from the three-point line last season.
Terran Petteway, Nebraska: The 6-foot-6 junior had a breakout sophomore year, averaging 18.1 points and 4.8 rebounds per game and leading Nebraska back to the NCAA Tournament. After a strong summer, expectations are even higher on Petteway.
Sam Dekker, Wisconsin: Dekker didn't shoot it as well as he'd hoped during his sophomore year (46% FG, 68% FT, 32% 3PT)  but he's still a tough overall performer and very skilled for a 6-foot-7 forward.
Yogi Ferrell, Indiana: The 6-foot junior point guard averaged 17.3 points, 3.9 assists and 3 rebounds per game as a sophomore while shooting 40 percent from three-point range and he could be the conference's most important individual player this season, in terms of overall team success.
FIVE MORE NAMES TO KNOW:
Branden Dawson, Michigan State
Rayvonte Rice, Illinois
Aaron White, Iowa
D.J. Newbill, Penn State
Dez Wells, Maryland
BREAKOUT STAR: Derrick Walton, Jr. from Michigan didn't have to do nearly as much last season with stars like Nik Stauskas and Glenn Robinson III around him, but he did play steady ball from the lead guard and helped guide the Wolverines to the Elite Eight. Now, as one of the returning experienced pieces, the 6-foot sophomore has to take a step up in his play this season while running head coach John Beilein's offense. Walton looked up to the task in some camps this summer and is a natural floor leader for the Wolverines.
COACH UNDER PRESSURE: Tom Crean and Mark Turgeon are both facing issues for not winning games and for transfers away from their programs. Crean has also faced recent legal issues for some of his team off of the floor and needs to win even more after the offseason heat surround this fall's incidents. Turgeon lost five transfers from the Terps last season and has never made a NCAA Tournament appearance at the school.
ON SELECTION SUNDAY WE'LL BE SAYING … : Number-one seed Wisconsin leads a contingent of seven Big Ten teams in the 2015 NCAA Tournament.
I'M MOST EXCITED ABOUT : The evolution of Nebraska with another year of Terran Petteway, Shavon Shields and Walter Pitchford. Can this team make the second weekend in the NCAA Tournament?
FIVE NON-CONFERENCE GAMES TO CIRCLE ON YOUR CALENDAR:
Nov. 18, Duke vs. Michigan State in Indianapolis
Dec. 2, Ohio State at Louisville
Dec. 3, Duke at Wisconsin
Dec. 12, Iowa State at Iowa
Dec. 13, Michigan at Arizona
ONE TWITTER FEED TO FOLLOW: @B1GMBBALL
PREDICTED FINISH
1. Wisconsin: The Badgers only lose Ben Brust and still have Kaminsky, Dekker and senior guards Josh Gasser and Traevon Jackson. If Bo Ryan gets more from Nigel Hayes and other bench players, last year's Final Four team could go back.
2. Nebraska: The Huskers have the talent and scoring power to compete for a Big Ten title between Petteway, Shavon Shields and Walter Pitchford. Can this team get stops and win games away from home?
3. Michigan: Losses of Nik Stauskas, Jordan Morgan, Glenn Robinson III and Mitch McGary hurts, but Walton and LeVert are back along with a crop of talented younger players.
4. Michigan State: Seniors have left East Lansing but Branden Dawson, Travis Trice, Denzel Valentine and Matt Costello return along with some productive guys off of last year's bench to keep an eye on.
5. Ohio State: Three seniors in Shannon Scott, Sam Thompson, Amir Williams and Trey McDonald return, but the Buckeyes need production from a good freshman group that includes guard D'Angelo Russell.
6. Illinois: Transfers Aaron Cosby and Ahmad Starks both fill in for Tracy Abrams and provide more outside shooting. If Nnanna Egwu can avoid trouble and get post defense help from someone like Leron Black, Illinois will be in good shape.
7. Iowa: The Hawkeyes return a ton of production from a deep team and gain talented guard Trey Dickerson. Can Aaron White or someone else step up and assume the primary scorer role?
8. Minnesota: The NIT champions need to upgrade their defense and win games down the stretch. Andre Hollins needs to be more efficient but he's productive.
9. Indiana: The program looks to be in disarray with the off-the-court incidents, but Yogi Ferrell can ball and he has athletes around him. Can the Hoosiers limit turnovers and get stops?
10. Maryland: After losing five transfers, this new-look Maryland returns Dez Wells, Jake Layman and Evan Smotrycz and gains Melo Trimble and some other talented freshmen who can shoot.
11. Purdue: A lot rests on the shoulders of junior center A.J. Hammons, but Kendall Stephens, Raphael Davis and a new crop of freshmen gives head coach Matt Painter and fans some hope for a rejuvenated team.
12. Penn State: D.J. Newbill and Brandon Taylor both return, but the rest is uncertain for Patrick Chambers' team. Can the front court give any boost on offense?
13. Northwestern: The Wildcats could start two freshmen on a young team that features as many as six new freshmen. But five guys with 20-plus minutes a game return from last season, so plenty of experience peppers the roster.
14. Rutgers: Myles Mack and Kadeem Jack are both Big Ten players but the rest of the young roster has to prove they are as well for Eddie Jordan.