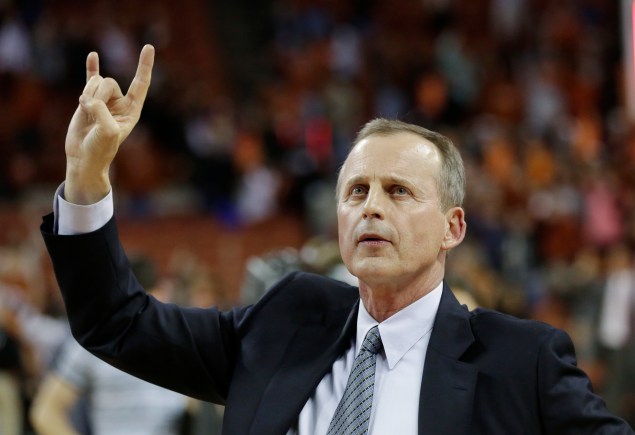 Beginning on October 3rd and running up until November 14th, the first day of the season, College Basketball Talk will be unveiling the 2014-2015 NBCSports.com college hoops preview package.
Today, we will be previewing the Big 12.
MORE: 2014-2015 Season Preview Coverage | Conference Previews | Preview Schedule
In a vacuum, the 2013-14 season — a 24-11 record, a third-place finish in the Big 12, an ouster in the Round of 32 in the NCAA tournament — was not a banner year for Texas.
This is a program that had made the NCAA tournament in the first 14 years of Rick Barnes' tenure in Austin. They've been to a Final Four. They've been to two other Elite 8s. They've sent players like T.J. Ford and Kevin Durant and LaMarcus Aldridge to the NBA. They've won the Big 12 regular season title three times since 1999.
But what made that season so special, what earned Barnes the Big 12 Coach of the Year award and made Texas one of the nation's feel-good stories, was the fact that the program had hit rock bottom the year before.
Players were transferring out. Elite, in-state recruits were going to Houston and Baylor, not to mention the ACC and the SEC, instead of playing for the 'Horns. Barnes looked like he needed to start updating his resume.
Texas enters this season as the No. 8 team in the NBCSports.com Preseason Top 25. Barnes has resurrected this Texas program, but to do that, he first had to fix the team's culture.
MORE: NBCSports.com's 2014-2015 Big 12 Preview
———————————————————————————–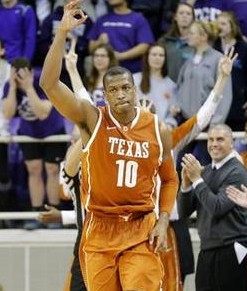 Rick Barnes had just finished the worst season of his 15-year tenure at Texas, a campaign that culminated in a seventh-place finish in the Big 12, their 16-17 record bad enough that the Longhorns couldn't even get invited to the NIT.
But instead of cutting his losses and getting on with figuring out how he was going to turn Texas back into a Final Four contender, Barnes made the decision to accept an invitation to the CBI, a third-tier postseason event that struggles to attract brand-name programs; Santa Clara beat George Mason in the finals the year Texas participated.
"I think every possible experience that we can put these guys in, whether it's going on the road to play games, we need to do that," Barnes said at the time. "And to be where we want to be, you have to be able to win anywhere."
They didn't win, and things got worse from there.
Texas lost to Houston in the first round of the CBI, a result that was hard to ignore as a harbinger of the power shift in the state of Texas. At the time, the Longhorns weren't landing much of the elite talent coming out of the state. Houston has just brought in a recruiting class that included in-state products Danuel House and Chicken Knowles, a five-star and four-star recruit, respectively.
The season had been an unmitigated disaster. Barnes was about to face an offseason chock full of scrutiny and rumors that Buzz Williams or Shaka Smart or whoever would be coming for his job. He wasn't recruiting the way that he had as recently as two seasons earlier. There was never a more obvious pick for a 'Coaches on the Hot Seat' list.
But oddly enough, it was that loss, combined with some lucky scheduling, that turned the program around.
"We played in the CBI, which was tough to do and tough to get up for, but we played," senior forward Johnathan Holmes told NBCSports.com last week. "We lost to Houston in the first round, and the very next day, we came back and we had to go to the football facilities because the NCAA tournament was at the Erwin Center."
Think about that.
Instead of playing in the NCAA tournament, the Longhorns were getting kicked out of their own facility to allow Austin to host the second and third rounds of the event.
It left a bitter taste in the mouth of everyone left on the roster.
"We started working out and made it very clear from that day on, we were just going to have each other's backs," Holmes said. "We instilled that and we matured. We didn't look to put all the blame on each other and on the coach. We looked ourselves in the mirror. We grew up."
Barnes reiterated the same sentiment.
"There definitely was a different agenda. That was for certain," Barnes told NBCSports.com. "Last year, we had a group of guys that made their minds up themselves that it wasn't going to be about them. It was going to be about the program. They wanted to win. That, in itself, is the biggest difference."
While Barnes made sure to note "there wasn't anything wrong with the kids that we had in the program" the year before, it's hard not to read between the lines of what the coach and his player are saying. Some of the players that Texas parted ways with after the Houston loss were addition by subtraction.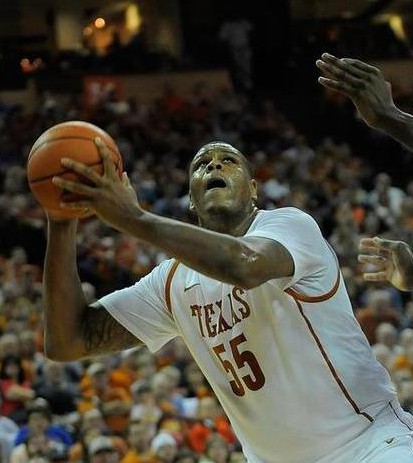 Myck Kabongo, the team's star point guard, was suspended for the first 23 games of the season after the NCAA determined that Kabongo had lied during an investigation into how an offseason workout was paid for. Shelden McClellan was benched multiple times during his two seasons in Austin, eventually transferring to Miami once the season ended. Julien Lewis left for Fresno State after losing his spot in the starting lineup to Demarcus Holland. Ioannis Papapetrou went pro in Greece. Jaylen Bond transferred closer to his Philly home.
The players that were left were not as highly recruited or as intriguing to NBA teams, which played a major role in the speculation surrounding Barnes' imminent firing. Holmes, Javan Felix and Demarcus Holland weren't good enough. Cameron Ridley was too out of shape. Isaiah Taylor wasn't going to have enough of an impact as freshmen.
And as much as the players — and the coaching staff — tried to ignore all the negativity, they couldn't. The same people that predicted the program's downfall grilled them with questions about those very predictions at every media availability.
"Anybody that is in that situation is aware of it because they're asked about it, just like you're talking about it now," Barnes said, clearly still bitter about the way that his future was portrayed at this time last year. "I think it's wrong when the media is putting out lists of guys on the hot seat. My thing is, what does that have to do with anything other than people want to speculate and make news?"
"A lot of times, the media's writing things that aren't always true," he added. "I can only tell you that from within, not one time did my athletic director tell me [my job was in jeopardy]. Not one time."
It was hard for the players not to take that speculation personally, as criticism of Barnes was an indirect shot at the ability of his players. He wasn't expected to win because his players simply weren't good enough.
"We heard all the noise," Holmes said. "We heard everybody talking about it."
The only thing they could do was to get to work.
As a visitor in the football team's weight room.
"Definitely humbling, especially at a place like Texas," Holmes said. "To be [Barnes'] first team not to make the tournament, it was a hard time for us."
———————————————————————————–
The expectations for this Texas team are back in full force.
They're being projected as a potential Final Four team. They're the trendy pick to end Kansas' reign atop the Big 12 standings. Taylor, Holmes and Ridley are all-Big 12 caliber players, while incoming freshman Myles Turner — a top ten prospect nationally that hails from Euless, Texas — may be the best prospect of them all, ensuring that Austin will once again be a mandatory stop for roving NBA scouts.
And Barnes' job security?
It's as solid as it has ever been, Barnes says.
And while he's happy that he has this program back to where it should be — nationally relevant both in-season and on the recruiting trail — that's not what he is most excited about with this team.
"These guys really energized us as a coaching staff, the kind of people they are and the attitude they bring," Barnes said. "That's exactly what we're looking for."
"There's nothing better, as a coach, than to have a group of guys that care about each other and that want to win."