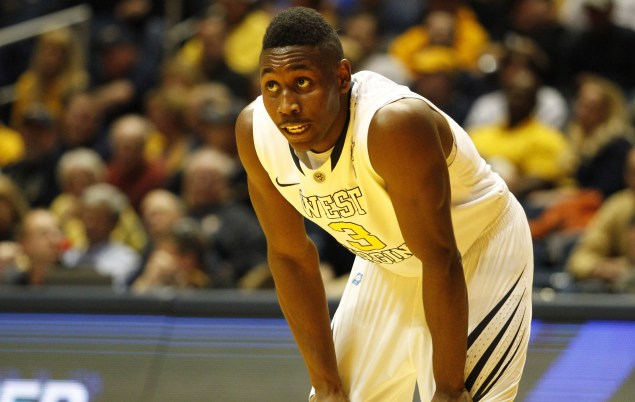 Beginning on October 3rd and running up until November 14th, the first day of the season, College Basketball Talk will be unveiling the 2014-2015 NBCSports.com college hoops preview package.
Today, we will be previewing the Big 12.
MORE: 2014-2015 Season Preview Coverage | Conference Previews | Preview Schedule
West Virginia's Juwan Staten was one of the best players in the Big 12 last season, earning the honor of being named first-team all-Big 12 player over the likes of Joel Embiid and Georges Niang.
He was terrific, averaging 18.4 points, 5.8 assists and 5.6 rebound despite being listed as a 6-foot point guard. Those numbers were good enough to convince the Big 12 voters to overlook the fact that the Mountaineers were only able to manage a 17-16 record and a trip to the NIT. They were also impressive enough to make you wonder: Where the heck did this come from?
As a sophomore, in Staten's first season playing with the Mountaineers, he averaged just 7.6 points and 3.3 assists on a team that bookended a 13-19 season with a 34-point beat-down at the hands of Gonzaga on national television and a seven-game losing streak. That came after Staten had redshirted the 2011-12 following a transfer from Dayton. Before Bob Huggins made the decision to bring Staten into the program, he first made a call to Steve Smith, Staten's head coach at Oak Hill Academy (Virginia), a prep school known for churning out as much basketball talent as anyone in the country.
That includes Ty Lawson, Rajon Rondo and Brandon Jennings.
"Steve said that he was probably the best point guard that he's ever had," Huggins told NBCSports.com this month, but through three seasons of college basketball, Staten looked anything but the part.
RELATED: NBCSports.com 2014-2015 Big 12 Preview | Rick Barnes turns Texas around
That all changed when Huggins had a sit-down with Staten following the 2012-13 season. The message he needed to get across? If you don't want to do things my way, then pack your bags.
"Coach Huggs, he basically told me that he needed me to be an extension of him," Staten told NBCSports.com. "Some things that we have to do within our program, with me being around and knowing how things go, he just wanted me to step up and be a leader. Put guys in their place when they're doing the wrong thing and give them encouragement when they're doing the right thing. Let them know what we're supposed to be doing here. Be that voice that the guys hear away from practice.
"All the players don't always agree with everything that's going on, but as a leader, it's your job to find out what the coach wants and how to get the players to do that."
Huggins dismissed that heart-to-heart in a way that only he can — "If you look at what our record was that year, I had that conversation with a lot of people," he muttered, which is about the best way to describe the twangy, choppy way that Huggy Bear speaks. "Like, all of them. Every single one of them." — but in talking with Staten, it's easy to see that his message got through.
"My mentality changed," Staten said. "I didn't really have the season that I wanted to have as a sophomore, and that tested me. It put things in perspective. Time's running out. You either have to start putting it down or think about something else that you want to do with your life. I got a little more focused and serious about the game. It changed my approach. I started taking more of a business approach to the game, falling in love with the process."
And what is "the process"?
For Staten, it was about more than simply getting in the gym and doing the same drills and workouts that he's done throughout his career and will continue to do as long as he's playing the game.
Huggins has been coaching this game for a long time — as Staten put it, "since before I was born" — and he's had quite a few stars work their way through his Cincinnati and West Virginia programs. There were two, however, that piqued the interest of Staten: Nick Van Exel and Steve Logan. He got Huggins to bring him game film from when those two were playing in college, spending hours pouring over those tapes.
He wasn't just studying their moves, however. His goal wasn't to learn how to cross a defender over like Van Exel could or hit the same kind of pull-up threes that Logan shot. The sets that Huggins runs these days aren't that different from what he ran in the 90s, and what Staten wanted to learn was when, in the flow of the offense, those two were able to attack.
"I just wanted to see where they got their shots from, where they were able to create out of and what opportunities the offense was able to open up for them," he said. "After that it was pretty clear where I would be able to get my shots."
It sure was.
The problem, however, was that all those shots and all that production led the Mountaineers to a first round ouster from the NIT. As good as Staten is, as bright as his professional future may be, the sport just isn't as fulfilling when you're not winning consistently, and Staten says there are two things that he can do to change that next season that go beyond extending his three-point range.
It starts with "grasping the concept of being a point guard," he said. "Knowing the time and score, learning my teammates a little better, what situations do we run what plays in to get an easy basket." He also hopes to be able to lead his team better in close games. Staten traveled to both the Point Guard Skills Academy in New Jersey and LeBron James camp in Las Vegas this summer, and the way he tells it, he has a better feel for "knowing how to close games".
But if West Virginia is truly going to be able to earn an at-large bid this season, it's going to be about more than just Staten.
"We've got to guard and we've got to rebound," Huggins said. "There are two constants in basketball: the ability to defend and the ability to rebound. We got away from really what was the staple of what we were all about."
"Everybody's wants to win," Staten added. "When you're not winning, it makes things a little more difficult because people start questioning what's going on. They want ot sart putting their own ideas into things.
"It's all about trusting the process."
Staten knows better than anyone.