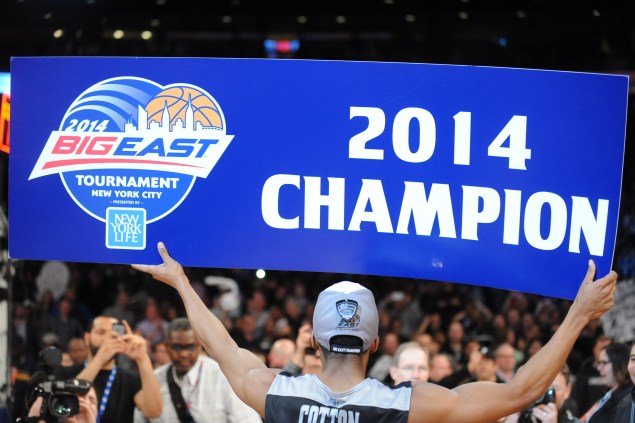 Beginning on October 3rd and running up until November 14th, the first day of the season, College Basketball Talk will be unveiling the 2014-2015 NBCSports.com college hoops preview package.
Today, we preview the Big East.
MORE: 2014-2015 Season Preview Coverage | Conference Previews | Preview Schedule
NEW YORK — The Big East Conference was college basketball royalty.
From the three Big East schools reaching the 1985 Final Four, culminating with Villanova's historic upset over Georgetown, to more recent history with then-members UConn and Louisville cutting down the nets as national champions in 2011 and 2013, respectively.
In 2013-14, the Big East relaunched as a 10-team league, with the Catholic 7 joined by Butler, Creighton and Xavier. The end result? Four teams in the NCAA tournament, one No. 2 seed and the unanimous National Player of the Year in Doug McDermott. It was promising, but the new Big East isn't without its doubts and criticism.
The Sweet 16 included zero Big East teams. To make the misery of March worse, Buzz Williams, one of the conference's top coaches, took less money to leave Marquette in favor of Virginia Tech.
But the gloom and doom of the new Big East should stop. What league could afford to split ties with Syracuse, Louisville, UConn, Pittsburgh and Notre Dame, lose two Hall of Fame coaches, and its top coach (Brad Stevens) to the NBA?
"We ran into the national champions in the second game," Villanova head coach Jay Wright said at Big East Media Day at Madison Square Garden. "Providence-Carolina game: Providence could have won that game, and Creighton playing Baylor was like us playing Creighton. It was just a horrible matchup. So it happened. You can't make excuses. We gotta deal with it."
RELATED: NBCSports.com's 2014-2015 Big East Preview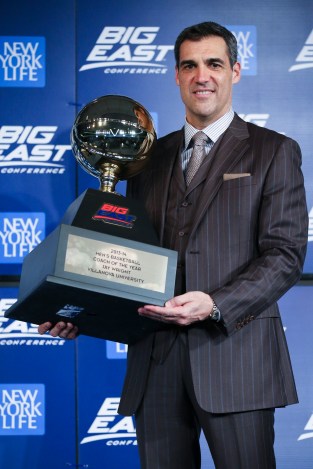 Wright's Wildcats were the top Big East team heading into the 2014 NCAA Tournament, as a No. 2 seed. That will likely be the case again this season with four returning starters. Although, how many other teams will join them in the field of 68 is up for debate. Georgetown and St. John's, bubble teams from a season ago, should give the conference two more Big East originals in the Big Dance. Xavier and Providence saw significant turnover this spring, but have the pieces to be back in the conversation, as well. The 10 team league won't replicate the 11 bids from 2011, but five or six bids is where this conference thinks it could be annually.
"I think we'll see a difference this year and in years to come," Wright added. "It's going to be a great basketball league that is going to have five or six teams knocking on the door every year. If you're getting 50 or 60 percent of your league in every year, that's a hell of a league."
Despite the conference's changes and its shortcomings in the NCAA tournament, the league is still an attractive destination for recruits. Five-star shooting guard Isaiah Whitehead picked Seton Hall over fellow Big East foe St. John's. Marquette's new head coach, Steve Wojciechowski, made an early splash when he landed a verbal commitment from Henry Ellenson, a top-5 recruit according to several scouting services. The Big East could also be home to the two best point guards in the Class of 2015, as Jalen Brunson is committed to Villanova and St. John's is a finalist for Isaiah Briscoe.
MORE: Can Kris Dunn ever be the player that he was coming out of high school?
Dave Gavitt used media markets in New York, Philadelphia and Washington D.C. to catapult the original Big East into the national spotlight. Those markets remain intact, and the conference still has a strong national TV presence, only now it is with FOX Sports 1. While the ratings may not have been eye-popping in the new Big East's first year, coaches have seen it's advantages, especially in terms of recruiting.
"Now if I ask a kid if he's watched our games and he says, 'No, not really', I know no matter what he tells me he's not interested because kids now don't watch TV the way they used to," Wright added. "They watch Netflix. We all grew up turn on ESPN, then see what else is on. They know what they want to watch and they go and find it. So if they're interested, they'll find you."
Year 1 of the new Big East is a small sample size. The league still has a respected name and the tradition that comes with it. It still has the coaches and storied programs and its tournament inside Madison Square Garden. The league has gone through drastic changes over the past two years, and we shouldn't have expected results over night.
"The identity will happen over time," Georgetown head coach John Thompson III said. "The rivalries will happen over time. I almost feel like the media wants us to force tradition to happen. You know, the Georgetown-Syracuse rivalry didn't happen in one year. It was over time, over many heated games."
It doesn't matter what the critics say or ask of this new-look Big East. All that matters is what happens between the lines. And the Big East coaches are feeling optimistic about the league's future.
"I don't deal with the criticism," Providence head coach Ed Cooley said. "I deal with the reality of who we are, and I think we're pretty damn good."