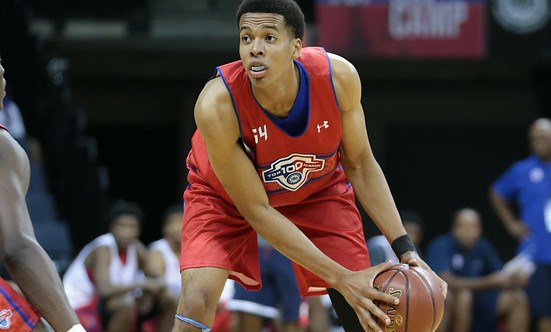 Each Monday and Friday, College Basketball Talk's Scott Phillips goes over some important news and notes in the world of college basketball recruiting. This week, a pair of standouts from South Carolina set announcement dates, and Skal Labissiere and Isaiah Briscoe to announce this week.
Perry Dozier sets an announcement
One of the best guards in the country — and best uncommitted players — is committing on the first day of the November signing period on Wednesday. Four-star guard Perry Dozier will decide between Georgetown, Louisville, Michigan, North Carolina and South Carolina, Rivals' Eric Bossi confirmed..
The No. 34 player in the class, according to Rivals, hails from Spring Valley High School in Columbia, South Carolina and many view the Gamecocks as strong contenders along with Louisville for the 6-foot-6 guard who can run some point or play off the ball.
Dozier took official visits to all five programs, but Louisville was the last visit among his stops. South Carolina and head coach Frank Martin have made a hard push for Dozier to stay home and play alongside Tevin Mack. His commitment will be a major shakeup on signing day either way.
Tevin Mack will also decide this week
Speaking of Mack, the four-star guard and No. 77 prospect in the 2015 class will decide on Tuesday as he chooses between Clemson, Georgia, South Carolina, UConn and VCU.
The 6-foot-6 scoring wing is also from Columbia, South Carolina, but attends Dreher High School. Mack, like Dozier, took all five official visits during the recruiting process and took the last visit to South Carolina. According to Rivals' Eric Bossi, Mack also took a visit to a South Carolina practice last week, as well, so the Gamecocks have some momentum here.
Mack isn't a major difference-maker like Dozier could be almost immediately, but he's still a really coveted piece who could be a valuable role player early on. Mack's potential decision this week will be important as well.
Isaiah Briscoe and Skal Labissiere to decide on Thursday
According to a release from ESPN, a pair of five-star prospects will announce their college decision on Thursday.
As the No. 4 overall player in the 2015 class, and a prospect with some of the best upside, Labissiere will be an intriguing announcement for a number of reasons. For one, the 6-foot-11 native of Haiti was recently linked to a new prep school created by his legal guardian to play his senior season.
Baylor, Georgetown, Kentucky, Memphis, North Carolina, and Tennessee are still involved in the recruitment, according to the ESPN release and there are more questions than answers surrounding the big man's future. Will he qualify academically? Will Skal go and play professionally overseas for a year?
Meanwhile, Briscoe, the No. 9 overall player in the 2015 class, is down to UConn, Kentucky and St. John's. Kentucky and St. John's are the two leaders in the clubhouse for the nation's best point guard prospect.
The 6-foot-3 New Jersey native is a major playmaker as a passer or a scorer and would be a major impact in a class that doesn't have many guards.
If Kentucky is somehow able to land both Briscoe and Labissiere, then John Calipari would be off to a great start in another class and has more potential one-and-done NBA prospects.
It should be an exciting week on the recruiting trail with so many marquee players making choices.