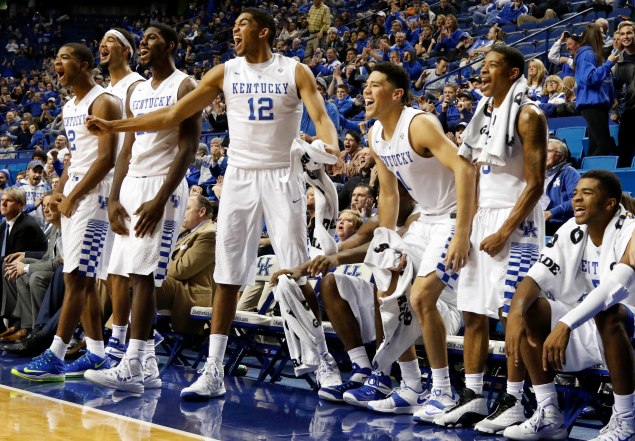 Beginning on October 3rd and running up until November 14th, the first day of the season, College Basketball Talk will be unveiling the 2014-2015 NBCSports.com college hoops preview package. We continue our countdown today with No. 1 Kentucky.
MORE: 2014-2015 Season Preview Coverage | NBCSports Preseason Top 25 | Preview Schedule
Head Coach: John Calipari
Last Season: 29-11, 12-6 SEC (t-2nd), lost in the national title game to UConn
Key Losses: Julius Randle, James Young
Newcomers: Karl Towns, Trey Lyles, Tyler Ulis, Devin Booker
Projected Lineup
– G: Andrew Harrison, So.
– G: Aaron Harrison, So.
– F: Alex Poythress, Jr.
– F: Karl Towns, Jr.
– C: Willie Cauley-Stein, Jr.
– Bench: Tyler Ulis, Fr.; Trey Lyles, Fr.; Dakari Johnson, So.; Marcus Lee, So.; Devin Booker, Fr., Derek Willis, So.; Dominique Hawkins, So.
They'll be good because … : They're loaded.
I mean, we all know this by now, right?
I'm not breaking any news here, am I?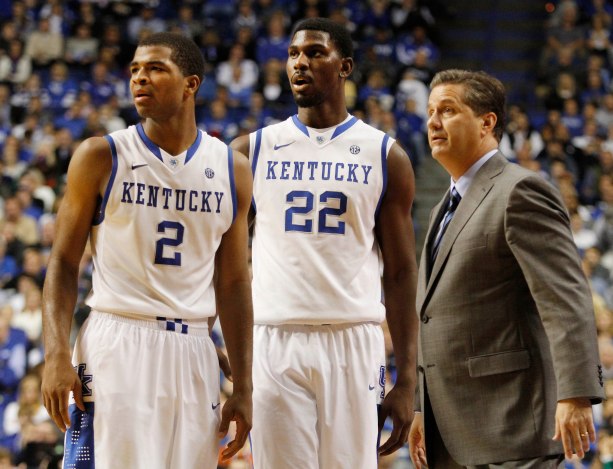 Nine guys on this roster are McDonald's All-Americans. As many as eight of them could end up being first round draft picks whenever it is they turn pro. We could talk about the fact that John Calipari is being forced into trying a platoon system in an effort to make sure that everyone on his roster is happy with their minutes, but if you really want to get a sense of how deep this Kentucky team is, think about Derek Willis: He's a 6-foot-9 forward that was, at one time, a top 30 recruit in the country. No. 115, according to Rivals, in the final Class of 2013 rankings.
Derek Willis would start for all but about 25 teams in the country.
He's essentially a walk-on with the Wildcats.
Think about that.
But they might disappoint because … : There are a number of concerns that I have about this Kentucky teams, so lets roll them out in bullet form:
First and foremost, I'm not convinced that the platoon system is actually going to work. When Kentucky faces teams that they should beat — Grand Canyon and Buffalo and Boston U. — it will be effective because the Wildcats simply are that much more talented. But what happens when they square off with teams that can actually beat them? Will Coach Cal be willing to give Marcus Lee or Trey Lyles their full rotations if they aren't playing well? Will he be willing to play crunch time minutes without his five best players on the floor? If someone sees their minutes cut, will Cal be able to keep the peace in the locker room?
There is no natural small forward on this team. There are, however, six guys that play the four and the five spot. Alex Poythress is the guy that's being forced into the role, but his natural position is as an undersized power forward. Lyles is really skilled for a power forward, but he's a four through and through. Lee is, obviously, a four. The best lineup that Kentucky fields might end up having three guards on the floor. Who gets their minutes cut if Cal plays, say, Tyler Ulis and the Harrisons?
Karl Towns is better than Dakari Johnson and Willie Cauley-Stein. Trey Lyles is better than Poythress and Lee. Ulis may be the best point guard on the roster. What happens if the freshmen end up getting all the minutes?
And lastly, I think that the Harrisons are going to have big years. I think that Aaron will be the team's best perimeter scorer and Andrew will take control of the team at the point guard spot. But there's no guarantee that they make that leap.
Outlook: It's not going to be easy for Coach Cal to keep everyone happy. It's not going to be easy for him to maintain the chemistry in the locker room. It's not going to be easy for him to convince a kid that expects to be a first round pick that sitting on the bench in college is a good thing for him just because it's a good thing for the team, but it's what Cal is going to have to do.
But I will say this: Coach Cal's issues are enviable. Having to keep everyone happy because there are too many good players is a much, much better problem to have than finding a way to win with guys that simply aren't good enough.
Kentucky is the heavy favorite to win the SEC title. Anything less than a league title and a trip to the Final Four would be a disappointment.