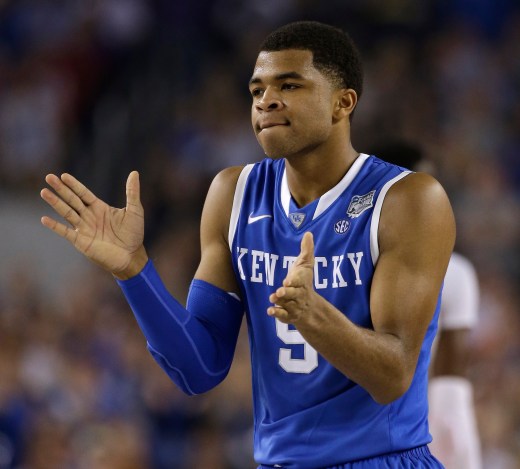 Beginning on October 3rd and running up until November 14th, the first day of the season, College Basketball Talk will be unveiling the 2014-2015 NBCSports.com college hoops preview package.
MORE: 2014-2015 Season Preview Coverage | Conference Previews | Preview Schedule
As is the case with the debate as to who the best player in college basketball, the question of who the most important players in college basketball can result in a variety of answers. A lot of attention in basketball is given to the point guard position, especially in March, but the truth is that the answer ultimately varies from team to team. Below are some of the most important players in college basketball heading into the 2014-15 season.
1. Andrew Harrison, Kentucky: He's one of two point guards on the Kentucky roster with freshman Tyler Ulis being the other. Harrison has the experience of not only reaching the national title game but also dealing with the hype that annually surrounds the Kentucky program. Those experiences and his improvement skill-wise will be of great importance to Kentucky in 2014-15.
2. T.J. McConnell, Arizona: On the court there won't be much of a change in McConnell's role, as he'll once again run the point for the Wildcats. The key here: leadership. Arizona lost a great leader in Pac-12 Player of the Year Nick Johnson, so someone has to step forward and fill that void. McConnell may be the best option at this point in time.
3. Montrezl Harrell, Louisville: Harrell averaged 14.0 points and 8.3 rebounds per game last season, and he's expected to be an even greater force for the Cardinals in their first season as a member of the ACC. And his progress is critical, because even though the Cardinals have depth in the front court there isn't a lot of experience beyond Harrell.
4. Fred Van Vleet, Wichita State: After being a reserve on a team that reached the Final Four in 2013, Van Vleet took the big step forward many expected him to as a sophomore. Van Vleet averaged 11.6 points, 5.4 assists and 3.9 rebounds per game last season in helping lead the Shockers to 35 straight wins, and he'll once again run the show in 2014-15.
5. Jahlil Okafor, Duke: One of Duke's issues last season was the lack of a presence in the middle that opponents had to respect offensively, much less one they had to fear. Okafor, CBT's pick for preseason National Player of the Year, will take care of that concern and open things up for Duke's other scoring options in the process.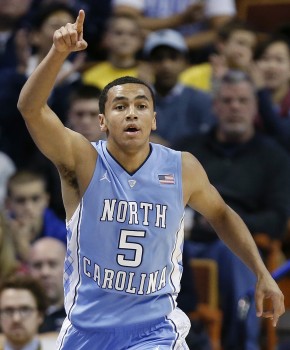 6. Frank Mason, Kansas : In recent years consistency has been an issue for Bill Self's point guards, and while the Jayhawks have continued to rule the Big 12 they've had some issues in March. Can Mason step forward and change that? The hope in Lawrence is that he can, with freshman Devonte Graham also due to see time at the position.
7. Marcus Paige, North Carolina: Whatever North Carolina needed on the perimeter Paige did it last season, leading the team in scoring and assists. Roy Williams has more perimeter options at his disposal this season, but Paige will still be the man the Tar Heels look to for production and leadership.
8. Georges Niang, Iowa State: Niang's changed his body since the end of last season, and with Melvin Ejim and DeAndre Kane gone he'll be asked to lead the way for the reigning Big 12 tournament champions.
9. Sam Dekker, Wisconsin: It goes without saying that Dekker was a key player for the Badgers last season, averaging 12.4 points and 6.1 rebounds per game. And with leading three-point shooter Ben Brust moving on, Dekker's success in improving as a perimeter shooter (32.9% 3PT last season) will be a key for Wisconsin as they look to return to the Final Four.
10. Siyani Chambers, Harvard: In each of the last two seasons Chambers has helped lead Harvard to wins in the NCAA tournament. That's one way in which to measure his value to the Crimson ahead of the 2014-15 season, but here's another: where does Harvard turn at the point should he suffer an injury? Harvard doesn't have much depth at the position, which makes Chambers an even more important player as they look to make a fourth consecutive NCAA tournament appearance.
FIVE MORE NAMES TO KNOW
1. Kaleb Joseph, Syracuse
2. Nic Moore, SMU
3. Ryan Boatright, UConn
4. Delon Wright, Utah
5. Isaiah Taylor, Texas