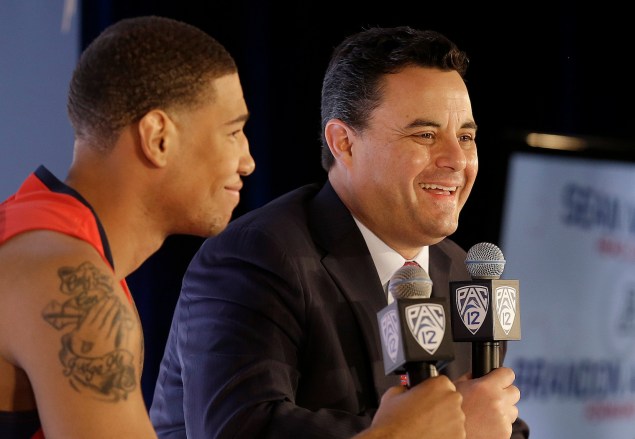 Beginning on October 3rd and running up until November 14th, the first day of the season, College Basketball Talk will be unveiling the 2014-2015 NBCSports.com college hoops preview package.
Today we take a look at the Pac-12, which has a clear favorite to win the title.
MORE: 2014-2015 Season Preview Coverage | Conference Previews | Preview Schedule
After going through a rough three-year period the Pac-12 took steps in the right direction last season. Six teams reached the NCAA tournament with four winning at least one game, and three (Arizona, Stanford and UCLA) managed to reach the second weekend. Heading into the 2014-15 season there's a clear favorite in Arizona, a team with the talent, depth and coaching needed to win a national title, but beyond Sean Miller's Wildcats there is a lot of uncertainty in the Pac-12. Spots two through five look to be wide-open, and it wouldn't be far-fetched to think that any of the teams pegged to finish sixth through ninth can make a jump themselves. This uncertainty should make for an intriguing season in the Pac-12.
FIVE THINGS YOU NEED TO KNOW:
1. Arizona lost two starters, but they're at a point where they simply reload: Both Nick Johnson and Aaron Gordon left for the NBA, with the former being the bigger loss. Johnson was the Pac-12 Player of the Year, and his leadership was incredibly valuable for last season's team. Arizona has a lot of talent, in regards to both their returners and a recruiting class that rates among the best in the country. PG T.J. McConnell is back to run the show, and among the players he'll have at his disposal are Stanley Johnson, Rondae Hollis-Jefferson, Brandon Ashley and Kaleb Tarczewski. But who takes over from a leadership standpoint? That's the biggest question facing Arizona.
2. UCLA will have to replace four starters from last year's team: In his first season at the helm Steve Alford led the Bruins to a Pac-12 tournament title and a Sweet 16 appearance. His next act will be a bit more difficult, with five contributors from that team (four starters and reserve Zach LaVine) gone. Senior Norman Powell returns, and while the Bruins are younger they don't lack for talent with guard Isaac Hamilton and forward Kevon Looney being the headliners amongst the newcomers.
3. Utah and Colorado return more production than any team in the conference: Tad Boyle welcomes back four starters from last season's NCAA tournament team, including guard Askia Booker and forward Josh Scott, with the Buffaloes' returnees responsible for 88.4% of the team's points and 94.1% of the team's rebounds a season ago. As for Utah Pac-12 POY candidate Delon Wright returns as does Jordan Loveridge, who will move back to his natural small forward position. The experience certainly helps, but their talent is another reason why many expect the Buffs and Utes to contend this season.
4. Three Pac-12 programs have new head coaches: Two firings and a retirement resulted in three head coaching positions needing to be filled in the Pac-12. In the end Washington State brought in a coach Pac-12 fans certainly remember, hiring former Oregon head coach Ernie Kent to replace Ken Bone. Oregon State called it quits on the Craig Robinson era, reeling in Wayne Tinkle from Montana where he enjoyed a successful run at his alma mater. And with Mike Montgomery deciding to retire California managed to land Cuonzo Martin, who led Tennessee to the Sweet 16.
5. Seven first team all-conference selections have moved on: The Pac-12 selects ten players to its first team all-conference squad, and at the end of last season seven of those players were either out of eligibility or decided to turn pro early. The three returnees: Scott, Wright and Stanford PG Chasson Randle. And of the five players on the league's second team all-conference squad, just two return: Arizona PG T.J. McConnell and Oregon SG Joseph Young.
PRESEASON PAC-12 PLAYER OF THE YEAR: Chasson Randle, Stanford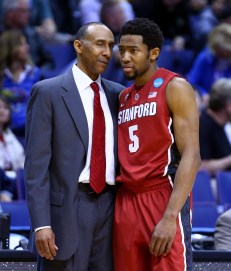 Randle's first season running the point for Johnny Dawkins ultimately resulted in the Cardinal making their first NCAA tournament (and Sweet 16) appearance since 2008. Randle averaged 18.8 points, 3.6 rebounds and 2.1 assists per game in 2013-14, and with leading assist man Dwight Powell gone the last number should increase this season.
THE REST OF THE ALL PAC-12 FIRST TEAM:
Delon Wright, Utah: One of the most versatile players in America, Wright led Utah in points (15.5 ppg), assists (5.3 apg), steals (2.5 spg) and blocks (1.3 bpg) in 2013-14.
Joseph Young, Oregon: Young averaged 18.9 points per game as a junior, and he could score even more given the Ducks' lack of depth.
Rondae Hollis-Jefferson, Arizona: Hollis-Jefferson was Arizona's sixth man last season, and with Nick Johnson and Aaron Gordon moving on he's capable of doing even more as a sophomore.
Stanley Johnson, Arizona: The Pac-12's best newcomer is also one of the most talented players in America.
FIVE MORE NAMES TO KNOW:
DaVonte Lacy, Washington State
Josh Scott, Colorado
Norman Powell, UCLA
Brandon Ashley, Arizona
Jordan Loveridge, Utah
BREAKOUT STAR: Jabari Bird, California
Bird showed flashes of the skill that made him a McDonald's All-American as a freshman, but he's certainly capable of more and the experiences of last season will help him moving forward. With Justin Cobbs and Richard Solomon, Bird, Tyrone Wallace and David Kravish will be the leaders for Cuonzo Martin's first team in Berkeley. Look for Bird to take a noticeable step forward for the Golden Bears in 2014-15.
COACH UNDER PRESSURE: Dana Altman, Oregon
How can a coach who's won 67 percent of his games in four seasons at a school be under pressure? Well, the offseason in Eugene provides the answer to that question. Three players (Damyean Dotson, Dominic Artis and Brandon Austin) were dismissed in the spring after being investigated on charges of sexual assualt (they weren't charged), and two talented freshmen (JaQuan Lyle and Ray Kasongo) weren't admitted to the school in the fall. Now Oregon enters the 2014-15 season short on depth. Wins and losses won't be an issue, but the players need to avoid any missteps off the court.
ON SELECTION SUNDAY WE'LL BE SAYING …: Will Arizona make its first Final Four appearance since 2001?
I'M MOST EXCITED ABOUT :  The battle to see who Arizona's biggest threat will be.
FIVE NON-CONFERENCE GAMES TO CIRCLE ON YOUR CALENDAR:
December 6, Gonzaga at Arizona

November 18, Utah at San Diego State
January 17, UConn at Stanford
December 13, Gonzaga at UCLA
December 7, Colorado at Georgia
ONE TWITTER FEED TO FOLLOW: @AMurawa
PREDICTED FINISH
1. Arizona: There's no question that this team has the talent to play into early April. But who steps forward as the leaders? That's the key.
2. Stanford: The Chasson Randle/Anthony Brown duo is one of the best perimeter tandems in the conference, but their young big men will need to step up.
3. Colorado: The Buffs learned a lot playing without Spencer Dinwiddie for most of conference play, and they've got a big man in Josh Scott who's underrated nationally.
4. Utah: The Utes have depth and talent, giving Larry Krystkowiak his best team since taking over in 2011. The next step: reversing their fortunes in close games.
5. UCLA: The talent isn't to be questioned, but depth can be especially with Jonah Bolden being declared a partial qualifier by the NCAA.
6. California: The Golden Bears can climb into the mix for second if Jabari Bird and Jordan Mathews make strides in their games, but the front court depth is a concern with Kameron Woods out with a torn ACL.
7. Washington: Robert Upshaw and Jernard Jarreau will give the Huskies needed depth in the front court, with Andrew Andrews and Nigel Williams-Goss the headliners in the backcourt.
8. Arizona State: The Pac-12's mystery team is chock full of newcomers from the high school and junior college ranks. Remember the name Willie Atwood.
9. Oregon: Oregon's lack of depth is a concern, but with Young being the feature offensive option this team will score points.
10. USC: Andy Enfield's Trojans will be improved, with Jordan McLaughlin and UNLV transfer Katin Reinhardt on the perimeter. But they're a year away from a serious charge up the standings.
11. Washington State: Luckily for Wazzu, DaVonte Lacy's back for his senior season.
12. Oregon State: This could be a rough first season for Tinkle in Corvallis, but he and his staff are off to a good start with their 2015 recruiting haul.