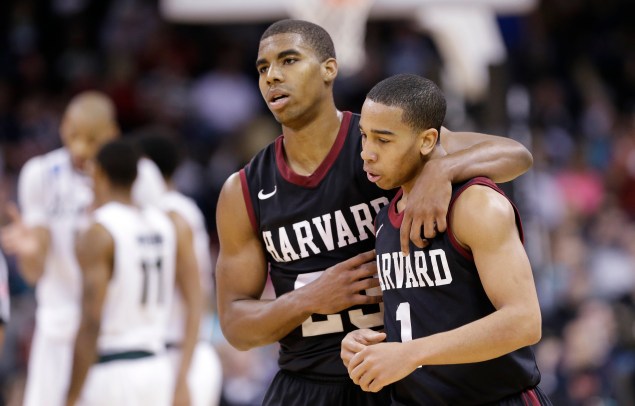 Beginning on October 3rd and running up until November 14th, the first day of the season, College Basketball Talk will be unveiling the 2014-2015 NBCSports.com college hoops preview package.
MORE: 2014-2015 Season Preview Coverage | Conference Previews | Preview Schedule
Part of the fun in filling out your bracket in March is attempting to figure out which teams are most capable of pulling off an upset (or multiple upsets) in the NCAA tournament. While some teams may be relatively obvious given factors such as their play throughout the season and the matchup in front of them, others can slip under the radar. Below are ten teams to be mindful of as the 2014-15 season moves towards its most exciting month.
1. Harvard: Tommy Amaker's Crimson have appeared in multiple preseason Top 25 rankings, and from an NCAA tournament standpoint the program has managed to win a game in each of its last two appearances. Point guard Siyani Chambers and wing Wesley Saunders are good leaders for this group, which doesn't lack for depth in the front court. The one question for Harvard: do they have enough perimeter shooting to get to the second weekend of the NCAA tournament?
2. Georgia State: Ron Hunter's is led by the perimeter tandem of R.J. Hunter and Ryan Harrow, and they'll have the added motivation of last year's Sun Belt title game loss to Louisiana. Kevin Ware adds depth on the perimeter, and experienced forwards Curtis Washington and Markus Krider return for another season in Atlanta. The Panthers will be a dangerous team should they get into the 68-team field.
3. Louisiana Tech: Michael White's Bulldogs were one of four teams to finish tied for the Conference USA regular season title, and they reached the league's tournament final as well (losing to Tulsa). Kenneth Smith and Raheem Appleby lead the way on the perimeter, and Michale Kyser is the anchor in the middle for a team that returns four starters.
4. FGCU: Joe Dooley's team fell one win short of a return trip to the NCAA tournament last season, but with their experienced perimeter rotation the Eagles are the favorites to win the Atlantic Sun. Brett Comer runs the show, with preseason A-Sun POY Bernard Thompson and Jamail Jones on the wings. If their four front court transfers, including Demetris Morant, are ready to go FGCU could grab the nation's attention for the second time in three years.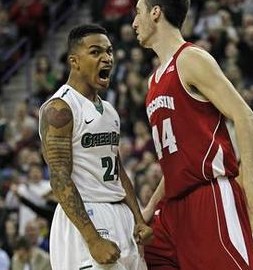 5. Green Bay: The Phoenix lose inside-out big man Alec Brown but they do return one of the best point guards in the country in senior Keifer Sykes. Brian Wardle's team returns four starters, and in junior forward Jordan Fouse they likely have the best defender in the Horizon League. And like three of their four teams ahead of them on this list, Green Bay will have a conference tournament title game loss to use as fuel.
6. Toledo: Tod Kowalczyk's Rockets won a share of the MAC West regular season title, only to fall in the MAC tournament title game to Western Michigan. Four starters return, led by senior guards Juice Brown and Justin Drummond, and Mississippi State transfer Dre Applewhite will be eligible at the end of the fall semester to add depth to the perimeter.
7. Iona: There aren't many teams that are as productive offensively as the Gaels, with senior David Laury IV and juniors A.J. English and Isaiah Williams leading the way. However Iona may have the toughest path to an NCAA tournament bid of any team on this list, with the Gaels likely having to fend off rival Manhattan and Siena (which will host the conference tournament) to win the MAAC's automatic bid.
8. UC Irvine: Russell Turner's Anteaters were the Big West's best defensive team last season, and that should once again be the case with forward Will Davis II and center Mamadou Ndiaye back on campus. In total UC Irvine returns four starters from last year's Big West regular season champion squad, with guards Alex Young and Luke Nelson being the others.
9. Murray State: Steve Prohm welcomes back four starters with three of those players (led by guard Cameron Payne and forward Jarvis Williams) being double figure scorers. Add in sixth man T.J. Sapp, who averaged 13.2 ppg once he became eligible (mid-year transfer from Clemson) and the Racers have the talent and production needed to win the OVC.
10. Northern Iowa: With the assumption being that Wichita State will once again be in the NCAA tournament, the question to be asked is whether or not the Missouri Valley can earn multiple bids. And if any team can help the league accomplish that, it's Ben Jacobson's experienced team. Seth Tuttle leads the way for a team that returns all five starters (reserves Deon Mitchell and Nate Buss as well), and newcomers Paul Jesperson (Virginia transfer) and Wyatt Lohaus are expected to compete for minutes as well.
FIVE OTHERS TO CONSIDER
1. UCSB
2. Yale
3. Manhattan
4. Weber State
5. Akron