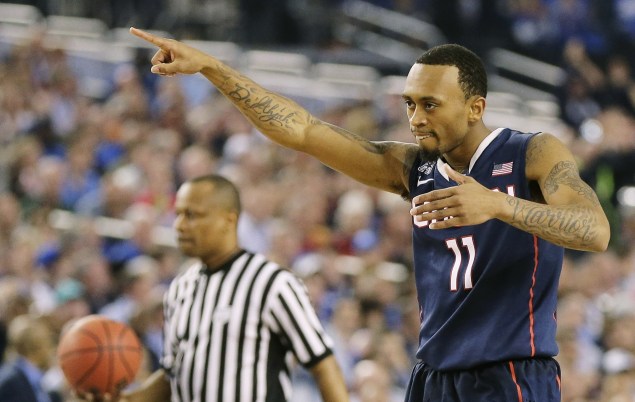 Beginning on October 3rd and running up until November 14th, the first day of the season, College Basketball Talk will be unveiling the 2014-2015 NBCSports.com college hoops preview package.
Today, we will be revealing our American preview.
MORE: 2014-2015 Season Preview Coverage | Conference Previews | Preview Schedule
Year Two of the American will be much different from the first year as the league really searches for an identity, even with defending national champion UConn. Much of last year's senior talent is gone, along with Louisville and Rutgers, and many experienced programs like UConn, Cincinnati and Memphis have question marks regarding who will fill those roles.
REALIGNMENT MOVES
In: East Carolina, Tulane, Tulsa (Conference USA)
Out: Louisville (ACC), Rutgers (Big Ten)
FIVE THINGS YOU NEED TO KNOW:
1. The American won't be as tough in Year Two: Last year's inaugural iteration of the American had a national champion (UConn), three senior All-Americans (Sean Kilpatrick, Shabazz Napier, Russ Smith), four really talented NCAA Tournament teams and one major snub (SMU). This year, we won't see nearly as much talent or experience in the league, and part of it is the three C-USA newcomers replacing long-time basketball power Louisville.
2. The newcomers bring some good, young talent: The American won't be able to replace a basketball blue blood like Louisville easily, but three Conference USA newcomers in East Carolina, Tulane and Tulsa bring some talent in the equation. The Pirates return scoring sophomore wing Caleb White (12.4) and freshman guard Lance Tejada was a talented three-star lead guard. The Green Wave have one of the most potent duos in the league in sophomore guard Jonathan Stark (14.5 ppg, 4.2 apg) and junior guard Louis Dabney (15.2 ppg, 4.1 rpg) and Tulsa won the C-USA Tournament behind the stellar play of junior guard James Woodard (15.5 ppg, 5.9 apg) and junior forward Rashad Smith (12 ppg, 4.9 rpg). The newcomers might not be NCAA Tournament teams, but they aren't pushovers, either.
3. Three new coaches make the American intriguing: The American added three new head coaches this offseason, two of which have been to the NCAA Tournament before. Houston landed former Oklahoma and Indiana head coach Kelvin Sampson off of his five-year show-cause and Sampson has been a NBA assistant since with a Cougar roster reloaded with junior college recruits and transfers. Tulsa has former Missouri coach Frank Haith, who inherits a 2014 NCAA Tournament team after Danny Manning left for Wake Forest. Haith has some talent with the Golden Hurricanes and will run a lot of pick and roll. South Florida adds long-time Kentucky assistant Orlando Antigua, who takes over with a roster filled with new players and positive feelings from a solid start in the 2015 recruiting class.
4. How do UConn and Memphis replace experienced guards?: The Huskies and Tigers both lose a lot of wing scoring this season and they'll have to move on without key pieces from last season. UConn head coach Kevin Ollie has N.C. State transfer Rodney Purvis, incoming recruit Daniel Hamilton and junior college transfer Sam Cassell Jr., to go along with Ryan Boatright to form a deep backcourt. Memphis will work the ball inside to returning starters junior Shaq Goodwin and sophomore Austin Nichols and Memphis will look for stability from the back court that is inexperienced and hasn't played together.
5. SMU has the talent to make a run: The Mustangs are expected to make their first NCAA Tournament since 1993, even without Emmanuel Mudiay. Junior point guard Nic Moore is very talented and efficient, junior big man Markus Kennedy is difficult to stop on the inside and they have a number of talented wings like Keith Frazier, Ben Moore and Justin Martin.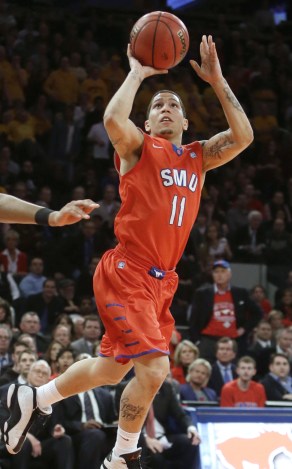 PRESEASON AMERICAN PLAYER OF THE YEAR: Nic Moore, SMU
The 5-foot-9 junior point guard was incredibly efficient and tough last season, averaging 13.6 points, 4.9 assists and 2.3 rebounds per game on 46 field-goal shooting and 43 percent three-point shooting. Moore was also 82 percent from the free-throw line and helped lead an offense that shot an American-leading 48 percent from the field in 2013-14. Now, Moore is focused on leading SMU through a more difficult non-conference schedule that they hope leads them to the program's first NCAA Tournament since 1993.
THE REST OF THE AMERICAN FIRST TEAM:
Ryan Boatright, UConn: The 6-foot senior stepped up his play in the NCAA Tournament after a solid junior season.
Will Cummings, Temple: A breakthrough junior season saw the 6-foot-2 senior average 16.8 points, 4.6 assists and 3.4 rebounds a game.
Shaq Goodwin, Memphis: The 6-foot-9 junior started 34 games a year ago and averaged 11.5 points and 6.5 rebounds per game.
Markus Kennedy, SMU: A 6-foot-9 interior presence, Kennedy averaged 12.4 points and 7.1 rebounds per game as a sophomore. There still is some concern over whether or not he will be immediately eligible.
FIVE MORE NAMES TO KNOW:
Louis Dabney, Tulane
Rodney Purvis, UConn
Quenton DeCosey, Temple
Jonathan Stark, Tulane
Austin Nichols, Memphis
BREAKOUT STAR: James Woodard received minimal national attention at Tulsa during his sophomore season after averaging 15.5 points, 5.9 rebounds and 1.9 assists per game. But in Frank Haith's pick-and-roll-heavy offense, the 6-foot-3 junior could get more national attention by playing in a bigger league in the American. Woodard shot 43 percent from the field and 38 percent from the three-point line as well last season and will be the Golden Hurricane's key player this season.
COACH UNDER PRESSURE: Donnie Jones at UCF faces the most pressure to win to save his job, but SMU head coach Larry Brown faces the most pressure to win now due to his age and having his best team in Dallas. With no NBA prospects like Emmanuel Mudiay coming in the next class, Brown needs to take advantage of the talent on this SMU team and win now.
ON SELECTION SUNDAY WE'LL BE SAYING … : The American stayed steady with three tournament bids (SMU, UConn and ?) with a few teams that competed but ultimately played in lesser postseason events.
I'M MOST EXCITED ABOUT : The national attention that will finally be paid towards SMU junior guard Nic Moore, one of the toughest and most efficient lead guards in the nation that nobody is talking about.
FIVE NON-CONFERENCE GAMES TO CIRCLE ON YOUR CALENDAR:
Nov. 17, SMU at Gonzaga
Nov. 18, Memphis vs. Wichita State in Sioux Falls, SD

Dec. 18, UConn vs. Duke in New Jersey
Dec. 20, SMU at Michigan
Jan. 3, UConn at Florida
ONE TWITTER FEED TO FOLLOW: @TheCAJasonSmith
PREDICTED FINISH
1. SMU: Moore and Kennedy are a dynamic force and the Mustangs are very deep with bodies at multiple positions. If a third scorer can emerge, watch out.
2. UConn: The defending champions lose Napier and wing DeAndre Daniels but return a deep backcourt and some interior defense in Amida Brimah and Philip Nolan.
3. Cincinnati: Losing Sean Kilpatrick and Justin Jackson is tough, but Mick Cronin got a lot of tough junior college players to pair with Shaquille Thomas, Ge'Lawn Guyn and Jermaine Sanders.
4. Memphis: The Tigers lose four senior guards, but their interior of Goodwin and Nichols remains in-tact to go along with young wing talent like Nick King.
5. Tulsa: New head coach Frank Haith inherits a 2014 NCAA Tournament team that includes junior guard James Woodard and junior forward Rashad Smith.
6. Houston: Kelvin Sampson is back and inherits some talent in Jherrod Stiggers, L.J. Rose and Danrad Knowles and gets some intriguing junior college transfers in Devonta Pollard and Torian Graham.
7. Temple: The guard duo of senior Will Cummings and junior Quenton DeCosey is talented and returns with some more experienced pieces. Who can step up as a third option?
8. Tulane: Another strong perimeter unit as sophomore Jonathan Stark and junior Louis Dabney return with senior Jay Hook to form a good backcourt.
9. East Carolina: The Pirates have some talent in freshman guard Lance Tejada, sophomore wing Caleb White and Florida State transfer Terry Whisnant but not much depth.
10. UCF: The Knights lose three double-figure scorers from last season but have some talented freshman and role players returning.
11. South Florida: Orlando Antigua doesn't have a lot of talent in his first year, so he'll try out a lot of new pieces and line-ups.