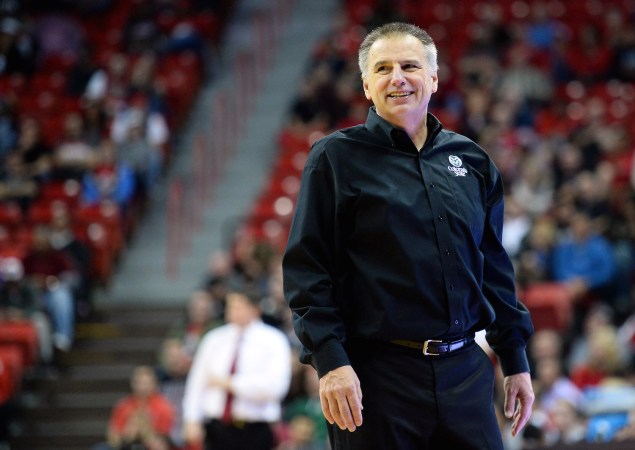 Beginning on October 3rd and running up until November 14th, the first day of the season, College Basketball Talk will be unveiling the 2014-2015 NBCSports.com college hoops preview package.
Entering the 2013-14 season Larry Eustachy's Colorado State Rams had quite the challenge in front of them. Gone were five starters, four of whom scored in double figures, who played key roles in the program making consecutive NCAA tournament appearances (2012 and 2013) for the first time since 1989-90. Predictably the Rams struggled, finishing the season with record of 16-16 overall and 7-11 in Mountain West play. Entering 2014-15, Colorado State's roster includes six Division I transfers, and the hope is that this experienced group can deliver the program's first regular season conference title since 1990 (shared the WAC title with BYU).
Transfers move from one program to another for a variety of reasons, but the schools that enjoy the most success with such players tend to have this in common: there's no confusion about roles or expectations. That's the case in Fort Collins, where Eustachy's Rams will be led by two seniors who began their respective careers at different schools in Daniel Bejarano and J.J. Avila.
"Larry always knows what he's doing, and he's always been successful with transfers because they're ready physically so he doesn't really have to worry about things like that," Bejarano told NBCSports.com last week. "They're willing to work, and no offense to freshmen, but at the same time I think Larry wants guys who are ready to compete.
"Larry knows what he's doing but at the same time you have to give credit to our assistants (associate head coach Leonard Perry and assistants Steve Barnes and Ross Hodge) as well because they work hard, and I appreciate them more than anything."
Bejarano is entering his third season (on the court) at Colorado State, and he's steadily become one of the Mountain West's best guards. After winning Sixth Man of the Year honors in 2013 Bejarano took full advantage of the added responsibility in 2013-14, averaging 16.3 points, 8.3 rebounds and 3.3 assists per game and being named first team All-Mountain West at season's end. As for Avila he averaged a team-best 16.6 points to go along with 7.4 rebounds and 3.3 assists per contest.
Both will once once again be in a position to make plays offensively for the Rams, but the addition of four-year (meaning the institution, not eligibility) transfers John Gillon and Antwan Scott and junior college transfer Gian Clavell provides Colorado State with some welcome depth in this area.
CLICK HERE to read NBCSports.com's Mountain West Preview
"I don't need to have the ball in my hands as much as I did last season. We all can make plays," Avila noted. "I can go set more screens and get my teammates open, which in turn gets me open too. We should be better offensively as a result."
The perimeter newcomers will be key for a team that struggled shooting the basketball last season, as Colorado State finished the year ranked tenth in the Mountain West in both field goal (42.8 percent) and three-point percentage (32.6 percent). Of course the Rams were the second-best team in the conference from an efficiency standpoint, with their ability to hit the offensive glass and get to the foul line being key reasons why. But improved shooting could be the key for a team hoping to thrive in a conference race that has as many as seven realistic contenders.
Gillon shot 39.4 percent from beyond the arc in his lone season at UALR, and Scott made 39.2 percent of his attempts at Grambling as season ago. If those two can replicate those numbers in Colorado State's system, things should open up for the Rams' other scoring options.
Unlike Bejarano, who began his college career at Arizona, Avila made the move to Colorado State from a less successful program at Navy. What also made things difficult for the 6-foot-7 forward is that his year away from competition was spent without the benefit of any kind of structured basketball. Avila didn't have the benefit of going through the practices and workouts that can be of high value to transfers in 2012-13, and it was during this period that Avila learned more about himself as a person.
"It was awful," Avila told NBCSports.com. "I think it really taught me the value of self-discipline. I was in the gym and doing what I needed to do, but it isn't the same as being in workouts and practices. I became more introspective as well, just understanding that things happen for a reason and remaining on track. I don't wish that [time off] on anybody, but I'm here now."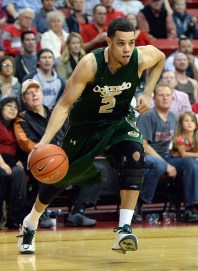 CLICK HERE to read through the rest of NBCSports.com's feature stories
Avila and Bejarano were Colorado State's best rebounders a season ago, leading the way for a team that ranked second in the Mountain West in offensive rebounding percentage (39.4 percent) and third in defensive rebounding percentage (73.1 percent). This year they'll have more help on the glass, even with Gerson Santo out of eligibility and Jon Octeus having transferred to Purdue. Stanton Kidd, who averaged 14.5 points and 6.9 rebounds per game at North Carolina Central in 2012-13, and Tiel Daniels (7.5 ppg, 3.2 rpg at Southern Illinois in 2012-13) give the Colorado State needed depth and experience in the front court with senior Marcus Holt also looking to factor into the rotation.
Even with last season's results the formula hasn't changed at Colorado State, and that's what gives their surplus of newcomers a good shot at experiencing success. According to both Avila and Bejarano there's a clear understanding of what's expected, and for a player looking to get acclimated to a new program and new surroundings that can be invaluable. Colorado State has a total of nine players on its roster who arrived on campus via either another four-year school or a junior college, and balancing such rosters can be tough. However with their two leaders having gone through that experience themselves, Colorado State feels well-equipped to manage that as they look to win a Mountain West title.
"We're going to have to gel together and we're going to have to stick together, because we're going to have some ups and downs and that's what it's all about in college basketball," Bejarano said. "We're going to be very successful this year and I'm very confident about that, it's just all about going out there and doing it.
"A lot of people don't have us winning [the Mountain West], finishing second, third, fifth or wherever, but none of that matters. What matters is [where you're at] at the end of the season."