Beginning on October 3rd and running up until November 14th, the first day of the season, College Basketball Talk will be unveiling the 2014-2015 NBCSports.com college hoops preview package. We continue our countdown today with No. 3 Wisconsin.
MORE: 2014-2015 Season Preview Coverage | NBCSports Preseason Top 25 | Preview Schedule
Head Coach: Bo Ryan
Last Season: 30-8, 12-6 Big Ten (t-2nd), lost in the Final Four to Kentucky
Key Losses: Ben Brust
Newcomers: Ethan Happ
Projected Lineup
– G: Trae Jackson, Sr.
– G: Bronson Koenig, So.
– G: Josh Gasser, Sr.
– F: Sam Dekker, Jr.
– C: Frank Kaminsky, Sr.
– Bench: Duje Dukan, Sr.; Nigel Hayes, So.; Riley Dearring, Fr.; Jordan Hill, So.
They'll be good because … : There's an argument to be made that this is the most talented team that Bo Ryan has ever had at Wisconsin, and Ryan has never had a team that's finished worse than fourth in the Big Ten. It starts with Frank Kaminsky and Sam Dekker, two potential all-americans and first round draft picks. Kaminsky was one of the breakout stars of last season, a seven-footer with perimeter skills and the size to overpower smaller defenders in the paint. Dekker is probably the more talented of the two, a 6-foot-9 wing with three point range and the ability to put the ball on the floor and dunk on a defender.
While those two will carry the team, the Badgers will be led by senior guards Trae Jackson and Josh Gasser, tough, defensive-minded players that are as prototypical "Wisconsin" as it gets. The x-factors for the Badgers are sophomores Nigel Hayes and Bronson Koenig, both of whom had some promising moments during their first season in Madison.
All of that makes the Badgers look quite good on paper, but the biggest reason that they are looked at as the overwhelming favorite to win the Big Ten is that everyone except Ben Brust is back from last year's team that earned a No. 2 seed in the tournament and made the Final Four. Bo's teams don't get worse with experience.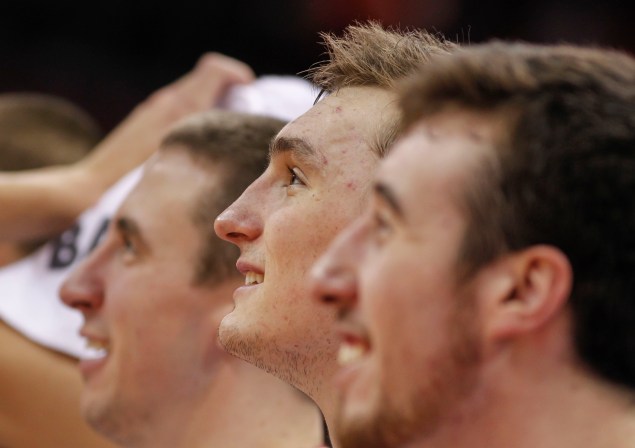 But they might disappoint because … : The biggest concern that I can see with this Wisconsin team is their depth, particularly in the back court. A staple of Wisconsin basketball is that Bo is always going to find a guy on his bench that is capable of stepping into minutes and playing like an experienced veteran. That's just the way that his system works, but right now it seems to me that there are really only three guards on the roster capable of playing major minutes for a national title contender. Part of Dekker's value lies in his ability to slide over and play the three, but that still means that the Badgers are thin on the wing.
The other red flag is the limited athleticism and defensive ability that Wisconsin has on their front line. If there is a weakness to Kaminsky's game, it's that he can be overmatched by guys that are his size and more athletic, and a number of teams that are in and around the top ten have front courts like that — Kentucky, Arizona, Duke, Texas. Throw in the fact that Dekker is more of a wing than a power forward and that Hayes, for all he does well, it a bit undersized to be a post player, and the Badgers could be susceptible to bigger teams this season.
Outlook: To be frank, those concerns are me picking nits. I think out of every team in the top ten, Wisconsin has the lowest floor of them all. It's easy to see a situation where, say, Kentucky can't find a way to keep everyone in their rotation happy with their minutes or with Duke struggling defensively or Arizona having issues with their ability to score. I can see Virginia struggling to replace Akil Mitchell and Joe Harris defensively or North Carolina's point guards and centers failing to reach expectations.
In other words, out of every team in the country that can be labeled a contender this season, the Badgers have the least amount of risk. At this point, we know what we're going to be getting from everyone on the roster. Kaminsky is going to be the typical matchup nightmare that Badgers bigs end up being. Jackson and Gasser will be the bulldogs that lead this team. Koenig and Hayes will be, at worst, solid role players once again. And Dekker, who is expected to have a big junior season, will, at worst, be the regular old all-Big Ten caliber player he's been the past two seasons.
There's not as much upside with this group as there is with other teams, but that's not a bad thing. Wisconsin's worst-case scenario this year is probably still good enough to win the league and make a run at a second straight Final Four.