Beginning on October 3rd and running up until November 14th, the first day of the season, College Basketball Talk will be unveiling the 2014-2015 NBCSports.com college hoops preview package.
Today, we focus on the Mountain West.
MORE: 2014-2015 Season Preview Coverage | Conference Previews | Preview Schedule
Last season in the Mountain West provided some surprises, with the team picked to finish fourth in the preseason poll (San Diego State) winning the regular season title outright and Nevada finishing in a tie for third place after being picked to finish ninth last October. Seven teams won at least nine conference games in 2013-14, and heading into the 2014-15 season many hold the belief that seven teams have a realistic chance of winning the Mountain West. Steve Fisher's team is seen as the favorites despite losing Mountain West Player of the Year Xavier Thames, and the order of the next six teams is anyone's guess.
FIVE THINGS YOU NEED TO KNOW:
1. Just one first team All-Mountain West selection returns: Thames, New Mexico's Cameron Bairstow and Kendall Williams, and Nevada's Deonte Burton have all moved on to the professional ranks. The lone returnee: Wyoming's Larry Nance Jr., who missed the final seven games due to a torn ACL. Nance is back on the floor for the Cowboys, who are in that mix of teams looking to win the conference. If he hits the ground running, Larry Shyatt's team is capable of contending.
2. The Mountain West also lost its top five rebounders: This fact can't be glossed over, with UNLV losing Roscoe Smith and Khem Birch, Boise State moving on without Ryan Watkins, and San Diego State (Josh Davis) and New Mexico (Alex Kirk) also having to account for the loss of their best rebounders. However, it should be noted that each of these programs has added some solid front court talent in both the freshman and junior college ranks. And when it comes to Boise State, the Broncos got a lot taller inside after going through last season with just one player who stood 6-foot-8.
3. UNLV adds one of the nation's top freshman classes, and a very important senior transfer: After briefly flirting with the possibility of moving across the country, Dave Rice returned to his alma mater, where he received a new contract and then put the finishing touches on one of the top recruiting classes in the country. Guard Rashad Vaughn may be seen as the jewel of the class, but there's also big man Goodluck Okonoboh, forward Dwayne Morgan and guards Jordan Cornish and Patrick McCaw to consider as well. UNLV's most important addition, however, is former San Francisco PG Cody Doolin, who gives them the on-court leader they so desperately needed a season ago.
4. UNLV wasn't the only Mountain West program that landed a Top 20 recruiting class: Rivals.com ranked two Mountain West recruiting classes in the top 20 of its rankings this spring, with UNLV coming in fifth and San Diego State 17th. Steve Fisher's class is one reason why many saw last season as a "bridge" year for the program, and we all saw what happened there (31-5, Sweet 16 appearance). Now they add guards Kevin Zabo and Trey Kell and forwards Malik Pope and Zylan Cheatham, as well as Arizona transfer Angelo Chol, to an experienced cast led by Winston Shepard and J.J. O'Brien. SDSU's deep, athletic and they'll once again be tough to score points on.
5. Colorado State returns the top scoring tandem in the Mountain West: Forward J.J. Avila (16.6 ppg) and guard Daniel Bejarano (16.3 ppg) are back for their senior seasons, and they're just two reasons why Larry Eustachy's Rams will be in the middle of the Mountain West race. Both of those players began their college careers at other schools, and they'll be joined by a deep group of transfers that includes guard John Gillon (UALR) and Antwan Scott (Grambling State), and forwards Tiel Daniels (Southern Illinois) and Stanton Kidd (North Carolina Central). Of those four three were with the CSU program last season (Scott's the exception), which should help from a chemistry standpoint.
PRESEASON MOUNTAIN WEST PLAYER OF THE YEAR: Larry Nance Jr., Wyoming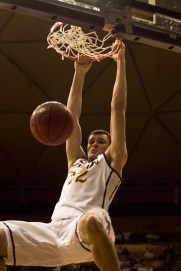 While it remains to be seen just how explosive Nance will be following the knee injury that ended his junior season, the fact of the matter is that he can affect the game in a variety of ways. Nance finished last season ranked in the top ten in the Mountain West in scoring (tenth- 15.4 ppg), rebounding (sixth- 8.6 rpg), field goal percentage (second- 54.4%), steals (fifth- 1.4 spg) and blocked shots (fourth- 2.1 bpg). He's certainly capable of putting together a similar season in 2014-15.
THE REST OF THE ALL-MOUNTAIN WEST FIRST TEAM:
Anthony Drmic, Boise State: Averaged 15.9 ppg and 4.5 rpg last season, and he's a better perimeter shooter than he showed as a junior (34.1% 3PT).
Daniel Bejarano, Colorado State: Bejarano followed up his Sixth Man of the Year award in 2013 with a first team All-Mountain West spot as a redshirt junior.
Winston Shepard, San Diego State: Shepard will be key for the Aztecs as they look to account for the loss of Xavier Thames. And if Shepard can make opponents at least respect his jump shot, look out.
J.J. Avila, Colorado State: Avila came in and earned third team all-conference honors in his first season at CSU, averaging 16.6 points and 7.4 rebounds per game.
FIVE MORE NAMES TO KNOW:
Dwayne Polee II, San Diego State
Rashad Vaughn, UNLV
Paul Watson, Fresno State
Derrick Marks, Boise State
Deshawn Delaney, New Mexico
BREAKOUT STAR: Dwayne Polee, San Diego State
Polee may have finished the season averaging 8.5 points and 3.3 rebounds per game, but he was a different player from February on. Polee scored in double figures in nine of SDSU's final 14 games, including a stretch of five straight double-digit outings to end the season. And with Thames gone, there's room for Polee to take another step forward production-wise.
COACH UNDER PRESSURE: David Carter, Nevada
With Dave Rice landing a new deal at UNLV this summer and recruiting well, he's in good shape for the time being. That brings us to Carter, who despite managing to finish tied for third in the conference last season led his team to an overall record of 15-17. Can the Wolf Pack once again surprise people within the league while also improving their overall record?
ON SELECTION SUNDAY WE'LL BE SAYING …: Can multiple Mountain West teams reach the second weekend?
I'M MOST EXCITED ABOUT: How wide-open this conference race will be.
FIVE NON-CONFERENCE GAMES TO CIRCLE ON YOUR CALENDAR:
November 17, Utah at San Diego State

November 21, UNLV vs. Stanford (in Brooklyn, New York)
November 22, Boise State at Wisconsin
December 10, Colorado State at Colorado
December 23, Arizona at UNLV
ONE TWITTER FEED TO FOLLOW: @GeoffGrammer
PREDICTED FINISH
1. San Diego State: Xavier Thames is a big loss, but there's still plenty of talent at Steve Fisher's disposal.
2. Colorado State: Larry Eustachy's roster is stocked full of transfers ready to contribute immediately.
3. Boise State: Drmic and Derrick Marks lead the way for a team that has more size than it did last season.
4. UNLV: The Runnin' Rebels are loaded with talent, but will the pieces fit together cohesively?
5. Wyoming: Larry Nance Jr. returns from his torn ACL, and guard Riley Grabau is back as well.
6. New Mexico: The Lobos have some questions to answer, but given their recent run of success it wouldn't be a surprise if they made another run at the title.
7. Fresno State: Mountain West dark horse? That could be the case, with Julien Lewis joining a group led by Marvelle Harris and Paul Watson.
8. Nevada: The Wolf Pack have the unenviable task of accounting for the loss of electric PG Deonte Burton.
9. Air Force: Dave Pilipovich lost his leading scorer in Tre' Coggins, but that trip to Colorado Springs can be a tough one.
10. Utah State: Stew Morrill's system has always been tough to defend, but the personnel losses may be too much to overcome.
11. San Jose State: Another rough year for Dave Wojick, and the Spartans won't play in the conference tournament either due to APR sanctions.