Beginning on October 3rd and running up until November 14th, the first day of the season, College Basketball Talk will be unveiling the 2014-2015 NBCSports.com college hoops preview package. We continue our countdown today with No. 4 Duke.
MORE: 2014-2015 Season Preview Coverage | NBCSports Preseason Top 25 | Preview Schedule
Head Coach: Mike Krzyzewski
Last Season: 26-9, 13-5 ACC (3rd), lost to Mercer in the Round of 64
Key Losses: Jabari Parker, Rodney Hood, Andre Dawkins, Tyler Thornton
Newcomers: Jahlil Okafor, Tyus Jones, Justise Winslow, Grayson Allen
Projected Lineup
– G: Tyus Jones, Fr.
– G: Quinn Cook, Sr.
– G: Rasheed Sulaimon, Jr.
– F: Amile Jefferson, Jr.
– C: Jahlil Okafor, Fr.
– Bench: Justise Winslow, Fr.; Grayson Allen, Fr.; Matt Jones, So.; Marshall Plumlee, Jr.; Semi Ojeleye, So.
They'll be good because … : The Blue Devils have has much talent on their roster as anyone in the country, and that includes Kentucky. The Wildcats have nine McDonalds All-Americans on their roster, which just so happens to be the same number that Coach K has collected in Durham. Jabari Parker is no longer with Duke, but the team is headlined, once again, by freshman from Chicago that is expected to compete for All-American awards this year. Jahlil Okafor is the best low-post player to come through the high school ranks in a long time, and he'll be the anchor for this group offensively. Don't be surprised to see him average somewhere in the neighborhood of 17 points and 10 boards.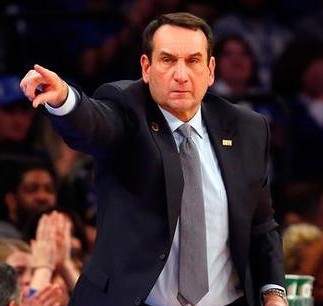 And that's just the tip of the iceberg. Duke's back court is absolutely loaded this year. Quinn Cook is a two-year starter at the point for the Blue Devils, and he may not even be the best point guard on the roster. Tyus Jones, who came to Duke in a package deal with Okafor, is expected to have the ball in his hands the majority of the time this season. Rasheed Sulaimon and Matt Jones are back as well, and they'll be pushed for playing time by Justise Winslow and Grayson Allen, two more burger boys. Don't be surprised to see Duke play with four guards at times this season, using Winslow at the four, in order to get their five best players on the floor at the same time.
But they might disappoint because … : There are two real question marks with this Duke team, the biggest of which has to do with how some veterans are going to accept a younger generation. Quinn Cook is a senior and has been the starting point guard for the Blue Devils for the past two seasons, but he may end up ceding that role to Tyus Jones this year. That doesn't mean that Cook won't see significant minutes — he actually would be a pretty good fit playing off-guard — but it will be a very different role. And he won't be alone, either, as freshmen Justise Winslow and Grayson Allen are going to be pushing the like of Rasheed Sulaimon and Matt Jones — and Cook — for minutes. How will the vets handle it if their minutes are taken away? Will Sulaimon be able to bounce back from a rough sophomore season?
The other issue is front court depth. Jahlil Okafor is going to be a star. You won't find anyone willing to argue that fact. But beyond that, there are question marks. Amile Jefferson had a better-than-expected sophomore season, particularly with his work on the glass, but that doesn't change the fact that he's an undersized four that is limited offensively. He won't be spreading the floor and creating space for Okafor on the block. Marshall Plumlee, another seven-footer, won't be doing that, either. And Ojeleye? He wasn't much more than a dunker as a freshman. That's it when it comes to front court players. It will be interesting to see just how much of a supporting cast Okafor has there.
Outlook: It's going to be interesting to see how Coach K uses this roster this season. I'd expect them to look similar to the Ohio State team from 2010-2011, back when Jared Sullinger and Aaron Craft were freshman. Thad Matta surrounded Sullinger, another phenomenal low-post scorer, with four guards that could all hit open threes and dared teams to try and double-team the big fella. I could see Duke doing something similar with Jahlil Okafor, using Justise Winslow or even a guy like Rasheed Sulaimon or Grayson Allen at the four.
The difference between that Ohio State team and this Duke team is that those Buckeyes could grind defensively with the best of them. Duke is going to get out and pressure the ball in their man-to-man this season, the way that they always have done under Coach K. They're not going to let you run your sets. But I'm not sure how many really good on-ball defenders they have in their back court. The ACC is absolutely loaded at the top this season, with North Carolina, Virginia and Louisville all capable of winning a league title. For my money, Duke is the favorite. But it will, by no means, be a cakewalk. They might make a Final Four despite finishing fourth in their conference.