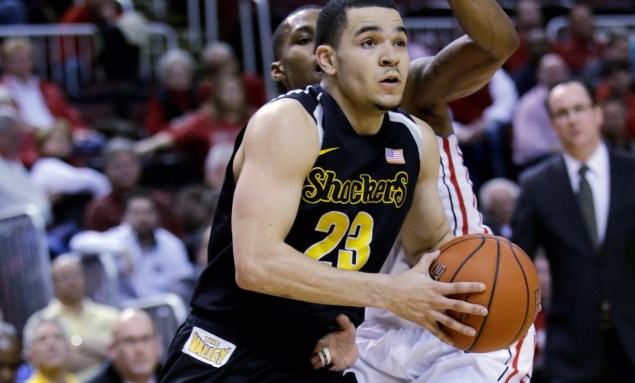 Beginning on October 3rd and running up until November 14th, the first day of the season, College Basketball Talk will be unveiling the 2014-2015 NBCSports.com college hoops preview package.
MORE: 2014-2015 Season Preview Coverage | Conference Previews | Preview Schedule
In the midst of being a national story, winning 35 consecutive games during the 2013-14 season, Wichita State head coach Gregg Marshall tried to keep it light with his team while emphasizing a "one-game-at-a-time" mentality.
So before each game, which Marshall described late in the season as a "spectacle" on multiple occasions, the coach would assign the game a number and a related catch phrase to value its individual importance while having fun with it.
"We started naming each game by the number it represented," Marshall told NBCSports.com. "We're playing for win No. 18, Peyton Manning. Win No. 23, Michael Jordan. Win No. 29, B-29 Bomber, which was made here in Wichita."
The team handled its business game after game up to No. 35, but ultimately fell short of the second weekend of the NCAA Tournament with a Round of 32 loss to Kentucky.
Fred Van Vleet's three-pointer at the buzzer hit the rim and missed and the Wildcats advanced, 78-76.
The junior guard can't recall the message before the game, but uses its aftermath to push towards the 2014-15 season.
"I think about it every once in awhile when I need extra motivation," Van Vleet told NBCSports.com
For the 5-foot-11 Van Vleet, it doesn't take much to provide extra motivation — or the rest of the team for that matter. Marshall said the team kept it simple by focusing on one game at a time during the late part of the season and it helped them sustain an intensity they hope to carry over to this season.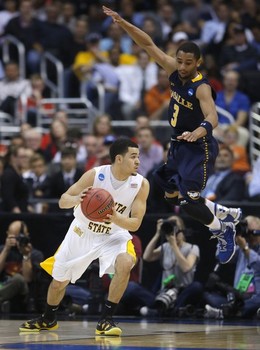 "We went about our business on a game-by-game basis. Our guys were really good with that," Marshall said. "I thought they handled the spectacle very, very well."
Practices for Wichita State also remained a big focus as they remained intense battles among the roster.
"Practice they were killing us every week. The preparation was still there. Execution and scouting was great," Van Vleet said. "Unreal chemistry started to happen, but we were super focused and super mature about it. We weren't too high or too low about it. We stayed focused on each game."
MORE: MVC Preview: How does Wichita State follow its two-year stretch?
This season, the Shockers have to incorporate eight new players that were either redshirts, transfers or incoming freshmen. Van Vleet returns with junior Ron Baker and senior Tekele Cotton, and senior forward Darius Carter is expected to make a leap, but the team still features a lot of new variables.
The goal is finding chemistry and consistency in practices that carry over in the spotlight of game time.
"We've got a lot of guys that are good players. None of them excel to the point where we've got an immediate contributor, but they're also playing against really, really good players in practice," Marshall said.
In the last two seasons Wichita State has reached a Final Four and won 35 straight games, but there still isn't a lot of national attention or respect to them as viable national championship contenders this season. Van Vleet said that he and the team are receiving additional attention and getting recognized at airports, but there's still the thought that a lot of people doubt his team to actually win.
"[The attention] is different for us. None of us were McDonald's All-Americans. None of us ever really dealt with it. It's all new to us. The outside attention doesn't distract us," Van Vleet said.
"I still keep that chip on my shoulder and I always will. I didn't get much respect in high school."
Marshall sounds similar to his players. The head coach didn't bask in the aftermath of the 2014 NCAA Tournament, instead focusing on how to get better the next season.
"Most people just lose their last game and move on," Marshall said. "We didn't have a pity party, we celebrated a great year and we determined that we played a good team that played very, very good that day and beat us by one possession. We've got to get ready for this upcoming year and you do that as soon as  the season is over."
The goal to compete for a national championship at Wichita State remains, even though some may count the Shockers out despite their accomplished two-year stretch.
"We have pretty high expectations for ourselves. Nobody knows the hard work that we put in," Van Vleet said. "We're going to do what we need to do to get to the results. We don't focus on too much outside expectations or anything. I'm just ready for the first tip-off."